Male Domestic Short Hair (short coat) named Thomas available for adoption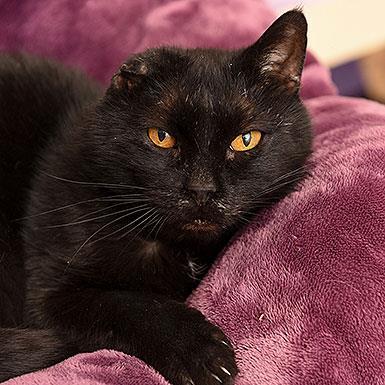 Thomas
Location
Sanctuary (Kanab)
Looks like
Domestic Short Hair (short coat)
---
Are you looking for a one-eared black cat as your very own take on a new kind of Grumpy Cat? You should meet Thomas!

Don't let his looks fool you - Thomas is a sweetheart! He's a shy little lovebug who enjoys neck scratches and a quiet space. He is a fan of eating with his paw to ensure he's getting all the tasty flavors (who wouldn't, really?) And to be honest, his ear isn't a battle scar - it's most likely due to an untreated ear infection his past (but he looks so cool with it that we like to tell stories of his epic past!)

Thomas gets along fine with other cats, but he's a loner at heart who usually keeps to himself. He was a survivor of Hurricane Harvey and because of his rough life, it can take a bit of time for him to trust you. If you move slowly, he'll allow you to pet him, and what else can we ask for?

Truly, Thomas is a simple soul who just needs time, patience, and lots of love to adjust to his new environment. He's looking for a calm, quiet home with cat people who will let him come out of his shell in his own time. Can you give this sweet guy the secure, loving home he deserves?