Female Florida White (medium coat) named Norah available for adoption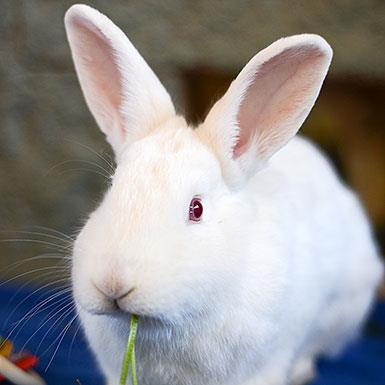 Norah
Location
Sanctuary (Kanab)
Looks like
Florida White (medium coat)
---
Say hello to this beautiful Florida White, Norah!

Norah is eager for greens and other treats from people. Her favorite activity is sitting on top of the box in her run and greeting everyone who walks by.

Norah is definitely a lap bunny; put her on your lap in a calm environment and pet her, and she may just fall asleep cuddled up with you.

Norah also enjoys stretching out in the sunshine and catching some rays with her boyfriend Ernie. Ernie was super shy and traumatized when he came to the shelter and our Noble Norah has helped Ernie come out of his shell. Now Norah and Ernie are deeply bonded and do everything together. They should be adopted as a pair so they are never separated again.

Norah and Ernie would be delighted to meet you and make new friends - come visit them at the sanctuary today!