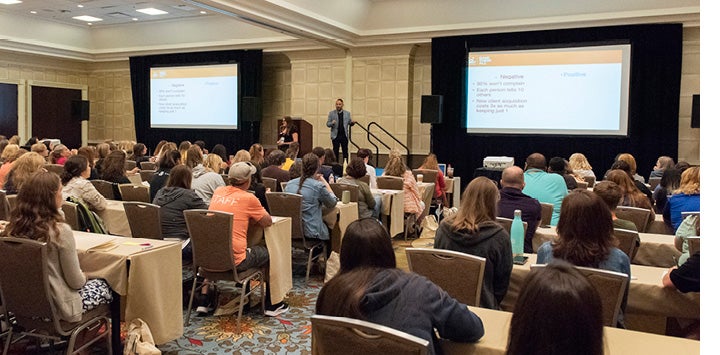 Conference tracks for everyone: Save more animals' lives
Whether you're the executive director of a shelter, the founder of a rescue group, an animal control officer or a dedicated volunteer, we've got a track to pique your interest, expand your knowledge and help you make the future brighter for homeless pets.
---
Cutting-edge animal care
Gone are the days of status quo sheltering. If we're serious about saving more pets, supporting the animals we take in, and setting them up for success, we need to move beyond simplified notions of animal care. The sessions in this track examine the nuances of animal enrichment and behavior, decision-making around intake and capacity for care, and distinctions between efforts designed to help cats and those best for dogs.
---
Progressive lifesaving for animal welfare
Our effectiveness and relevance as lifesaving organizations hinge on one thing: our ability to adapt to change. It's 2020 and if we want to have a positive impact in our communities, we need to be open to change and willing to examine thoughtfully what we're doing and why. The sessions in this track cover everything from data entry practices and foster program models to transport and hospitality. Plus, they highlight expert ways of thinking and working that will transform your organization.
---
Strategic communications for animal shelters and advocates
Audience is everything. And in animal welfare, it's important to remember that our target audience is broader and more diverse than our immediate circle of animal-crazy friends. Saving more dogs and cats requires a strategic approach to communicating with potential adopters, community members and other stakeholders. These sessions cover essential communications for organizations and advocates, including expert practices for social media and public relations, the role of language when discussing critical no-kill topics and the power of story for marketing pets.
---
Powerhouse leadership for animal welfare
We have officially entered the golden age of animal welfare leadership. If you're at the helm of a shelter or rescue organization (or have designs on doing so), now is the time to get strategic, embrace change, grow success and inspire others. The sessions in this track cover topics customized for both rescue groups and shelters. We'll dig into planning for the long-term, dealing with criticism, collaborating with your community and identifying next steps once you've achieved no-kill.
---
Professional and proactive animal services
Animal control and protection officers are on the front line of lifesaving in their communities. And field services strategies are quickly evolving to better support the essential role that officers play in keeping animals out of shelters, promoting public safety, and providing critical help to both pets and their people. These sessions cover a range of topics, including community outreach and engagement, return-to-owner strategies, strategic use of data and leadership in an inherently chaotic field.
---
Expert fundraising to save cats and dogs
You can have all of the lifesaving know-how in the world, but if you don't have the money to support that work, your success and impact will be minimal. In the digital age, you're competing not only for donors' dollars, but for their attention, too. The sessions in this track cover the full spectrum of fundraising knowledge that you need to save lives and highlight what it means to offer donors an experience rather than just a chance to give. Learn about monthly giving, major giving, grant writing and digital tactics for securing big gifts and more.
---
Community-based animal programs and advocacy
Welcome to the new frontier of animal welfare, where volunteers are everything, compassion beats conflict, and animal services are human services. The sessions in this track will help you think beyond the walls of the shelter and embrace the idea that communities are collectively responsible for saving the lives of pets and supporting the people who love them. Topics include advocating for animal-friendly legislation and policies, starting community cat programs, building powerful volunteer programs, examining bias and conflict, and engaging the public. If you're passionate about the no-kill movement and progressive lifesaving, these sessions are where you want to be.
---
State-of-the-art shelter medicine
The success of any animal shelter requires medical programs and protocols that align with and support lifesaving goals. Shelter medicine programs need to look beyond basic veterinary care to big-picture efforts to save the most lives and prevent pets from staying in shelters too long. The sessions in this track tackle the myths and management of common diseases like feline leukemia and heartworm and feature in-depth discussions of successful program components and proven practices for saving more animals.