Farewell, sweet Meryl: Saying goodbye to the last Vicktory dog at Best Friends
Just last week, I wrote about the passing of Vicktory dog Cherry, who had become the heartbeat of his adoptive family and an ambassador for his breed. Today I am writing about Meryl and what feels like the end of an era here at the Sanctuary.
On Thursday, we said goodbye to sweet, beautiful Meryl, the last Vicktory dog living at Best Friends Animal Sanctuary. She suffered a sudden and dramatic decline that put her in distress and discomfort. Her caregivers, along with our veterinary staff, reluctantly made that difficult decision.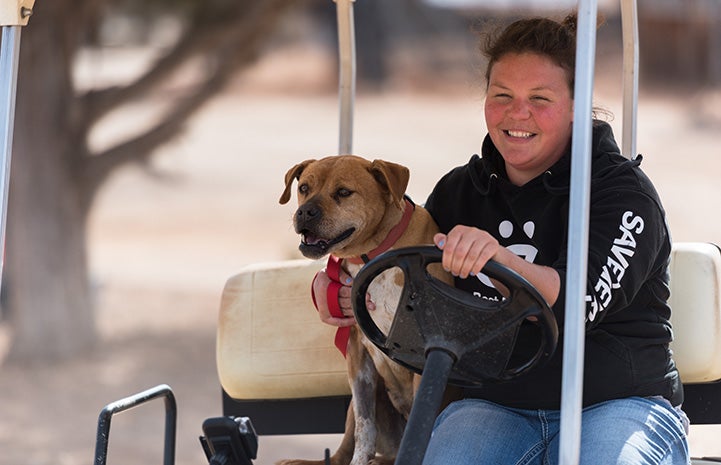 Saving Meryl and the other Vicktory dogs
Meryl's passing is heart-wrenching for all of us at Best Friends, but especially for her caregivers, the dedicated staff who gave this once troubled and frightened survivor of Michael Vick's tortuous dogfighting operation a new life filled with kindness, security and friends. Lots of friends.
In April of 2007 — almost 13 years ago — federal and state law enforcement raided Michael Vick's Bad Newz Kennels in rural Virginia. Meryl and the other canine survivors were held as evidence in Washington, D.C., and Virginia until the trials of Vick and his cronies concluded in November of that year. In January of 2008, 22 dogs from Bad Newz Kennels arrived at Best Friends, Meryl among them.
She, along with Lucas, Vicks' grand champion fighter, were ordered by the court to spend their lives at the Sanctuary — Lucas because of his perceived street value and celebrity among dogfighters, Meryl because of all the dogs in that group, she was the only one who showed unpredictable aggression toward human strangers.
The poor girl had gone from the hellish violence of a dogfighting operation to the cold confines of a solo concrete shelter kennel in Washington. No wonder she was frightened of strangers.
A scared and distrusting dog's transformation
We dubbed the 22 Vick dogs in our care the Vicktory dogs and for Meryl, like the rest of them, a new life was about to unfold. She transformed from frightened and distrusting to a Dogtown mainstay — Mama Meryl — a loving companion to her caregivers, a friend to volunteers and a security blanket for other dogs learning to trust.
Meryl's complete turnaround is not only a testimony to the loving care that she received, but to her resilience and character — and that of all the Vicktory dogs. Their example literally changed the world for the canine survivors of dogfighting rings, along with the public's perception of pit-bull-type dogs everywhere.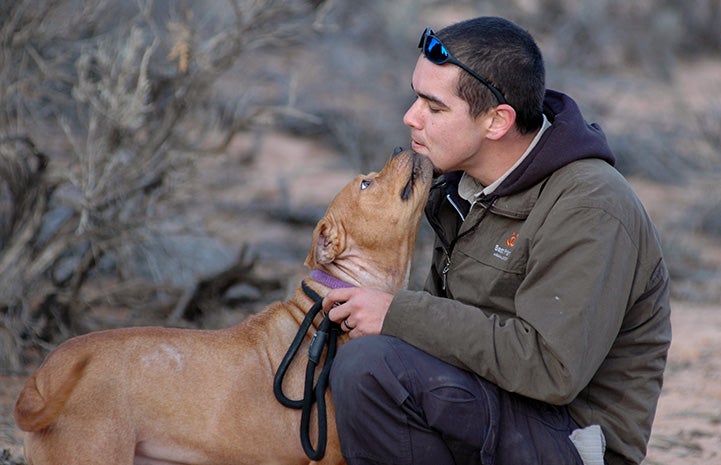 The fate of dogs rescued in dogfighting busts
Before the Vick dogs, a dire fate awaited dogs and puppies rescued in dogfighting busts. Pit bull terriers rescued from their abusers were housed in a shelter and then summarily killed without thought or conscience, behind closed doors and far from the public eye.
The Vick case, though, was so high profile that the public eye never wavered from it. Best Friends filed an amicus brief with the court to give the dogs the benefit of individual evaluations. And the public outcry against the routine practice of declaring such dogs inherently dangerous and deserving of death found a receptive ear in the federal judge presiding over the case. He appointed Rebecca Huss, a Valparaiso State University animal law professor, as guardian and special master of the dogs. Rebecca, who is now Best Friends' general counsel, oversaw the evaluation of each of the dogs and ultimately recommended that 22 of the most challenging dogs receive longer-term or forever care at a sanctuary. Best Friends was the only realistic option for this latter group.
When Rebecca called us, we knew that this was an opportunity to demonstrate to the world what we, and other advocates for these dogs, already knew — that they were not monsters. They were just dogs who, like many dogs who come into our care, had known pain and suffering but given a chance and a choice, would make the transition to become loving friends and trusted companions.
Meryl and the other Vicktory dogs exceeded all expectations. While Meryl enjoyed a friend-filled life at Best Friends, others went on to be therapy dogs, agility champions, lovable clowns and breed ambassadors. Thanks to their example, laws were changed and continue to be changed — from the way people relate to fight-bust survivors to the ongoing repeal of local breed-discriminatory laws that target and ban pit-bull-type dogs and other large breeds.
It's hard to express my own personal sadness regarding Meryl's death and the passing of so many of these iconic game-changing dogs, and I know that I am not alone in this. This sadness, though, is tempered with fond memories of Meryl and the others and recollections of battles we fought to change policies and laws, waving the flag of the Vicktory dogs as proof of our position.
Meryl, we love you, and we will never forget you or any of the Vicktory dogs. We had the privilege of caring for these special dogs at Best Friends, and we will never give up the fight to ensure that all homeless pets are treated with dignity and respect as unique individuals.
Together, we will Save Them All.