Jessica Schonberg
People and Culture Operations Coordinator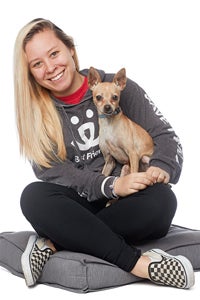 As our newly appointed people and culture operations coordinator, Jessica Schonberg has made it her mission to make sure that life at Best Friends is as much about the people as it is our furry friends. Jesi lives in Wisconsin with her fiancé and their two dogs and one wild cat. In her free time, she loves to get outdoors, play sports and argue with her fiancé about who is better at Mario Kart. Most of all, she loves being able to help, learn from and connect with people.
Q: What sparked your interest in getting involved with DEI at Best Friends?
A: I think my road to DEI is a little bit different. My interest in it kind of sparked out of frustration. We as a nation are very diverse, but I found myself feeling like we have no respect and appreciation for that. I come from a very diverse family. I'm biracial but I have a lot of white privilege because of the way that I look. This is important to me — it affects my family and the people that I love. I used to work in the tech industry and there are not a lot of women in tech, so having your voice heard is not easy.
Q: When you think about creating systemic change, how do you do that?
A: By bringing more diverse people to the table. I think that's exactly what we're doing right now, and acknowledging where we're at and where we need to grow, and taking steps to address inequality. Diversity doesn't often get a seat at the table, so by giving diverse people a voice, we start to recognize our own growth opportunities and what makes a diverse organization.