Image
Best Friends and you - our lifesaving impact
Best Friends Animal Society made great progress in 2021 to save even more animals and bring the nation closer to ending the killing of dogs and cats in animal shelters — an effort that would not be possible without your commitment and partnership.
City by city, county by county, state by state, compassionate organizations and individuals like you are uniting to create a brighter, safer future for the pets with whom we share our lives.
"I recently experienced a moment of breathtaking beauty, compliments of Angel Canyon. A double rainbow, appearing right at sunset, formed an otherworldly arc that lit up the horizon in red and gold — for all the world like a portal to another dimension. It resonated with me in the sense that Best Friends had just come through a similar portal of sorts after the stormy year of 2020. And though we remain in the midst of uncertain times, we also find ourselves entering an inspiring new realm of lifesaving.
"
Julie Castle, CEO, Best Friends Animal Society
STATISTICS OF ANIMALS HELPED IN 2021

44,036
Spay/neuter surgeries performed through Best Friends programs

20,632
Animals adopted and fostered through Best Friends programs 12,507
Animals were transported to places where they had the best chance at finding homes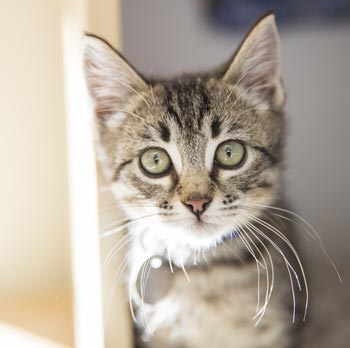 Best Friends
Animal Sanctuary
Home to around 1,600 animals on any given day
New Arrivals: 3,729
Animals Adopted: 1,626*
Animals Transferred: 1,495
*19% had special needs
BEST FRIENDS' EXPENSES AND REVENUE FOR 2021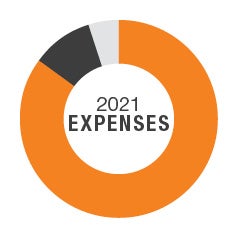 Program
$167,314,707 (85.1%)

Fundraising
$19,761,848 (10.1%)

Management and General
$9,493,537 (4.8%)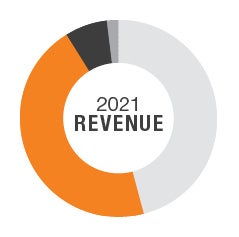 In-Kind Donations
$100,469,946 (46.1%)

Donations from Individuals
$98,440,615 (45.2%)

Corporate and Foundation
Grants
$15,141,819 (6.9%)

Other
$3,824,067 (1.8%)
TOGETHER, WE WILL SAVE THEM ALL.
Thank you to all of the compassionate individuals, companies and foundations who gave to the animals this past year. Thank you for caring. Thank you for believing. Thank you for being a part of this amazing work. The animals are forever grateful. We are forever grateful.
BEST FRIENDS' FINANCIAL REPORTS
Best Friends Animal Society is committed to efficiency and transparency. We communicate with our donors and prospective donors by email, postal mail, phone and other means, both to request contributions to our cause and to educate the public about Best Friends programs, volunteer opportunities and events across the United States. These efforts help advance our mission to end the killing of dogs and cats in shelters by 2025. As a result, in accordance with the Financial Accounting Standards Board (FASB), Best Friends allocates a portion of our fundraising costs to program services.
As a nonprofit organization that is exempt from federal taxation, we ensure that donors' money is spent as efficiently and effectively as possible, and we are committed to organizational financial transparency. View our nonprofit financial information.
2021
2021 I.R.S. Form 990 (PDF 646 KB)
2021 Annual Report
2021 Financial Statements (PDF 1.75 MB)
2020
2020 I.R.S. Form 990 (PDF 808 KB)
2020 Annual Report
2020 Financial Statements (PDF 804 KB)
2019
2019 I.R.S. Form 990 (PDF 653 KB)
2019 Annual Report
2019 Financial Statements (PDF 596 KB)
2018
2018 I.R.S. Form 990 (PDF 676 KB)
2018 Annual Report
2018 Financial Statements (PDF 482 KB)
2017
2017 I.R.S. Form 990 (PDF 886 KB)
2017 Annual Report
2017 Financial Statements (PDF 624 KB)