Female Husky / Cattle Dog / Mixed (short coat) named Kit available for adoption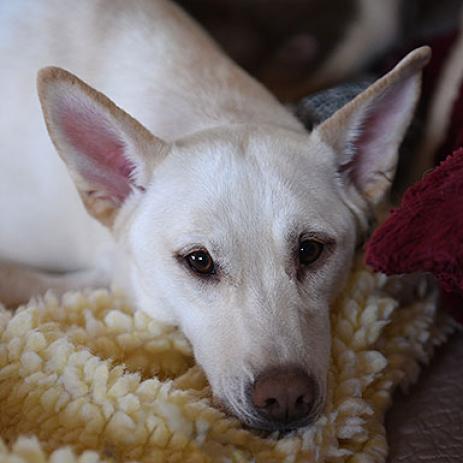 Kit
Location
Sanctuary (Kanab)
Looks like
Husky / Cattle Dog / Mixed (short coat)
---
SANCTUARY VISIT REQUIRED

Are you an experienced dog owner looking for a very special dog to love and take care of? Then you should come to the Sanctuary and meet Kit!

Kit and her brother Caboodle were abandoned on the side of the road at eight weeks old. A rescue organization took them in, and they later came to Best Friends. Born in 2016, Kit has a neurological condition that causes her to struggle to walk and to maintain her balance. The cause of her neurological condition is unknown, and in many ways she is very much like a normal puppy. She is sweet and happy and has an excellent nose.

Although a little feisty at first, Kit loves her dog friends. She does nose work (a fun search and scenting sport) in her room, and she loves the snow. The biggest challenge in a home will be ensuring that she can safely move around. Also, she is not housebroken and she cannot do stairs or a doggy door.

Kit will need to find a person or a family who can make accommodations for her while loving her just as she is. Kit has a generous sponsor who will cover the cost of her adoption fee.