Male Chow Chow (medium coat) named Gilmore available for adoption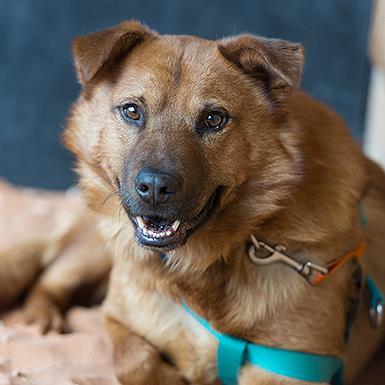 Gilmore
Location
Sanctuary (Kanab)
Looks like
Chow Chow (medium coat)
---
Gilmore is a shy, calm and quiet dog. Once he is comfortable he will give you a little bark when he is excited to see you. Gilmore takes some time to warm up to new people. He loves food puzzles and using his nose to sniff out treats during his favorite game of "nose work".
Gilmore loves food, and he loves to cuddle up in bedding and blankets.
Gilmore was born in 2012, he has not had much experience in a home yet. Gilmore is learning the steps towards walking on leash, but will go in a crate for easy transport.
At the Sanctuary, he loves clicker training and is learning hand feeding as well as how to accept human touch and handling. Gilmore has a quiet nature and would do best in a calm and quiet home. He loves sun bathing outside.
Gilmore is looking for a home that can offer patience and love, as he learns just how to be a dog.