Female Domestic Short Hair (short coat) named Odette available for adoption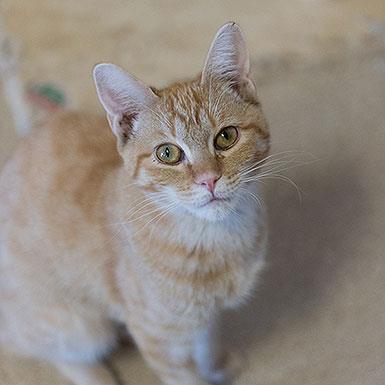 Odette
Location
Sanctuary (Kanab)
Looks like
Domestic Short Hair (short coat)
---
Meet Odette, a beautiful orange kitty with green eyes and a friendly, frisky personality. Odette loves people! She'll stop at nothing to get you to play with her; wand toys, balls, a dust bunny, a paper clip - anything and everything is a toy for her! She's extremely curious and smart, and has learned a few tricks with clicker training.

Odette enjoys going outside on stroller walks at our beautiful Sanctuary and would love having supervised outdoor time in her new home. With other cats, she can be shy and nervous at first, but once she gets to know them she's happy to play.

Odette on a raw diet right now and would thrive with humans who continue to feed her what keeps her healthy and active. She'd also be happiest in a home that will give her lots of toys and playtime to keep her brain busy.

If you're looking for a smart, spunky, fun-loving cat to brighten up your home, ask about Odette today.