Male Coonhound named Whistler available for adoption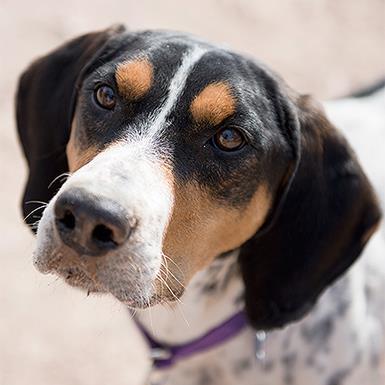 Whistler
Location
Sanctuary (Kanab)
---
Whistler is a very special senior looking for a very special home. He is a typical hound when it comes to sniffing and baying. He loves to use his nose and then tell everyone about it! Whistler is thought to have cerebellar disease which basically means he is missing part of his brain, because of this he often shows some repetitive behaviors.
Whistler has done great at the sanctuary with a structured routine and relationship building with his caregivers. He can be a sensitive boy and things like loud noises, stormy weather, and constant change can throw him off. He really enjoys canine company. He knows how to use his dog door, and it may help in a new home to have a similar set-up to help him with routine.
Whistler loves walks and cookies and is a good learner with some patience (and cookies). He is very affectionate and sweet once he knows and trusts you. He loves to bury his soft fur under your arm or weave between your legs for affection. If you're interested in meeting Whistler we ask that you spend some time with him at the sanctuary to make sure it's a good fit. Whistler is a caregiver favorite and his friends would like nothing more than to see him happy in his perfect home.