Female Shiba Inu / Mixed named Hazel available for adoption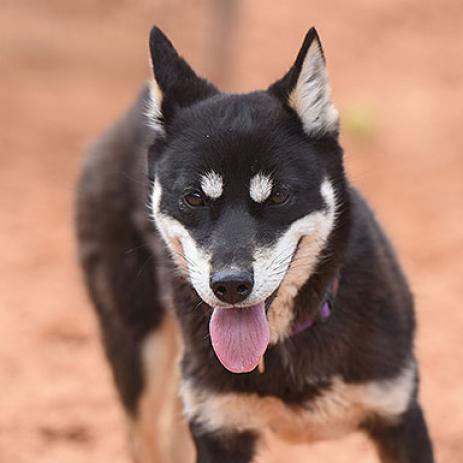 Hazel
Location
Sanctuary (Kanab)
Looks like
Shiba Inu / Mixed
Color
Black with Tan, Yellow or Fawn
---
Are you an experienced dog owner looking for a very special, independent dog that knows who she is and what she wants? Then come meet Hazel at our Sanctuary.

Hazel had a rough start in life. She came to the United States from a Korean meat market and eventually made her way to the sanctuary in 2018.

While Hazel has been here a couple years, she still has a lot of challenges to overcome due to her rough start in life. Hazel is extremely shy and because of this she is a major flight risk so she needs a home that is very secure and has a fenced yard.

Hazel's favorite things to do are running in her yard, hanging out with her dog buddy, and playing with squeaky toys. Humans are still scary to Hazel; she does not allow petting or any kind of handling, and she does not walk on leash yet. That being said, caregivers at the sanctuary take her on stroller walks, and when she sees the stroller, she jumps right in!

Due to Hazel being such a special dog, any potential adopter would need to spend time at the sanctuary to really understand Hazel and her needs.

Her new human will need to appreciate her exactly how she is, and give her a secure home along with the time and patience needed to gain her trust.

If you're interested in Hazel, come talk with our adoption specialists today!