Male American Staffordshire Terrier / Mixed named Buzz Lightyear available for adoption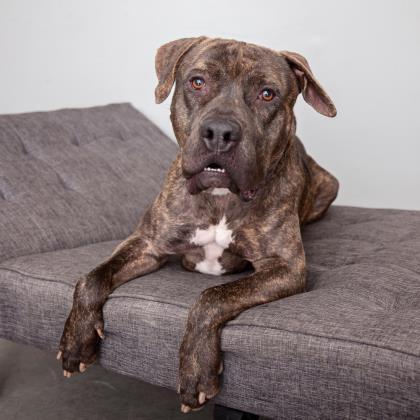 Buzz Lightyear
Location
Sanctuary (Kanab)
Looks like
American Staffordshire Terrier / Mixed
---
Just like Buzz Lightyear, this boy is out of this world! Like all good space rangers, Buzz is well-trained and follows commands such as sit, down, paw, and speak! (Listen carefully and you might hear him sing "You've Got a Friend in Me").

While walking on leash, he stops and waits for your cue to cross the street. As a top notch astronaut, Buzz would love to continue his training to keep his skills sharp. He enjoys exploring faraway galaxies, but will settle for keeping things local with you. If you forgot your spacesuit, Buzz is happy to hop in your car to get around.

He needs to be the only space ranger in the home, but Buzz will always watch your back and drop his macho act enough to let you sneak in a few face kisses. If you are looking for a hero, this your guy! Buzz hopes you will be the one to take him home, to infinity and beyond!