Former intern returns to Best Friends to volunteer
Image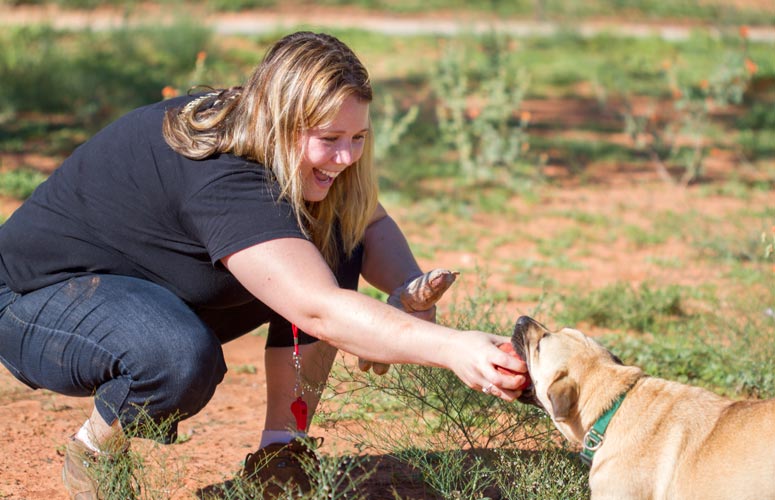 Volunteer pet adoption matchmaker's instincts kick in during a doggie sleepover at the Sanctuary.
By  Jennifer Hayes
You can take the gal away from the rescue group, but when it comes to volunteer Kara Olsen, you can't take the rescue mindset away from the gal — even if she's on vacation. Of course, the fact that her vacation was at Best Friends might have a little to do with that.
More than she bargained for
For some time, Kara felt a desire to do more to help homeless animals. However, she didn't want to just jump in without some know-how. She'd heard about Best Friends through the "DogTown" television show, and after checking out the website, she discovered that Best Friends offered a four-month Sanctuary internship program. After her application was approved, she left her home in Ontario, Canada, to volunteer from July through October 2013.
The internship brought the television show to life for Kara, as she spent most of those four months helping in Dogtown, the area for dogs at Best Friends. Hosting more than 30 sleepovers with Sanctuary dogs and even more outings, she really connected with many of the Sanctuary's canine residents. However, there was one dog who stood out from the rest — Marly, a rottweiler who arrived with her nine one-week-old puppies.
Kara took a special interest in the family, even coming in on her weekends to help care for them. Not surprisingly, she fell in love with the sweet momma dog. However, her dad had issued one rule before she left for Best Friends — no new dogs. Some serious sweet talk, plus a promise to become the designated daily poop scooper back home, and dad relented.
When Kara's internship ended, she made it official by adopting Marly and taking her home to Canada. But Marly isn't the only thing Kara brought home from Best Friends.
Intensified desire to help
Kara's volunteer work at the Sanctuary fueled her passion to help animals even more. So after returning home, she volunteered for a local rescue organization, The Animal Guardian Society (TAGS), and threw herself into helping animals with multiple needs. Her favorite role with TAGS is facilitating the canine meet-and-greets with potential families.
"I think from adopting my own dog, I know how rewarding it is both to the dog and (the adopter)," says Kara. "I want to be a part of that and encourage others to adopt. I love seeing the first moment they get excited and they fall in love."
Matchmaker extraordinaire
Kara recently borrowed a page out of her matchmaking playbook when she returned to Best Friends with her mother to volunteer. Once again, she helped in Dogtown by taking a few lucky pups on outings and sleepovers. One standout was Anya.
The adorable boxer was nervous at first, but warmed up quickly. After an outing at Angels Landing, a beautiful natural amphitheater at the Sanctuary, they continued on with Anya's first-ever sleepover — a small act that literally changed her life.
Back at their rental place, they introduced Anya to a family who had just lost a dog to old age. Instinctively, Kara went into meet-and-greet mode, promoting the sweet pup. It worked. The very next day the family started fostering Anya and quickly adopted her.
Looking ahead
Kara's desire to help homeless animals continued to grow so much that she recently returned to school to become a veterinary technician. After graduation, she hopes to work in animal welfare.
"I think this kind of knowledge will be very good to have and will really open doors for me," says Kara.
After her Best Friends internship, volunteer experience and eventual vet tech degree, it would be no surprise to soon see groups lining up to hire her.
Learn more about volunteering and interning at Best Friends.
Photos by Sarah Ause-Kichas and courtesy of Kara Olsen