Inspiring students to Save Them All
Image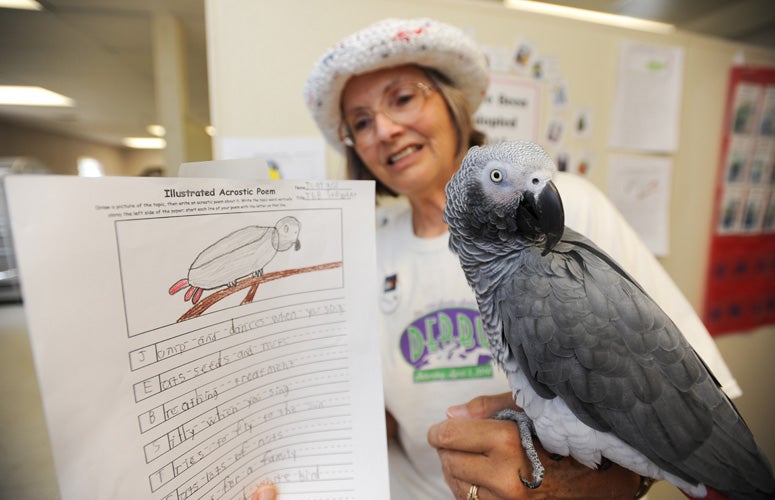 Teacher uses photos of adoptable Sanctuary pets to share love and compassion for animals with her students.
By Christelle L. Del Prete
After visiting Best Friends for the first time in 2005, Stacy Holtz came up with an idea that became one of her all-time favorite teaching tools. During her 33-year teaching career, Stacy's helped quite a few students with learning disabilities in kindergarten through fifth grade. But it wasn't until she came to the Sanctuary that she figured out a way to take her love of animals back to the classroom.
Since that first visit to Best Friends, Stacy has been coming to the Sanctuary twice a year. Volunteering with (and photographing) cats, dogs, wildlife, parrots, bunnies, horses, goats, and pigs turned out to be the perfect way for her to spend her school breaks.
Special projects
What Stacy does at the Sanctuary lays the groundwork for her students' special projects. After getting her photos developed, Stacy pins them up on a bulletin board in her classroom. The students spend a few weeks looking at the pictures and thinking about which animal they'd like to write about. Then they make their choices and the fun begins.
While the students craft a story and draw an illustration of the furry or feathered friend of their choice, they learn about that animal and form an emotional connection, which inspires them to be more compassionate toward all animals. Since Stacy can't bring the kids to the Sanctuary (the school is in L.A.), it's her way of bringing the Sanctuary to them.
This past year, a second-grade boy named Juan picked Jeb Stuart, a Congo African grey parrot. Juan wrote about how Jeb Stuart "gets breathing treatments" at Parrot Garden (he is being treated for aspergillosis, a fungal infection), and delights everyone because he's silly and "jumps and dances when you sing."
Getting motivated
Stacy explains that this assignment has been a great way to get students excited about their work, as well as teach them about the positive impact they can make on the world. "These students generally dislike writing, but become a lot more amenable to it when I tie in the love of animals," says Stacy.
The students are motivated to create the very best stories and to draw the very best pictures they can, because they don't just end up in a drawer. Stacy brings them to the Sanctuary so that staff members can hang them up in animal areas. Since her last visit, the stories and illustrations can be found around the Sanctuary at Cat World, Piggy Paradise and the Bunny House.
She hopes the students' stories might attract the attention of potential adopters and help the featured animals find homes more quickly. She also hopes Sanctuary visitors and volunteers will see them and find ways to bring their own love of animals to other people in other areas of their lives.
Inspired to Save Them All
This assignment is one of the ways that Stacy has been able to make a positive impact on her students during her career. It's also been extremely rewarding for her to watch so many students become engaged, motivated and excited about their work — and about helping animals.
Although Stacy retired from teaching this year, she plans to keep visiting the Sanctuary, and to continue helping animals in her local community. She volunteers at the Best Friends Pet Adoption and Spay/Neuter Center in Mission Hills, California, and helps with mobile and super adoption events in her community. Best of all, she's encouraging other people to find their own special way to spread the message of compassion, and to get kids and other adults inspired to Save Them All.
Be a part of the magic by becoming a Best Friends member.
Find out more about volunteering at Best Friends.
Photos by Molly Wald