10 creative ways to promote your foster pet
From capturing them snoozing to taking them out on the town, showing the world how awesome your foster pets are isn't just fun - it might just them adopted.
By Nicole Hamilton
You know what's just as fun as fostering a pet? It's using fun and unique ways to show the world just how amazing foster pets are. Your creativity just might capture the attention of someone looking to adopt a dog or a cat.
Here are 10 creative ways to promote your foster pet.
1. Make social media your BFF.
When it comes to promoting your foster pet, social media presents a gold mine of opportunities. Share frequent photos and short videos of your foster pet on Facebook and Instagram and take advantage of these social media platforms' "stories" feature. Make sure your Facebook posts are sharable and don't be afraid to use newer apps like TikTok. More on that later.
2. Capture pets playing, cuddling and snoozing.
This sound advice comes from Amber Krzys, who along with her husband has for years been fostering dogs from the Best Friends Lifesaving Center in Los Angeles. Amber always has her smartphone on hand to capture photos and video of her foster pets when they're being silly and playful, or when they're all tuckered out and cuddling next to her and Vince on the couch. She also loves taking video of her pets snoring.
3. Give dogs and cats their own Instagram page.
Since there's a 99.9% chance your foster pet will take over your personal Instagram page, why not go ahead and give your pet his own? It's easy to set up an Instagram account just for your foster pet so that potential adopters can follow the animal's foster journey.
4. Write a pet diary.
When Amanda Uber Trentham was fostering a shy little dog called Mustard, she penned diary entries written by Mustard and shared them on Facebook. Turns out Mustard is quite a funny girl, who loves being petted and gets along great with other dogs. Mustard's diary entries were a big hit and helped her score an awesome home.
5. Keep dog and cat videos short and sweet.
You don't need a video the length of a feature film to show the world how amazing your foster pet is. Thirty seconds (or less) of snuggling, playing, tail-wagging, purring, making biscuits or chasing a tail should do the trick.
6. Get on board the TikTok train.
Speaking of videos, TikTok lets you create short ones accompanied by music that you can share with other TikTok users or share on Facebook. Think of it as a little mini music video about your foster pet. Check out this video of Steak, who was the "most eligible bachelor" at the lifesaving center in Los Angeles ― that is, until this video dropped.
How adorable is this TokTok video of Wrangler with his foster puppy? Shot by foster mom Amy Thatcher, this video has been viewed nearly three million times and it's easy to see why.
7. 'Adoptimize' your foster pet photos.
If you're fostering a dog, take advantage of Adoptimize Foster, a free web app that within minutes transforms your pics into awesome photos. It's easy to use, you don't have to download the program on to your computer and since it hides backgrounds, it's perfect for foster families who prefer a little privacy. After you upload photos of your foster pet, Adoptimize Foster creates new images and emails them to you so you can share them with the shelter and on your social media pages.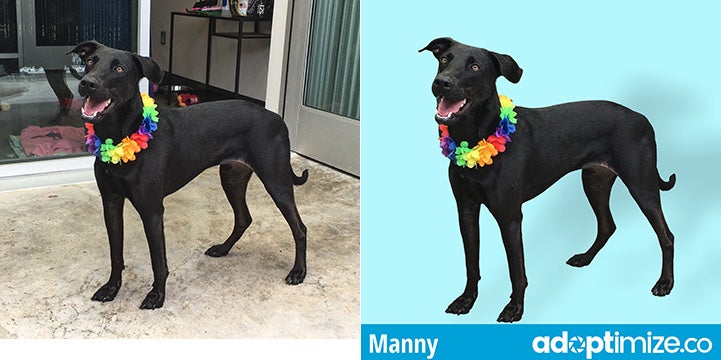 8. Make business cards for foster pets.
There's no rule that says business cards have to be all business. It's easy (and inexpensive) to have cards made up featuring a photo of your foster pet with all the important details like contact info. Give them to anyone interested in adopting to make it easier for them to get in touch with you or the shelter to arrange a play date.
9. Take foster pets out with you.
We're all trying to stay healthy these days and patios are great for socializing while social distancing. And since they're often pet-friendly, they're also great places to take your foster dog. It's also easier for foster pets to meet a potential match if you have them dressed in their finest "Adopt Me" vest and you keep those business cards ready to hand out.
The same goes for walks in the neighborhood, jogs in the park and errands to any of the dog-friendly stores, such as the big home improvement centers. Taking foster dogs out not only helps them learn how to be comfortable in different places, but they'll also be seen by so many people. One of them just might be looking for a dog to adopt.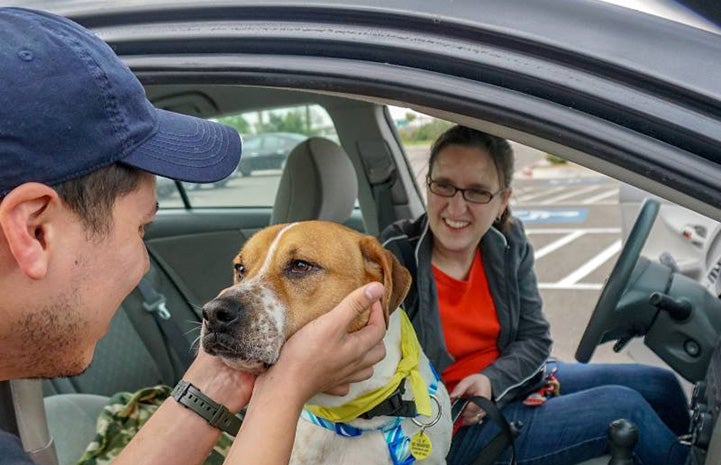 10. Make a Starbucks run with your foster pet.
If you are out and about with your foster dog, make a pit stop (or should we say "pup stop") for a Puppuccino. Have your phone handy and snap some uber-cute photos of your pup devouring the sweet treat.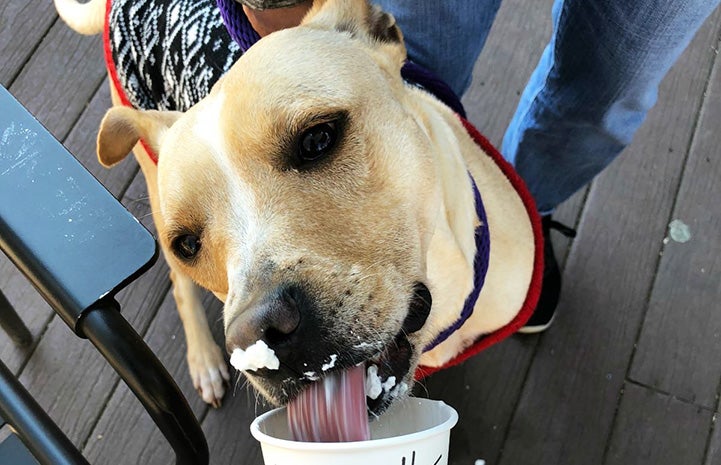 Ready to have some fun? Sign up to foster a cat or dog from a shelter near you. Then combine some creativity with a dash of ingenuity to help get your foster pet adopted. Not only will it be loads of fun for you, but it just may lead your foster pet all the way home.
Have fun! Foster a pet near you
Photos by Sarah Ause Kichas and courtesy of Adoptimize, Palm Valley Animal Center and the Best Friends Lifesaving Center in Atlanta