8 tips for adopting your dog or cat soul mate
Pet matchmaking advice from experts at Best Friends on how to find the dog or cat of your dreams
By Nicole Hamilton
Are you ready to find the furry love of your life? If you're looking for your ideal match in a cat or dog and you want to make sure you're making the right choice for both you and the pet, we're here to help. Luckily, searching for the pet to share your hopes and dreams with (or at least your couch) is nothing like today's dating scene. There's no witty online profile to write, and you don't have to worry about looking hot when you first meet. Pets don't care how long it's been since you've had a haircut. They're cool like that.
Still, you're going to want to follow a few guidelines when choosing a new cat or dog. But we promise you it's worth it, because there's nothing like meeting the pet you just click with. We believe there's a dog or cat out there for everyone, but here's the thing: You've got to know what kind of pet you're looking for in the first place.
To help you get started, we've asked two experts from the Best Friends Lifesaving Center in Los Angeles for their advice. Before you adopt a dog, take a look at tips from Janelle Metiva, dog behavior specialist, and if you're searching for your perfect cat, you'll want to read the advice from Samantha Bell, cat behavior and enrichment lead, who's spent years playing matchmaker to cats and people.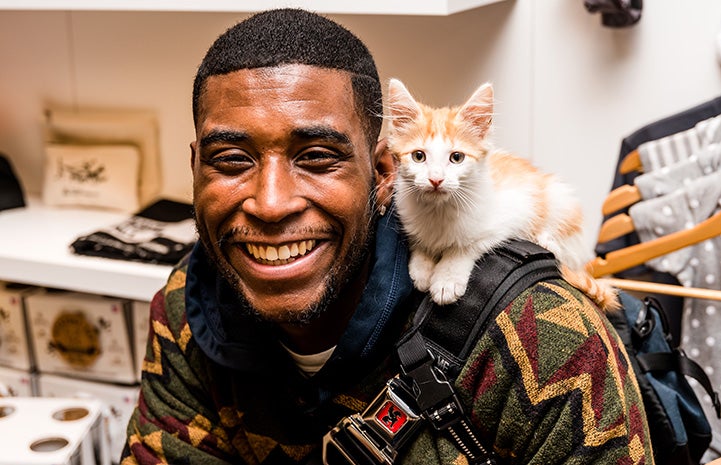 1. Consider your lifestyle. If your dream day is binge-watching TV and you prefer quiet nights at home on the couch, Janelle says a senior dog or one who struggles around other dogs and people could be your ideal match.
If you're the athletic type, why not adopt a high-energy dog who can go on long runs with you? And by high energy we don't mean young. Many older dogs are still bursting with energy. Big dogs are also a good choice for active people. "Big dogs don't necessarily need big homes, especially if they're getting plenty of exercise," says Janelle. "Don't limit your options and keep an open mind."
Let's say you're a social butterfly who loves hosting parties and meeting new people. "Considering your large network of friends and family, you might be ideal for a dog with some separation anxiety who prefers to be around people as much as possible," says Janelle. "Even if you work, you'll have a lot of support to help an anxious dog transition into a home."
Now, let's talk about choosing a cat who fits your lifestyle. If you're a person on the go, Samantha says a pair of adult cats would be a great option. Occasionally, shelters and rescue groups will have two cats who need to go to a home together. Not only is it heartwarming to see a pair of cats who are already friends stay together, but you'll know that while you're away, they'll have each other for love, security and company.
If you can only have one cat due to housing rules, for example, consider adopting an adult cat who prefers living solo. Samantha says there are many cats who are extremely loving with people, but terrified of other cats. They don't always make a great first impression on potential adopters, especially if they're in a shelter where they're surrounded by other cats. But once they're in a home, they'll flourish.
2. Let the shelter team play matchmaker. Tell the staff and volunteers at the shelter all about yourself and your lifestyle. Let them know if you live with others, including any and all pets (even Iggy, the family iguana), as well as animals you come in contact with on a regular basis (like the colony of cats you feed in your back yard). For example, Janelle says, "If you live in a building where every single tenant has a small dog, it's going to be important that your new dog be comfortable around little pups."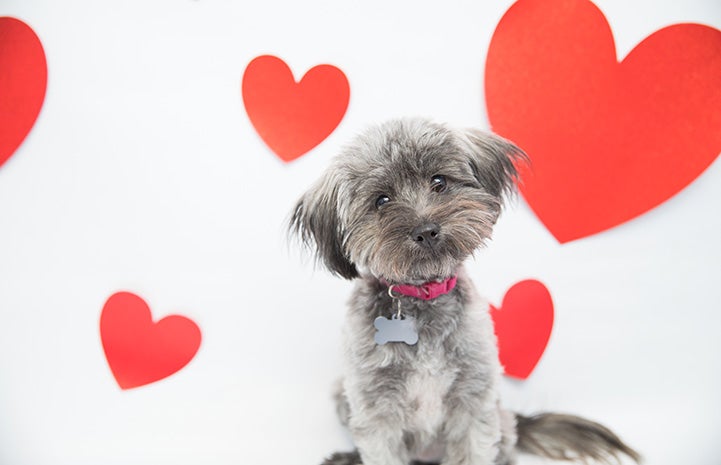 3. Consider the kids. Whether you're adopting a cat or a dog, it's important to take your kids with you to meet all prospective pets so you can observe how they interact. "Every child has their own unique energy and every pet reacts differently to every child," says Samantha.
4. Keep an open mind. "Don't get hung up on breed, size or age," says Janelle. "You might think you need a Labrador to play fetch and frolic in the lake, but there are dogs of all shapes and sizes who enjoy these things."
Liv Sigel learned the importance of having an open mind when she visited the NKLA Pet Adoption Center. She planned to adopt a puppy — that is, until she met a senior pit bull terrier mix named Gunner and her plans went beautifully wrong. Today, Gunner is enjoying life with Liv and they're getting ready to celebrate their first Valentine's Day together.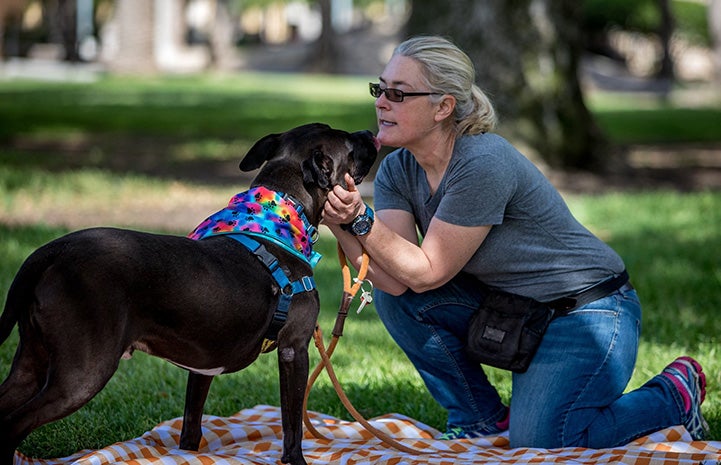 5. Be realistic. Maybe you've fallen in love with a big dog who weighs almost as much as you do, or a kitten who will require more attention than you feel you can give. A decision not to adopt the pet you originally had in mind can be difficult, but it might be the right thing for you and the pet. And if you think that your life may be totally different in five years, you may be better off adopting a senior dog than a puppy, says Janelle.
Get matched with adoptable cats and dogs
6. Don't be afraid to have deal-breakers. It's OK if you're not willing to potty train a puppy or can't give kittens all the attention they need to thrive. Sometimes knowing what you don't want is as important as knowing what you do want.
7. How much affection do you need?  Do you need your dog to show physical affection? Will you be disappointed if the cat you adopt doesn't want to keep you company when you watch your favorite episode of "The Office" again? How much (or how little) affection you want from your pet is an important factor in deciding which one to adopt.
Take Archer, for example. Archer is a gorgeous kitty and the kind you want to cuddle, but he's not much for affection. And that's OK because he found a home with an adopter who likes his space, too.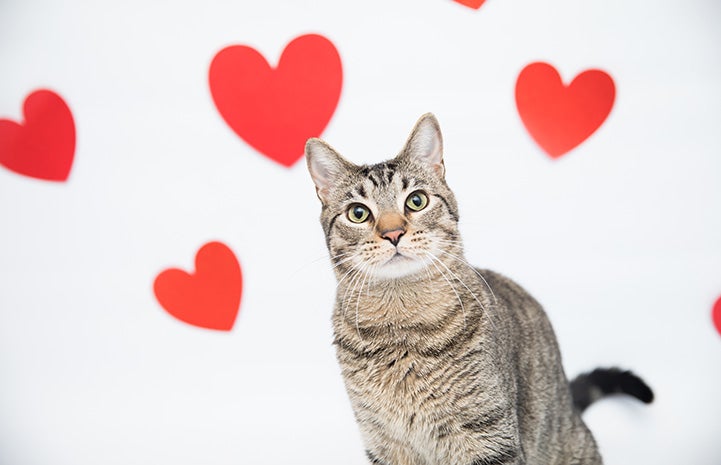 That being said, don't be quick to judge a pet from your first meeting. "Not everyone kisses on the first date," says Janelle, who suggests watching how pets are with a staff member or volunteer they know well. That'll give you a better idea of how affectionate they'll probably be with you.
8. So, you want to adopt a kitten. There's nothing wrong with that. They are irresistible, after all, and so many kittens need homes, especially during kitten season, when many shelters are inundated with more kittens than they can care for.
Adopting a kitten, as you can see, goes a long way toward helping shelters reach no-kill; however, when it comes to adopting little ones, Samantha encourages adopters to open their home to a pair, if possible.
"All cats have to bite and scratch. It's feline instinct." she says. "And a pair of kittens learns that biting and scratching is something they should do to each other during playtime, and not to their humans."
Does it matter if you adopt a male or female cat? Is there a difference? Not really, says Samantha. "Every cat has their own personality, so never discount a cat because they aren't male or female. If you give all the cats you meet a chance, you'll have the best odds of finding a great match."
So what are you waiting for? We guarantee that your perfect match is out there and might be closer than you think — probably at your local shelter, waiting patiently to meet you. You'll know it when you see that furry face, because when you do, you can't imagine life without it.
Go find love. Adopt a pet near you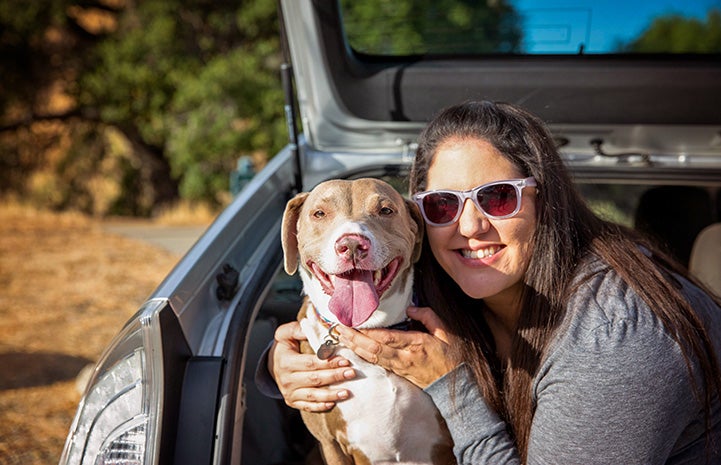 Photos by Sarah Ause Kichas, Lori Fusaro and Todd Roisman