Across and up the country
Image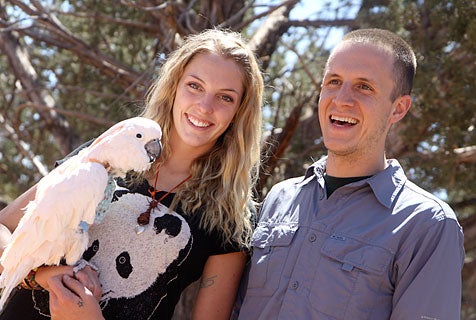 Hikers for Best Friends trek thousands of miles for the animals. April 30, 2010
By Best Friends Animal Society
Heather Kierstead and Stephen Dunn are on the hike of a lifetime, an ambitious 2,650-mile, six-month trek from Mexico to Canada. And it's all for the animals.
They started out in Campo, Calif., at the Mexican border, along the Pacific Crest trail.
But they're not just hiking a leg of the trail. They're walking the entire route. The goal is to cross the U.S. Calling themselves the Blink Team, they left their homes in North Carolina in mid March and headed for California on the first leg of the trip with the goal of raising $30,000.
One of the stops was at Best Friends Animal Sanctuary, one of three animal groups benefiting from the hike. The other two are the Forsyth Humane Society and FurEver Friends, both in Winston-Salem, N.C.
For Heather, the best thing about spending time at the Sanctuary was volunteering with the animals, especially the birds. "They're so inquisitive," says Heather, who until the trip co-owned a gallery and coffee bar. "They came right up to us to get a better look."
And waking up every morning looking out on a horse pasture wasn't bad either. "We stayed four nights in a row at the cottages," Stephen says. "I couldn't believe the horses. I felt like a kid at summer camp."
Heather's next favorite thing was going on a V.I.P. tour of the sanctuary grounds with co-founder Faith Maloney. "It's an amazing place," Heather says. "We learned a lot from Faith. It surpassed our expectations. We met the pigs too. All the animals seemed so happy."
While volunteering, they met Finn, a young Australian shepherd-mix dog, whom they took on an overnight to their cottage. "He was so comfortable and so happy and always wanted to sit next to us," she says.
The next morning, "I was worried about taking him back. I thought he'd be sad. But when we arrived in his area, Finn jumped out of the car and then ran to his home at the sanctuary. He's happy there," Heather says.
And that's what struck her the most about the sanctuary, how the animals are regarded. "They're made to be comfortable," she says. "It's the same [thing] I've seen with homeless people."
Stephen, who began volunteering at homeless centers when he was 12 years old, introduced Heather to shelters for people. She says the compassion from the workers she has seen at homeless centers is similar to that of the caregivers at the Sanctuary.
"It's not just about keeping them alive and giving them the bare minimum," Heather explains. "It's a matter of giving them a happy life -- and a comfortable one. The dogs aren't just by themselves in crates. They get to socialize with people and other dogs. It's about providing a high quality of life, not just a safe place."
Heather's all-time favorite happy animal place was Feathered Friends and a cockatoo named Charlie. "We loved being with the birds," she says. "But Charlie was my favorite."
Heather has a background helping animals, and in 2008 became the youngest member on the board for the Forsyth Humane Society. Blink Team's goal, she says, is to not only raise money for three rescue groups, but to also raise awareness about animals.
For Stephen, putting his college life on hold to hike for six months meant selling some of his musical instruments. But the pair have received some sponsorships to help offset the costs of hiking gear and expenses. They both say it's worth the time and effort because they're helping animals in the process.
"I feel like every life is equal," says Heather, who, after the hike, is considering pursuing a career in animal training. "The biggest thing is to let people know."
To follow Heather and Stephen's trip or to donate, click here.
Written by Cathy Scott

Photos by Sarah Ause