Blind cat sees a world of good in everyone and everything
Tootsie came to Best Friends with a painful eye condition that required surgery, but no matter what life brings her, this cat is an inspiration.
By Nicole Hamilton
It's safe to say that Toostie's journey to where she is now (spoiler alert: a loving home) wasn't without its challenges. It began when she was brought to a Los Angeles Animal Services shelter looking tattered and tired. She also had unusually large eyes and cloudy pupils that suggested she had a medical condition that needed a closer look.
A couple of weeks later, when she was transferred to Best Friends in Los Angeles, the medical team discovered that not only was she likely blind, but also that her eyes were hurting.
Take a moment now to imagine what it must have been like for sightless Tootsie, who found herself at not one, but two new places in a short period of time with so many unfamiliar smells and sounds. Sounds scary, right? But here's the thing: Tootsie took it all in stride. Life had dealt her an unfair hand, but things were looking up and through it all she remained her sweet, cuddly self.
[Three tough tabbies survive a wildfire]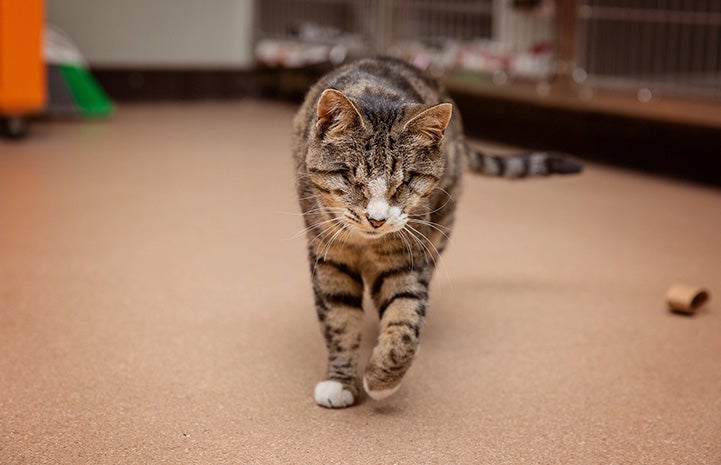 Blind cat is extra cuddly
Meredith Hazan, a program coordinator at Best Friends in Los Angeles, remembers that Tootsie looked a little rough when she first arrived. The medical team found her eyes severely inflamed and both eye lenses detached. According to Dr. Anna Sarfaty, the attending Best Friends veterinarian, it was likely that the seven-year-old cat was blind and that she was in pain. In order to help her feel better, it would be necessary to remove both eyes.
Dr. Sarfaty said Tootsie's recovery from the simple procedure would be swift, and sure enough, everything went well. Tootsie remained in the clinic until she was fully healed and ready to be adopted. During the recovery, even on the days when she probably didn't feel very good, Tootsie didn't show it. "She seemed very friendly and confident just hanging out at the front of her kennel asking for attention," says Meredith.
From the day Tootsie arrived (a time when cats normally show fear), Meredith noticed Tootsie's preference for looking on the bright side. "You would think that she'd be afraid and be hiding in the back of her kennel," says Meredith. "But she didn't seem to be bothered by any of it."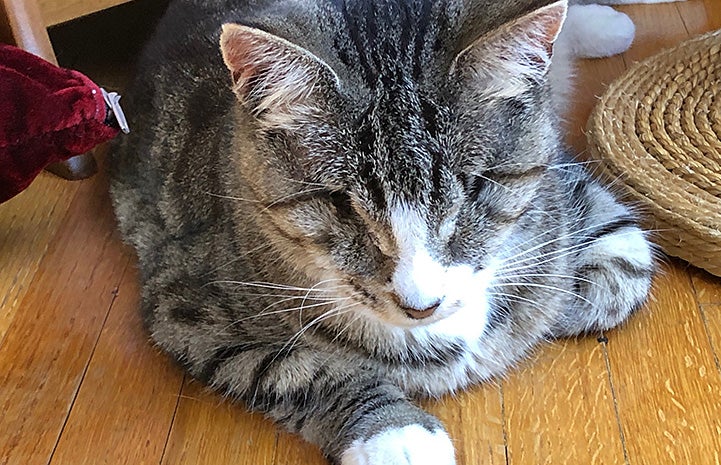 Meeting a most extraordinary cat
Jane Pibal and her boyfriend, who had been looking to adopt either a senior cat or one with special needs, read about Tootsie on the Best Friends website. Ever since their own beloved cat died, the house had felt a little empty, and it seemed like the right time for them to adopt. They figured helping a new cat acclimate to their home would make life a lot more enjoyable during the coronavirus pandemic.
"I could tell (she) was incredibly sweet and truly unique," says Janine. "Of course, my heart also went out to her (watching) how she needed to navigate psychologically, emotionally and physically through life without her sight."
Janine contacted Best Friends to indicate her interest in possibly adopting Tootsie. Two days later, she sat down for a virtual meet-and-greet with the feline of the hour. "She was just so cute and strong-willed," she says. "I knew she was an extraordinary cat with a very special spirit."
[Big orange tabby cat from Los Angeles charms adopter in Texas, road trips home]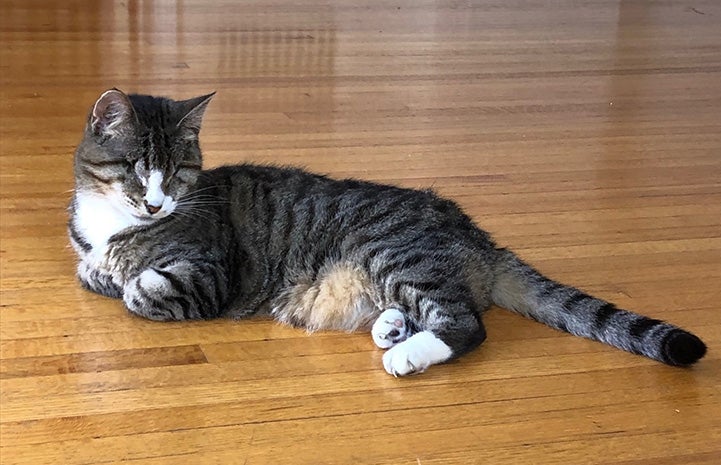 Helping a blind cat feel comfortable in her new home
Janine decided that day to adopt Tootsie, but before bringing her home she did some research by talking to Best Friends about how to create a comfortable home environment for Tootsie ―  one that she could safely navigate.
"She walked everywhere in the beginning, mapping out every corner of every room," says Janine, who adds that Tootsie sometimes got upset, hissed, growled and scratched the air or anything that was near her. But Janine remained patient. "I completely understood that she was responding to the fear of not knowing where she was or what or who was around her," she says.
Now Janine and her boyfriend are noticing that Tootsie is feeling more at ease every day. She has no problem finding her food or her litter box, and she meows frequently to communicate, which Janine loves. "Her meows are amazingly expressive," says Janine. "She truly sounds like she's talking. Perhaps since she's not quite comfortable with a lot of touch at this point, she's bonding with us vocally in the meantime."
Janine finds all of the sounds made by Tootsie endearing. "She's a survivor and I can imagine her powerful expressive vocal abilities, growls and howls helped keep her safe when she was a stray, especially with failing sight," says Janine. "She is so loving beneath her outer protective armor. You can tell."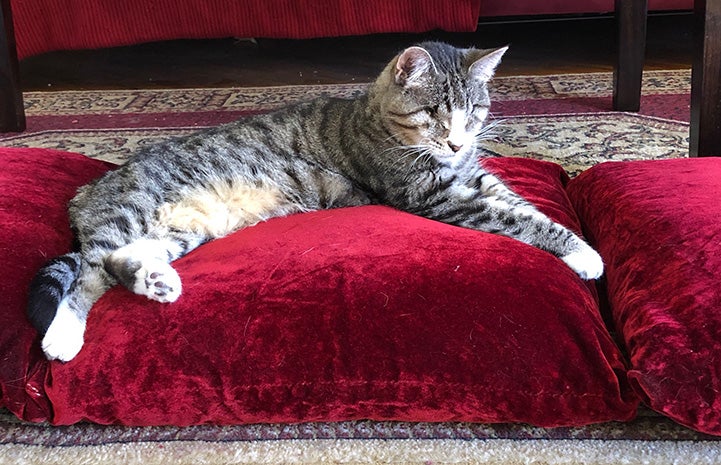 Seeing the world through a different lens
Because of COVID-19, Janine has been able to spend extra time at home, which means extra time with Tootsie. A puppeteer, she gave Tootsie a new name ― Fizzgig ― after a muppet character from the movie The Dark Crystal. Janine says that despite her new cat being blind, Fizzgig has taught her how to see the world through a different lens and appreciate the things all around her that sometimes are taken for granted.
"I love watching her lie peacefully by the window, feeling the breeze and listening to the birds in the bottlebrush tree," says Janine. "She's been through so much and survived thanks to her brilliant ability to make sense of the world by using all of her keen senses to the fullest."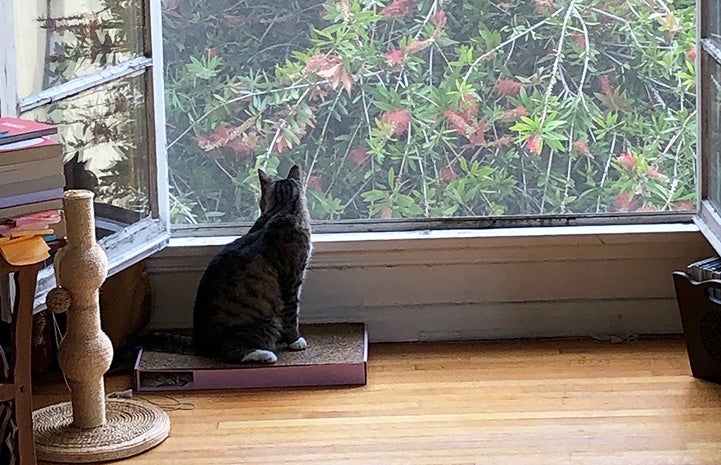 Adopt, and prepare to be inspired
Right now, there's a cat at your local shelter with an inspiring story who's waiting for a home. Why not make it yours?
Read more
6 random acts of kindness towards animals
Winning over an introverted cat, one step at a time
Texas dog gets lift to New York and a new life
Photos courtesy of Best Friends staff and Janine Pibal