Medical care for Georgia's free-roaming cats
Columbus Community Cats Project provides spay neuter and vaccines for stray cats in Georgia, making space at Animal Care and Control Center (ACCC).
By Nicole Hamilton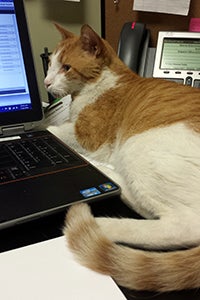 Rocky was a familiar face in the Columbus, Georgia, neighborhood where he roamed. The laid-back, orange-and-white tabby would often appear on doorsteps or in yards and the neighbors would make sure he was fed. In fact, Rocky was such a regular at one home that when he showed up one day without his usually happy disposition, the family who fed him knew something wasn't quite right.
Rocky was taken to Animal Care and Control Center (ACCC) in Columbus, where Courtney Pierce, community cat coordinator for Best Friends, got to work trying to find out what was making Rocky feel so bad. When she observed that Rocky was unable to eat his food, she grew concerned and took him to the 2nd Avenue Animal Hospital to be examined by a vet.
The not-so-good news was that Rocky had a broken jaw and would need surgery. But there was good news, too. Rocky's surgery could be scheduled right away, thanks to the Columbus Community Cats Project, a partnership between Best Friends and PetSmart Charities®, the leading funder of animal welfare in North America. With the help of a generous grant from PetSmart Charities, the project has also saved nearly 3,000 cats like Rocky, plus another orange tabby cat named Zaxby, who needed just as much help as Rocky. And he got it.
Medical help for outdoor cats
Launched in September 2014, the Columbus Community Cats Project provides free or low-cost spay/neuter surgeries and vaccinations for free-roaming unaltered cats. Once the cats are fixed, they are returned to where they live outdoors.
Not only does the program create more housing space at ACCC until pets are adopted, it has also drastically improved the shelter's save rate.
"There have been tremendous benefits from this program," says Drale Short, manager of Columbus ACCC. "Because there has been a huge reduction in the number of cats being brought into the facility, we have been able to detour our resources toward finding homes for our animals ― especially our dogs."
Animals brought to the ACCC are no longer killed because of lack of space. This means that the project can take lifesaving to the next level by funding medical procedures for stray cats like Rocky, who otherwise might not have received the treatment he needed to stay alive.
Today, Rocky is no longer in pain. His jaw healed nicely after his surgery, and he's now back living life as a community cat in the neighborhood he calls home. The family that brought Rocky to the ACCC looks out for him and feeds him on a regular basis.
"The community came together to help Rocky," says Courtney. "And now we have the resources to give cats like him the medical care that they need."
Learn more about Best Friends cat initiatives
Zaxby gets healthy and finds a home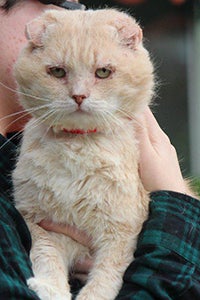 ​Zaxby, a stray found in a fast food restaurant parking lot, came to the ACCC in serious need of medical attention, just like Rocky. Poor Zaxby's ears had become so infested with ear mites that he had developed large and painful sores in his ear canals. His ear mite treatment would be a long process, and there was a chance his ears had suffered permanent damage and scarring.
The community cat team got to work quickly to help Zaxby, and soon he revealed his sweet and friendly personality. Because he was found in a public place with no caregiver to ensure his safety, and because he turned out to be so friendly, Courtney looked for indoor home options for Zaxby. She reached out to Animal Ark rescue, which was able to take Zaxby into its shelter, so he could be placed up for adoption.
Before long, Zaxby captured the attention of Danny Ryder, who spotted the cat's adoption bio online and knew he needed to meet him. It was Zaxby's ears that caught his attention. Now Zaxby ― renamed Zack ― no longer lives in a parking lot. These days he sits in the lap of luxury (aka the lap of Danny) in his home in Jasper, Georgia.
For ailing outdoor cats like Rocky and Zack, their outcomes might not have been as positive without the help of the Columbus Community Cats Project. Rocky may never have gotten the chance to visit neighbors again on the street where he lives. And Zack might not have had the chance to get healthy enough to finally make it home.
Photos courtesy of Animal Ark Rescue and Courtney Pierce