A New Year for Old Friends!
Image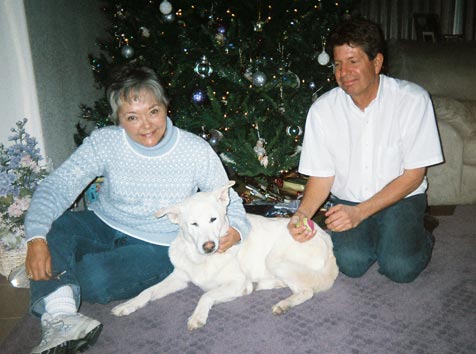 Record adoptions in 2007 from Old Friends, our facility for senior dogs at the sanctuary.
By Best Friends Animal Society
A 13-year-old Best Friends dog has broken a record. His name is Bond. James Bond, and his recent adoption by a Las Vegas couple marks the 50th Old Friends dog in 2007 to go into a home.
In the past year, 50 dogs were adopted from Old Friends, where the senior dogs live at the sanctuary. According to Joyce Wallace, Bond's caregiver, "I'm not sure what happened this year, but I am so glad it did!"
Bond is a handsome shepherd mix who does well with female canines. "I called him James Bond because of his charm with the girl dogs," Joyce says. She ought to know. She helped care for him beginning in July 2005, when Bond was returned, after three years, by an adopter because the family said he had separation anxiety.
But those days are behind him now. In his new home with Joanne and Dean Knight, where Joanne is home most of the time, Bond hasn't shown any signs of anxiety when she leaves the house. In fact, the first time Joanne left him alone for an hour to go to the store, Bond was sound asleep on his bed when she returned.
The Knights chose Bond rather than a younger dog because they wanted to give an older dog a second chance to live out his remaining years in a home.
Bond has arthritis and a degenerative disease in his hips. Plus, he's on a special diet for a digestive disorder. Still, the Knights' veterinarian suggested that they keep him moving by walking him as much as he likes, to strengthen the muscles in his hips. So that's what they've been doing, and Bond is already showing some improvement. Dean is making a ramp for the car so Bond can easily get in and out of the back seat. And they plugged in night lights in the garage and a bathroom so that Bond can see better as he goes outside through the dog doors - one from the house to the garage, and the second from the garage to the side yard.
In the warmer months, Bond will travel with the Knights on weekends to their houseboat on Lake Powell.
"If Bond doesn't have a lot of time left, and we can give him six months of love and warmth, then I'm okay with that," Joanne says. "I'm going to be sad, of course, because I think he's a wonderful, wonderful guy. But we're giving him something he needs."
In the meantime, life could not be better. Their 13-year-old cat, Spooky, has fallen in love with Bond, although Bond couldn't care less one way or the other. He'd rather keep his eye on the three cockatiels who, when the Knights are both home, are allowed out of their cage each day to fly through the house so they can get exercise. "He thinks the birds are squeaky toys," Joanne says. "He can't get to them, but he's fascinated by them."
To say that Bond loves squeaky toys is an understatement. The squeakier, the better. Within 10 minutes, Bond can tear the squeaky mechanism out of the stuffing. No problem, though. He has lots more toys.
Bond also enjoys playing fetch with the Knights' 10-year-old granddaughter, Natasha, who considers Bond her new best friend. The feeling is mutual. Natasha, who has Down syndrome, spends her mornings at her grandparents' home until her bus arrives at their house to take her to school. Bond stands on the sidewalk by Natasha's side as she waits for her ride.
"Bond waits with us," Joanne says. "Natasha told her dad she can hardly wait each day to see Bond. He's wonderful with her."
When Natasha first met Bond, "she dropped to her knees to hug him," Joanne says. "He licked her face and was so gentle. She throws the ball for him and he brings it back. I can't tell you how wonderful he is. He's a gentle-hearted dog."
Joanne and Dean Knight at home with Bond, and Bond at home on his new bed, chewing on a toy.
Story and photos by Cathy Scott.
Maybe 2007 was just a warm-up for 2008! Be sure to bookmark the Best Friends adoptable dogs page - there's always someone new there, looking for a home.
Also, for more about older dogs, check out The Zen of Old Dogs and Caring for Your Older Dog.