One elderly cat and 10 college students
Image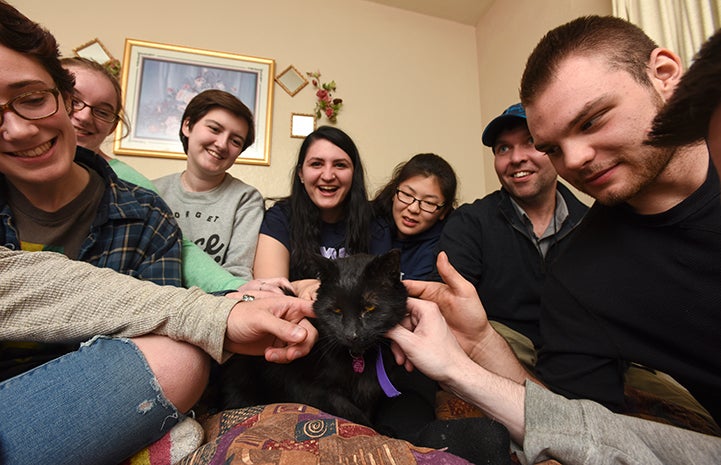 Students from Saint Michael's College enjoy a week of service and snuggles with all the animals, including one elderly black cat.
By Christelle L. Del Prete
At first glance, the scene might seem kind of strange —10 eager young college students fawning over one elderly cat. But Edward, an 18-year-old cat who has kidney issues, kitty asthma and a heart murmur, was up for a little excitement and extra love.
Meanwhile, the students visiting from Saint Michael's College in Vermont needed to squeeze a little downtime into their jam-packed volunteering schedule. That's how the unlikely pairing turned into a perfect evening for everyone and capped off the students' perfect volunteer vacation.
Saint Michael's College students put service first
CeCe Horbat is the student representative for the group that traveled to the Sanctuary this winter. She explains that their school encourages students to make service a key part of their college experience. That's how CeCe and her peers got a chance to put service first during their winter break this year. A volunteer trip to Best Friends is one of the school's most popular options. And, since the students in CeCe's group are all animal lovers, they jumped on the chance to spend some quality time with the Sanctuary animals.
No slacking
Although the students were technically on break, they worked hard and loved every minute of it. In just one week, they volunteered in nearly every animal area at the Sanctuary, including Cat World, Dogtown, The Bunny House, Parrot Garden, Horse Haven and Wild Friends. Besides lots of cleaning tasks, such as dishwashing and poop scooping, the students helped to walk and socialize animals. They even tackled a special maintenance project, attended lectures and held nightly discussion groups to talk about their experiences.
But the hardworking students needed some downtime, too. Since few things are more relaxing for animal lovers than cuddling with a purring cat, the students decided to bring one home with them for an evening. Of course, their guest of honor had to be a very special kind of cat — one who wouldn't be overwhelmed meeting 10 eager and adoring new people.
Edward the cat fits the bill
That might seem like a tall order, but Best Friends caregivers are experts at matching pets up with people for sleepovers. Since Cat World's sleepover program began, Sanctuary cats have gone on more than 4,000 sleepovers with volunteers. So, while it's not every day that a group of college students wants to host a cat for the evening, all they needed to make it happen was the right cat.
That cat was Edward, who in spite of his age (or maybe because of it), is a remarkably mellow cat. He wasn't fazed by all the new faces or by all the hands that reached out to pet his jet-black fur. And he wanted so badly to be the center of attention that he jumped right into it. He had barely become acquainted with the students before he leaped onto a bed where they'd gathered to spend some time with him.
First impressions of Best Friends
For all but one of the students, this trip was their first experience with Best Friends. And it was clear that their first impressions would stick with them for years to come. Lindsey Baldwin pointed out how "eye-opening" it was to learn about prey animals like horses, and how people can form successful partnerships with them.
Matt Stys, who has volunteered with animals before in his community, admits it was difficult because shelters often lack crucial resources to help the animals. Volunteering at the Sanctuary gave him a more optimistic view of animal welfare. "It's awesome to see how things work at a place that has resources, and how the dogs are treated with such respect," he says.
CeCe pointed out relevant connections between service projects with animals and service to humans. For example, she says, learning about things like feather-plucking in parrots can help her and the other students show more compassion and understanding toward people with self-destructive behavior.
Finally, Anna Jäger was impressed by the dedication she saw not only in the Best Friends staff, but also in other volunteers. "What everyone is doing here is awesome," she says. "It's great that people have found this as their calling. I find it honorable of them to drop everything and go help animals."
The gift of friendship and trust
By the time the students took Edward on a sleepover, their trip was coming to a close. But it's likely they'll never forget what they learned at the Sanctuary or some of the animals they met. That is especially true for Edward. Because the moment the senior, special-needs cat accepted 10 perfect strangers as his friends and placed his trust in them, he may have just summed up the whole reason for their trip.
Give your own gift to the animals at Best Friends. Here's how:
Photos by Molly Wald