Over a decade of lifesaving innovation
No More Homeless Pets in Utah Coalition helps decrease state's kill rate.
By Best Friends Animal Society
By Denise LeBeau
For the last 12 years, the No More Homeless Pets in Utah Coalition has been helping animals in the Beehive State find safe haven and loving homes. Since 2000, over 94,000 adoptions have been attributed to member groups. Further, the number of animals killed annually in the shelter system in Utah has gone from over 46,000 to under 30,000 in the last dozen years. The state's overall killing has decreased by 35 percent.
All for one
"One of the most important benefits of the coalition is the groups working together towards a common goal," says Danielle Slaughter, Best Friends Animal Society – Utah staffer. "In fact, the statistics for the first quarter of 2012 have seen us having the lowest number of animal intake and euthanasia since the coalition started."
The coalition fosters relationships and networking opportunities among animal welfare groups. Groups are invited to participate in major Best Friends' events like Pet Super Adoptions and Strut Your Mutt.
CAWS
Community Animal Welfare Society (CAWS) has been on board since the coalition's inception. Janita Coombs, founder, cites the thrill of being a part of the Pet Super Adoption as one of the most fulfilling experiences for CAWS' members: "We enjoy having the chance to work with other rescues and shelters to save as many animals as possible in one weekend. It gives us a chance to not only save pets, but to enjoy one another's company."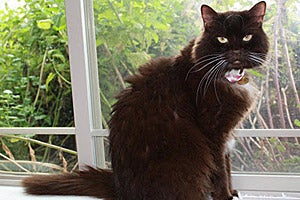 Andrea is a survivor.
CAWS was instrumental in rescuing a cat who captured the nation's attention when she survived the gas chamber — twice — before being found alive in the freezer. CAWS says that they are able to make a difference in the lives of animals in need, like Andrea, by being a member of the coalition.
"It was through the super adoption events and being a member of the coalition that we developed a strong relationship with the shelter manager," shares Janita. "Because of this relationship, the shelter manager felt comfortable calling us to help in the special circumstances with Andrea. We were also able to work with our coalition partners, specifically Anna Gonce (program director) of Best Friends, to assist the shelter in life-changing measures."
Daisy the dog was not doing well in the shelter. She was fostered while she got over her kennel cough, but she also had guarding issues. She acted aggressively when she was behind a fence or in her crate. Because of Daisy's behavior, she needed to be released to a rescue, not straight to an adopter. CAWS took her in and continued to help her overcome her behavior issues. CAWS was ultimately able to get her adopted to a loving home.
Davis County Animal Care and Control
One of the coalition's newer members is Davis County Animal Care and Control. They've been on board since the fall of 2011, and they're making the most of the lifesaving resources. They placed 251 animals into coalition rescues between January and June 2012 — that's four times the number of animals placed during the same period in 2011.
"The most valuable benefit to being a member is the high level and quality of the rescue and shelter organizations that participate," says Clint Thacker, director. "In general, we don't have to worry that laws will be broken because of the good reputation of the rescues. Only rescue groups registered with the NMHP Coalition will be considered rescue partners of Davis County, unless otherwise stated by the director."
As Clint enthuses, "The coalition is an invaluable resource to municipal shelters and rescue groups."
Help homeless pets in Utah
Learn more about helping pets in Utah.
And wait, there's more: If you are a pet professional in Utah (i.e., a veterinarian, groomer, trainer, etc.), the No More Homeless Pets in Utah coalition has added a supporting membership category. For details on how you can lend your skills to saving lives, email Danielle Slaughter at danielles@bestfriends.org.