Visit to Sanctuary leads to an equine adoption and a life devoted to horses
Image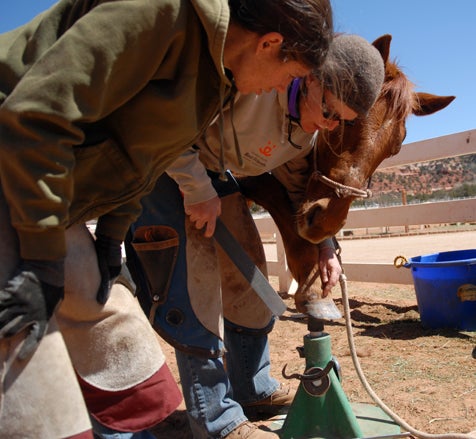 One woman's trip to Best Friends Animal Sanctuary set the course for her life. She adopted a horse and now devotes her life to horses.
By Best Friends staff
Six years ago, Michele Hochhauser visited Best Friends for the first time. "That visit changed my life," she says now. In part, the change came about because she met Aleah, a Sanctuary horse she adopted. But Aleah was only part of the picture. Equine adoption set the course of Michele's life.
Parelli Natural Horsemanship horse training
Michele also met horse manager Jen Reid and other members of the horse staff at Best Friends. They opened her eyes to a whole new way of thinking when it comes to horse care. Specifically, they introduced her to the Parelli Natural Horsemanship training approach.
Games for horses to build trust and confidence
For those unfamiliar with Parelli, it's the horse training method of choice at Best Friends. The Parelli system uses a series of games that help teach horse and person alike how best to interact. It's about building relationships of trust with a horse and teaching the horse to feel confident in a variety of situations. As a result, the horses are much happier and healthier.
Michele has been training with Parelli ever since and is now a level three student (out of four possible levels) in the program. All along, she's worked on the training with Aleah. So how have things panned out? Well, if reputation counts for anything, Aleah has become one heck of an ambassador!
Michele admits that more often than not she gets a head-scratching response from people when she tries to teach them about Parelli. You see, it's a whole different way of thinking. What nobody can question, however, are the results.
A good relationship with her horse
Aleah is now the ultimate "goody-two-shoes horse," as Michele explains things. Michele and Aleah do horse shows together, go out on trail rides with groups of friends, and in general just have a fantastic relationship. Everybody is blown away by Aleah's personality. She's become the horse who can walk at the front of the group, or in the back, or in the middle with the nosy horse goosing her every other step. She takes it all in stride. Nothing fazes her! That's the magic of Parelli.
Natural hoof care practitioner training
Now, however, regarding horses, Michele is ready for the next adventure in her life. She's started training to become a natural hoof care practitioner back home in Longmont, Colorado. And she could think of no better place to start that training than here at the Sanctuary.
Helping horses
"I love it here," she explains. Michele came for a few days to shadow her friend and mentor Jen Reid, with whom she's kept in contact all these years. She will be able to use these new skills to help Aleah as well as other horses she meets. And it all began with that single trip six years ago. Goes to show you never know what's coming around the bend in life, especially if you're planning a visit to the Sanctuary!
Photos by Molly Wald
Visit Horse Haven at the Sanctuary and meet the horses and caregivers. Sometimes we even hold special classes.