Best Friends Animal Society innovative program saves shelter dogs' lives, trains them for careers
KANAB, Utah - A recent trend identifying shelter dogs who have the potential to be working canines not only saves their lives, but makes the world an easier place to navigate for the people with whom they are paired.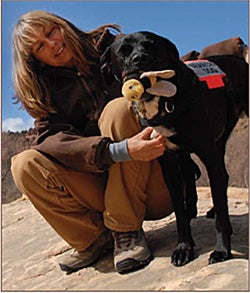 Best Friends Animal Society's Canines with Careers program, run by animal behavior expert Sherry Woodard, teaches dog trainers and rescue groups as well sheriff's department personnel, prison staff, people who work with at-risk youth, health care professionals, etc., how to identify, screen, select, train and place appropriate shelter and rescue dogs for career work.
One disabled Arizona veteran says putting it bluntly "I wouldn't be here" without the rescued dog who is his constant companion; a Missouri program pairs prisoners with dogs who need training before they are ready for adoption; and a Kentucky foundation that trains shelter dogs to be service dogs for autistic children are just a few examples of the program's success.
"In animal shelters there are literally thousands of dogs who have the right stuff to be career dogs," said Woodard. "Last year Best Friends Animal Society and a team of committed people successfully placed more than 380 rescued canines in jobs that saved the dogs' lives and benefited people.
"There are millions of reasons for this program," Woodard said. "Every day thousands of dogs are dying in shelters across the country, simply because they are homeless. At the same time, millions of people with psychiatric or physical disabilities don't have the service dog they need. The Institute of Medicine estimates of the more than 40 million people with disabilities, only about one percent of those who could benefit from a service dog actually have one."
Woodard points out other unmet needs for working dogs. Many search and rescue teams are without qualified dogs. Somewhere between 400,000 and 600,000 military veterans suffering post-traumatic stress disorder could benefit from having a service dogs. Every year about 25,000 U.S. children are diagnosed with autism and must endure a long wait for trained dog to help them communicate and keep them safe.
Traditionally, the assumption has been that career dogs must be "purpose-bred," utilizing purebred puppies placed in training between 18 and 24 months of age. Drawbacks include a high cost (between $10,000 and $40,000 per dog), a 50 percent failure rate of dogs aren't suited to be career dogs, and long waiting lists.
One success story through Canines with Careers program is Buster, a Chow mix who lived at Best Friends Animal Sanctuary where Woodard identified his potential and started working with him. At once, she noticed how very empathetic he was.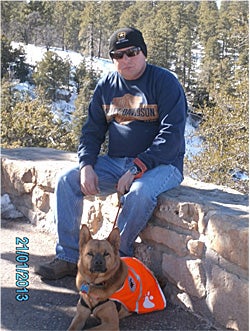 Meanwhile, Ted Martello, a disabled veteran learned about Canines with Careers. Martello was wounded during a tour of duty in Iraq and suffers from post-traumatic stress syndrome and traumatic brain injury. He lives in Flagstaff, Ariz. and works as a local veteran's employment representative to help other disabled veterans find work.
"I called Sherry and told her what my situation was - that I would not go out in public except for work and that it was too overwhelming being around crowds. She sent me photos and descriptions of three dogs and I knew Buster was the right one," Martello said.
Martello drove to Best Friends' sanctuary in Kanab, Utah, where Woodard introduced him to his new service dog, then set him up with Karen London, a certified applied animal behaviorist living in Flagstaff, and Canines with Careers partner, to work with Martello and Buster.
"Buster has a natural ability to be attuned to the environment, is able to scan what's going on around him and alert his person," London said. "It's difficult to train a dog without that skill. I love working with this pair-the connection between them is as good as it gets. And Ted just seems to be happier all the time."
Martello is experiencing a big difference in how he feels. "Now Buster is my little buddy, and if I get upset, he calms me down by nudging my hand, which distracts me enough to stop the bad feelings. And because I have to walk him, it's helps me to interact with people. Everybody in town knows Buster. If I'm having nightmares he wakes me up. To put it bluntly, if I didn't have Buster, I wouldn't be here."
In Missouri, Heddie Leger, a certified dog trainer and owner of The Paw Zone was one of the first dog trainers to work with the State of Missouri Department of Corrections in Puppies for Parole, a unique program through which selected offenders have the opportunity to become trainers for dogs from high-kill shelters.
In just three years the program has spread to almost every prison in the state, making Missouri the national leader in this type of program and more than 1,500 dogs have been adopted. Leger works with inmates in three different Missouri facilities and pulls dogs from shelters in separate communities.
"Sherry and I met through the Association of Pet Dog Trainers and we felt like soul sisters with very similar personal and professional philosophies," Leger said. "Sherry realized there was a lot that we trainers could do to help shelter dogs if we worked together. When she started Canines with Careers, I became a partner. I now have a waiting list of people waiting for dogs from Canines with Careers."
Another Canines with Careers partner organization is Blessings Unleashed, a Kentucky foundation, led by certified dog trainer Dana E. Hall who said she used to breed and raise dogs for to help autistic children.
"Breeding dogs to be career dogs was time-consuming, costly and the wash-out rate was high. But since I started working with Sherry, we are now able to screen shelter dogs,"
Hall said. "Dogs pass a very thorough assessment prior to becoming service candidates. Once selected, they undergo intensive basic training to earn The American Kennel Club's "Canine Good Citizen Award." Hall said her success rate is higher because of better screening, plus expenses are down because the dogs already are spayed or neutered, vaccinated and pre-tested for any underlying health issues: "Now I can offer service dogs to families for free, when previously I had to charge $10,500 per dog."
Woodard has a clear vision of the future: "Best Friends and other organizations with similar programs hope to fundamentally change the career dog field by providing a compassionate, less time-consuming and more cost-effective alternative to the traditional model. People's lives will be enriched and dogs previously without any future are now saved. "
About Best Friends Animal Society®
Best Friends Animal Society is the only national animal welfare organization focused exclusively on ending the killing of dogs and cats in America's shelters. An authority and leader in the no-kill movement since its founding in 1984, Best Friends runs the nation's largest no-kill sanctuary for companion animals, as well as life-saving programs in partnership with rescue groups and shelters across the country. Since its founding, Best Friends has helped reduce the number of animals killed in shelters from 17 million per year to 4 million. No other animal welfare organization has the knowledge, technical expertise and on-the-ground network to end the killing and Save Them All™.
Become a fan of Best Friends Animal Society on Facebook: //www.facebook.com/bestfriendsanimalsociety
Follow Best Friends on Twitter: //twitter.com/bestfriends
###