September is National Disaster Preparedness Month
Best Friends Animal Society Shares Tools and Tips to Keep Pets Safe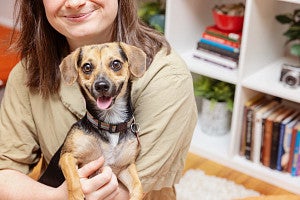 September is National Disaster Preparedness Month. Keep pets safe when disaster strikes with tips from Best Friends Animal Society, a national animal welfare organization dedicated to ending the killing of dogs and cats in America's shelters by 2025.
Currently, shelters nationwide are at or over capacity, while adoptions and fosters are not keeping pace. No-kill means saving every dog or cat in a shelter who can be saved and by keeping pets and their people together through disasters means more lives can be saved, and helps alleviate the strain shelters are currently facing.
"Taking steps to keep your pets safe in an emergency can minimize the risk of them getting lost," said Sharon Hawa, Senior Manager of Emergency Services, Best Friends Animal Society. "Double check that pets are microchipped and have current I.D. tags, and are up-to-date on vaccinations. Also make sure that you have essential items in a go-bag for you and your pet and that it is ready and easily accessible in the event you need to evacuate with your pets at a moment's notice."  
Best Friends urges those with pets to create a disaster preparedness plan and "go-bag" for pets in case an emergency occurs. Go-bag essentials include:
A pet first aid kit, including an extra supply of any necessary medications, current vaccination records, a list of the pet's medical needs and veterinarian's number
A 3–5-day supply of wet and/or dry food (and water, if possible)  
Pet toys and/or treats
A collar with a current ID tag or microchip that includes your cell phone number
A crate labeled with the pet's name and contact information (use masking tape and a permanent marker)
Consider placing a well-worn sweater or sweatshirt inside the crate so the pet has a familiar scent around them
Extra poop bags
For cats, a small bag of litter and litter pan
Blanket and towels
Bowl, can opener and spoon
"Knowing where you'll go and what you'll need to bring during an emergency can provide peace-of-mind that you and your pets have what's needed to get by for several days during a potentially chaotic time," added Hawa.
For those who need to find shelter during a disaster, it is recommended to call a local emergency information number (211 or 511) and identify the closest pet-friendly disaster shelter or emergency pet shelter where pets can go for temporary care. Organizations such as the Red Cross will often provide support to residents displaced during a disaster, and local animal welfare groups may provide emergency sheltering for displaced pets or even temporary foster homes until owners can recover.
For additional details on disaster preparedness, along with information about adoption and fostering, visit bestfriends.org.