10 easy New Year's resolutions to help save homeless pets
Image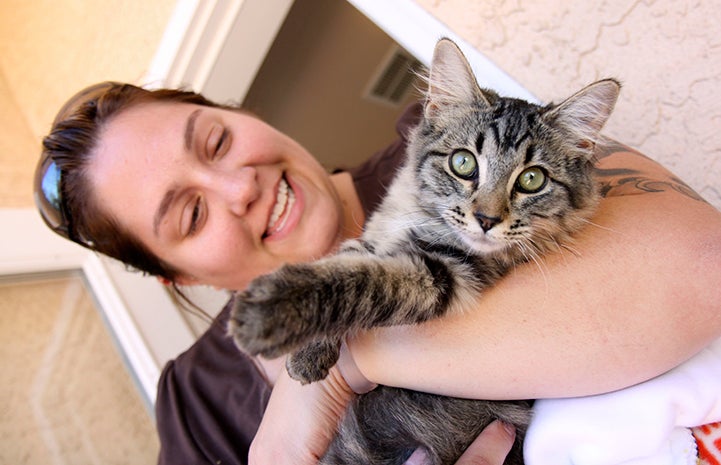 Best New Year's resolutions to help pets in need in 2017. Read about easy ways to advocate for animals.
By Nicole Hamilton
Want to help save pets but don't think you have the time or resources? If that's you, we've got good news: You don't need a lot of extra time or money to make a difference in the lives of your community's homeless pets.
All that's required is the desire to change things for the better. Best of all, lifesaving work isn't work at all; it's an opportunity to help give homeless cats and dogs the chance they deserve to live a happy life outside the shelter.
This year, you can be part of ending killing in our shelters. Every action — no matter how small it may be — can make a big difference in the lives of our animals.
Ready to get started? Here are 10 simple ways to help Save Them All.
1. Educate yourself — and then educate others. They say knowledge is power. Make 2017 the year you learn where your local government stands on breed restrictions and puppy mills. Then, work with lawmakers to help change breed-discriminatory laws and to end the sale of pets from puppy mills.
Learn 15 things you can do to stop puppy mills
2. Give in memory of a pet. Losing beloved pets can be difficult, but when you make a donation to a rescue organization or shelter in their honor, you're not only celebrating their lives and legacy, you're also helping to give homeless cats and dogs the kind of life your cherished pets had — and that would be one in a loving home.
3. Shop with businesses that give back to the animals. For brands like BOBS from Skechers and Instinct by Nature's Variety, advocating for homeless pets is just part of a day's work. With a little research, you can find local stores that give back to the animals in your community. If you're shopping online, AmazonSmile makes it easy by letting you give a participating rescue organization a portion of the proceeds from your purchases.
4. Volunteer, even if it's just for an hour. Think you don't have time to lend a hand? We think you'll be pleasantly surprised. Most shelters and rescue groups will gladly welcome you as a volunteer, even if you can only help out for an hour once a week — or even once a month.
Volunteer with Best Friends in your city
5. Use your talents. Shelters need all kinds of help, so no matter what your special skills are, there's a good chance they can be put to good use to help save lives. Have a way with words? Find out if your local shelter could use help with writing adoption profiles. If photography is your passion, offer to take photos of adoptable pets that can be shared online.
6. Get others involved. Your workplace, church or book club is a great place to find others to champion the cause. Organize a team of co-workers to take part in a walk in your community to raise funds for Best Friends or a local rescue organization. Arrange a day for friends to volunteer together at a nearby shelter. Another option: Find out if your company has a workplace giving program for employees and enlist co-workers to raise money on behalf of Best Friends or a local rescue organization.
Learn more about workplace giving for Best Friends
7. Tap into social media. News travels fast on social media — especially if the news happens to be about a cat or dog who needs a home, or an important issue that affects the lives of animals in shelters. On Facebook and other sites like Twitter and Instagram, make it a point to share information about adoptable animals, volunteer and foster opportunities, and news about breed-discriminatory laws and puppy mills.
8. Make it fun. Sure, Florida is full of beautiful beaches, but like every state, it's also home to many shelters that would love your help. A vacation away is a perfect opportunity to give back while having some fun. Check out opportunities at a rescue group or shelter located in your vacation destination. Not only will you be lending a hand, you'll also get a chance to learn about the unique challenges the shelters in that community face in their work saving lives. And, of course, we love having volunteers come and help out at Best Friends Animal Sanctuary.
9. The perfect gift: Pay a pet's adoption fees. For your next birthday, instead of getting gifts, why not pay it forward and ask friends and family to cover the adoption fee for a pet at a local shelter instead?
10. Make it a double. When you're buying food for your pet at your local pet store, pick up a second bag for pets at a local shelter. Contact a shelter or rescue group and ask what's on their wish list and make a point of purchasing a few items from the list while you're out running errands. Shelters are always in need of blankets, toys and office supplies.
There's nothing better than knowing you helped make a difference in the life of a homeless pet, so what are you waiting for? Let this be the year that you helped Save Them All.
Make it official. Become a member of Best Friends.
Photos by Best Friends staff