7 ways that pets make home workouts more awesome
Image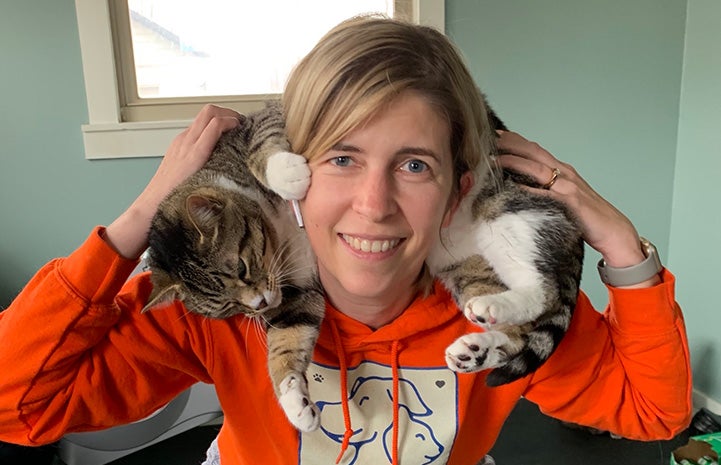 Beat the quarantine blues with the #WFHPetChallenge, and check out these tips on how to work out (and bliss out) with your dog or cat.
By Nicole Hamilton
Editor's note: We know the world is a scary place right now. If you're looking for information on pets and coronavirus, you can find that here. If you're looking for a break from serious news, we hope this brightens your day!
Need motivation to get off the couch, or perhaps some Zen time to calm your nerves while life is stuck on pause and you're stuck at home? If the answer is yes, then the work(out) from home pet challenge (#WFHPetChallenge) is for you. Pets can be excellent workout buddies, yoga teachers and meditation masters. And even when they aren't, they still love to "help" with what you're doing. See how these pets and people are taking care of their bodies and minds while in quarantine.
1. Calm your mind with the help of a natural Zen master.
We humans sometimes have a difficult time quieting our minds, even on a normal day. To help keep worry at bay and their minds clear during this tough time, Kenny and his wife make meditation a part of their daily routine. Their dog Odin joins in, sort of. Like all animals, Odin has been living in the moment since the day he was born ― no sitting or mantras needed.
2. No hand weights? No problem!
Balance the binge-watching with some good old fashioned squats, and up the ante by holding your dog or cat. Many pets, like Kevin here, are just the right substitute for hand weights.
3. Big dogs make perfect situp coaches
If your pet is too big to be your squatting companion, he can help anchor your legs while you do situps, as demonstrated here by Kelly with her dog, Tank.
4. Planking and pushups with pets
After you and your pet get those daily situps out of the way, it's time for weighed planks. Here's Stacy going all in with her kitty, Toby.
Melissa got help with her pushups from Leona, her foster dog, while Pickles "helped" in her own way.
5. Do yoga (repeat as necessary)
There's no better time than now to roll out that yoga mat. When you do, don't be surprised if your cat or dog joins you. That's what happened when Sam decided to do some yoga while he was in quarantine and discovered that his foster dog, Almond, is quite the yogi. Here's Almond helping Sam get a good stretch in child's pose.
Don't forget that cats are natural yogis, too. But look before you leap, because they love lounging on the mat (especially when you're on it).
6. Take a hike with a dog
Most of us are still able to get out and enjoy the great outdoors, and who better to do this with than your pup? Dogs really do make the best hiking, running and walking buddies. Michelle loves taking walks with her two pups and her foster dog, Sugar, to help clear her mind while she works from home.
7. Jumping jacks and puppies
If you need motivation to get the ol' heart rate up, take a cue from Gateway Pet Guardians by getting friends and family involved in a benefit for your local shelter.
For their "Burpees for Puppies and Jumping Jacks for Cats" challenge, Gateway encouraged people to start their own fundraiser on Facebook. For every dollar donated to help pets at Gateway, the person raising the money must do a burpee or jumping jack. Now that's a great way to stay in shape and help pets in need.
Need more #WFHPetChallenge inspiration? Here's the supercut.
So what are you waiting for? Go ahead. Lace up the sneakers and grab the leash, or pick up your pet and get squatting. Just think: By the time this quarantine business is a thing of the past, you could have those six-pack abs you've always dreamed of -— without even leaving your house.
Share your videos with us on Facebook or Instagram and be sure to use #WFHPetChallenge
Photos courtesy of Stacy Rogers, Michelle Sathe and Best Friends staff