8 adorable adoptions for National Puppy Day
Image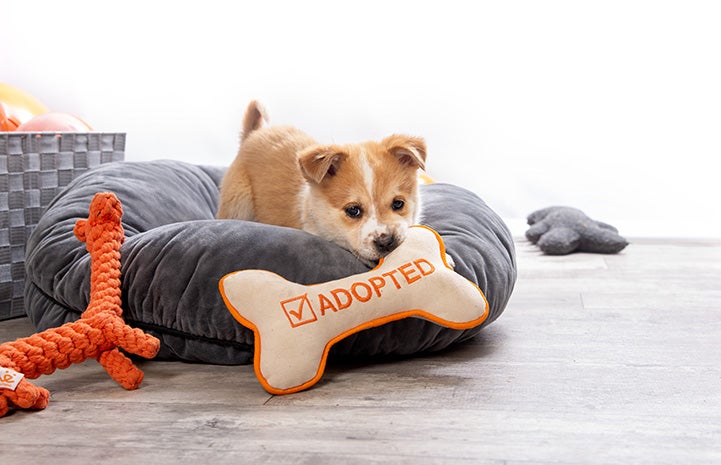 Celebrating National Puppy Day with updates from puppies' awesome new homes
By Sarah Thornton
Every day is a good day to celebrate puppies: their soft, pudgy bellies, wiggly tails, velvety ears and oversized paws. But did you know that March 23 is National Puppy Day? That's right, an entire day dedicated to playful (if a little clumsy) pups and the unconditional love they bring (as if we needed an excuse to shower them in affection and post photos showing off their cute little faces).
It's always exciting to see puppies calling Best Friends Animal Sanctuary their home-between-homes get adopted and head off in their new family's arms. Some of our favorite things here at Best Friends, though, are the post-adoption updates that come in, full of precious pictures of their new lives. This year, to celebrate National Puppy Day we're sharing some of our recent favorite updates with you.
Loyal Lulu
Lulu and her brothers were dropped off at a shelter by their previous person before coming to the Sanctuary, but they didn't let that get them down. It wasn't long before Lulu was adopted by Jordann O'Brien and family, while her brothers got a ride up to Salt Lake City, where they also went home in a snap.
Here is the update from Lulu's new family:
"Lulu is doing great! She has the dog door figured out, but we are still working on potty training. She has a lot of energy but has started walking on the leash, so we are doing two walks a day and she has lots of chew toys to play with. She doesn't like being left alone at all so as of right now she just goes everywhere with me or goes to my mom's house (who got a puppy four days after we got Lulu) for a puppy play date. We love her so much and are having so much fun with her."
Foster win for Tori
When foster volunteer Fredi Miller took in a litter of puppies needing some extra socialization, she ended up falling in love with Tori. Unable to say goodbye to the pup, she instead adopted her and now Tori's living with another dog from Best Friends, McDreamy. They're even learning how to use special buttons to communicate: When Tori presses the button that says "outside," Fredi lets her out. Pretty cool stuff.
Here's the update from Tori's new family:
"Tori has settled into her new home well and is a nice addition to the family. She is still a little shy, but her personality has really blossomed. She adores her big brother, McDreamy, and is constantly by his side. She tries to get the cats to play with her, but they are not interested. She is a very smart little girl and learns new things quickly."
Hercules, the biggest little pup
Tori's brother, Hercules, has been growing up fast in his new home. (With two big, impressive names like that, we're not surprised.) His new person, Dave Jeffries, says they are working on building up his confidence so he can match his name in more than just size. He has a canine sibling, who's close to his size now, but not for long.
Here's the update from Hercules' new family:
"He's getting bigger every day, so we renamed him Hercules. He's still very shy around people, but he's doing well. We have a Chihuahua as well, and that's really helped Hercules feel at home."
Sleepy Goober
Goober and his four siblings came to the Sanctuary from a rescue group. They all got adopted very quickly, and now they're living it up in their new homes. Goober's new home even has another Sanctuary adoptee, Lemonade, whom he absolutely adores. And those toes: Can you even stand it?
Here's an update from Goober's new family:
"He has settled in great. He gets along with his older sister, Lemonade, as if they were meant to be together. Even Lil Bud, the cat, likes him."
Adventurous Lulu
Goober's sister, Lulu (a popular name this year), is living a life of adventure with her new person, Marisa Kozlik. She's gained a big brother, Charlie, and she and her family go on all sorts of adventures, including a recent trip to the Tule Springs Fossil Beds National Monument.
Here is an update from Lulu's new family:
"She is doing great. She really has taken to our other dog, Charlie, and follows his lead quite a bit. Lulu is still learning how to walk on a leash and is a little scared of new sounds, but is such a quick learner. She is already using the doggie door and loves running around our backyard."
Maggie the charmer
Maggie, another of Goober and Lulu's siblings, is positively thriving in her new home with Jessie Barclay. She spends her time playing in the yard with her new doggie sibling and cuddling up with her new people. And everyone adores her.
Here is an update from Maggie's new family:
"We are absolutely on cloud nine with this sweet pup! She's doing really, really well. She is the most playful, loving little pup ever, as you all know. She is an enthusiastic learner and is doing great in her puppy training classes and at home with us. She's a sucker for belly rubs. We get such a kick when she flops onto her back with a huge smile on her face, asking us to rub her soft, spotted belly. She has been able to safely meet and play with a few dogs of some close friends, which has been absolutely thrilling to her. She is a heartthrob and stops people in their tracks to admire her on our "walks" (holding her in our arms) regularly. She has filled our broken hearts up with so much love and happiness, and it's already hard to imagine our life without her in it!"
Reilly Ray Montoro
When Reilly's original family could no longer keep her, she and her three siblings came to the Sanctuary and found new homes. Kourtney Whiteford, Reilly's new person, says she's now almost as big as her sister, Sasha.
Here's an update from Reilly's new family:
"She loves her new home and new older sister, Sasha Marie. They play all day long and are the best of friends. She loves our cat, Kallari, but the feeling is not mutual. Kallari is older and likes to sleep.
"Sasha is 7 and a blue heeler who matches Reilly's insane energy. They run laps around the house all day long using all the furniture as their obstacle course. Reilly is turning into Sasha's 'mini me.'
"Reilly has lost her first tooth. She is growing like crazy (already 20 pounds) with massive paws and (she's) almost as tall as Sasha, so we expect her to be a big girl. She does OK with bath time and her favorite toy is a squirrel. She is a momma's girl but that is mostly because I currently work from home, so she is with me all the time. She is a sweet, playful pup with a sassy attitude and likes to be independent.
"Our whole family is so glad she is our newest member. We all love and adore this little troublemaker."
Sweet Rosie
It was Halloween when Pumpkin arrived at the Sanctuary with 13 of her brothers and sisters ― an entire trick-or-treat pack full of puppies. And all of them got adopted, filling their new homes with utter sweetness. Pumpkin's new person, Holly Castelan, gave her a just-as-sweet new name, Rosie, and the little dog is growing up wonderfully.
Here is an update from Rosie's new family:
"Rosie is doing great! She has really been a blessing to our family. She made friends with my neighbor's dog and they love to chase each other back and forth against the fence line. She has been eating and sleeping well, and is so fast running and chasing after the kids in our yard. She is very playful and loving. Thank you so much!"
Join in on the puppy fun
No puppy to celebrate National Puppy Day with? No problem, you can join in on the fun by adopting a pup near you.
Read more:
Spearmint Sally, a paralyzed puppy, gets back on her paws
Texas dog gets a lift to New York and a new life
Puppy beats distemper with the help of two determined foster moms
Photos by Lori Fusaro and courtesy of Jordann O'Brien, Fredi Miller, Dave Jeffries, Willard Black, Marisa Kozlik, Jessie Barclay, Kourtney Whiteford and Holly Castelan