8 "spooky" animals at Best Friends Animal Sanctuary
With Halloween lurking right around the corner, we've got a few of the "spookiest" Sanctuary animals to help get you in the holiday spirit.
By Sarah Thornton
Halloween is just around the corner. Costumes are all ready, pumpkins are carved, 12-foot-tall skeletons are in place and households are restocking Halloween candy. Everyone's getting into the spirit of the season, and it's no different here at Best Friends Animal Sanctuary. This year, our "spookiest" Sanctuary animals are ready to share some holiday fun with you.
1. Haunted Dogtown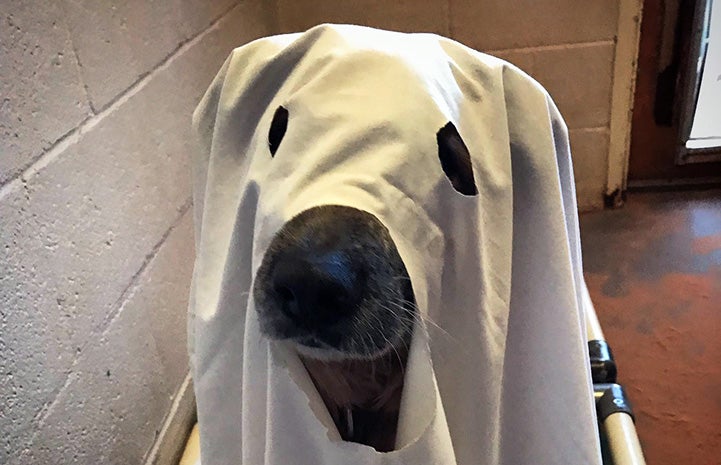 Caregivers at Dogtown have been reporting a strange snuffling sound coming from one of the yards, as well as treats going missing. There are rumors it might be haunted. Oh, wait, no. That's just Racko pretending to be a ghost. Nothing to worry about here ― just a playful dog who loves snuggling up on your lap after a good adventure.
2. Booh!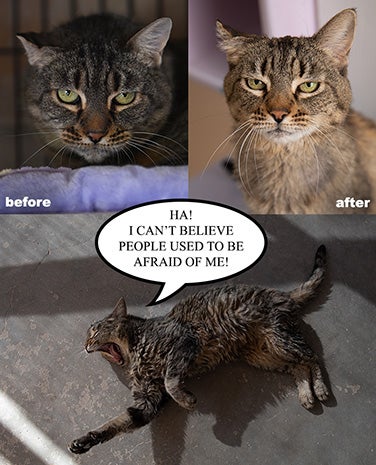 Sorry, we didn't mean to scare you there. Booh is just her name. In fact, when Booh first arrived at the Sanctuary, she was the scared one, tucked into the shadows and grumbling at anyone who passed by. But after some dental work to make her feel better and time to relax, Booh has become a friendly, outgoing purr machine.
3. Who?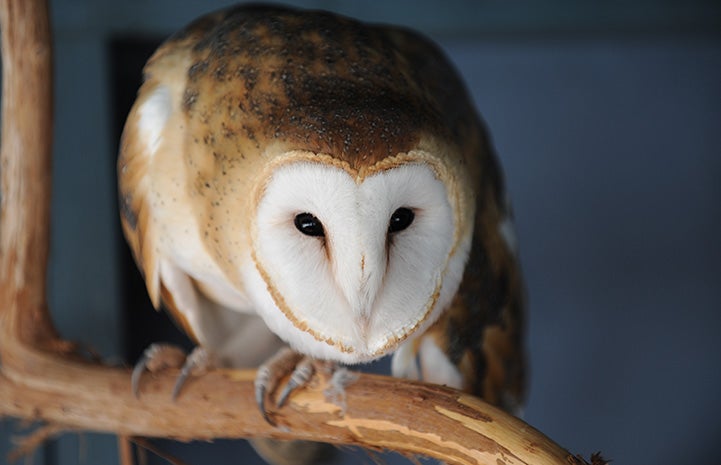 If you hear a voice asking "whoo" you are, don't worry. It's not a ghost or a witch hiding in the trees. It's probably just Suvali, the barn owl. Fifteen years ago she came to Wild Friends, the Sanctuary's state and federally licensed wildlife rehabilitation center, after being hit by a car. Unable to fly, she has the important job teaching visitors to be aware of the wildlife around them and to understand why wildlife conservation and proper rehabilitation is so important.
4. The Addams Family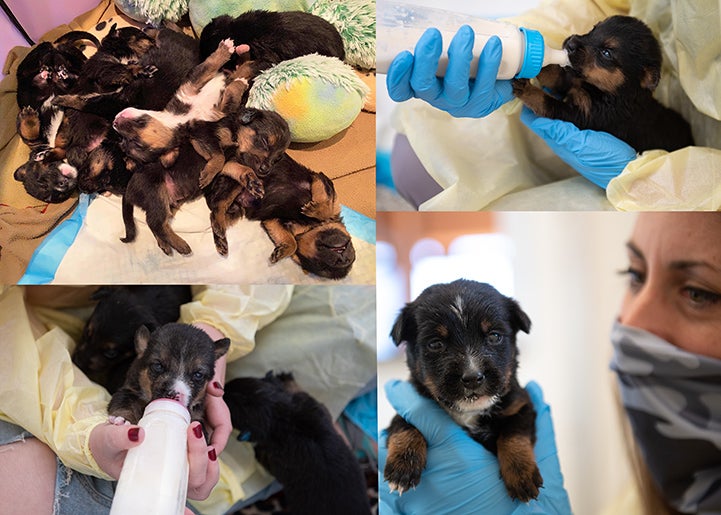 These seven puppies are far from creepy, but they're still a little kooky and all together cuties. Morticia, Gomez, Pugsley, Lurch, Uncle Fester, Cousin It and Thing are all named after characters from The Addams Family. When they arrived at the Sanctuary, after being dumped outside of a shelter, they were so little they needed to be bottle-fed. But they're getting bigger and more adventurous every day — a fun handful for their foster family. And soon, they'll be ready to be adopted.
5. One lucky black cat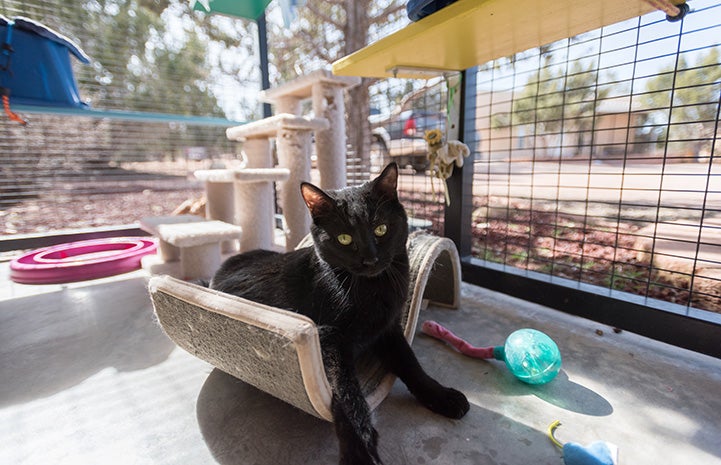 Black cats are a Halloween staple, and this Halloween will be extra special for one particular black cat. Ori can't use the litterbox on his own and has some other health problems due to Manx syndrome, a condition prevalent in tailless cats where the tailless gene shortens the spine too much. This can prevent a cat's hind end from fully developing and also can cause nerve damage. But this Halloween, Ori will be in a home all his own, ready to delight passing trick-or-treaters from the window.
6. Transylvanian rooster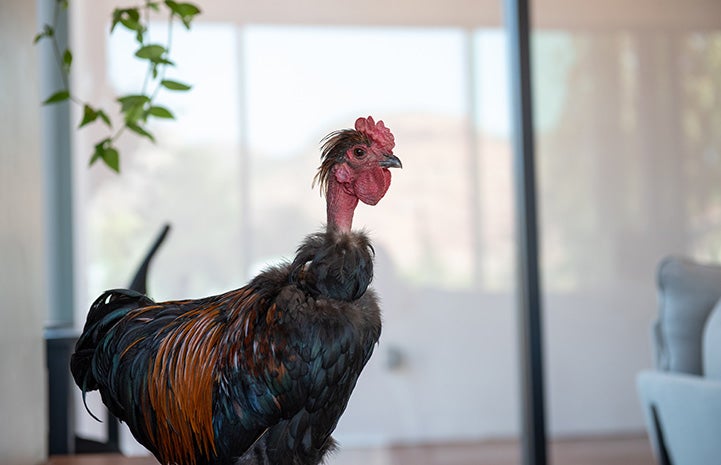 Salvador, the Transylvanian naked neck rooster, can trace his roots all the way back to the most popular vampire hotspot in the world. But don't worry because this friendly fowl isn't interested in nibbling your neck. He just wants someone to follow around and cuddle with. He'll still need an invitation into your home, but once he's there, he's as polite as can be. (He's even diaper-trained.)
7. Costumes galore
Halloween is perfect for those who enjoy having a good excuse to get dressed up and go all out with it. And Tonya is just such a dog. She'll be the one with 15 different costume changes during the Halloween party. From fairy wings to superhero costumes, Tonya has tried them all. She loves all the attention she gets while getting into costume and enjoys being the center of attention once the outfit is on.
8. Trick or treat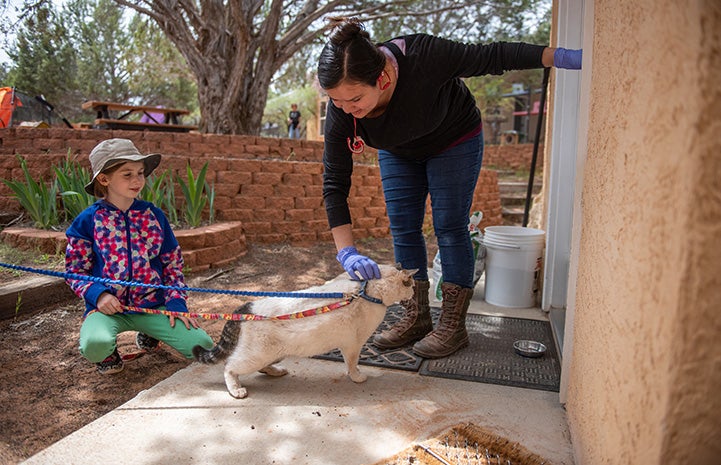 There is a lot to love about the Halloween season ― from the decorations to the costumes, to marathoning all your favorite spooky movies. But on the night itself, there's nothing better than trick-or-treating. In fact, Paytrix loves trick-or-treating so much that he doesn't even limit himself to Halloween. Paytrix loves going out on harness walks around Cat World. He goes door to door and sits outside waiting for someone to bring out a tasty treat, before moving on to the next building. Halloween is pretty much his perfect holiday.
Help a pet have the happiest Halloween
Adopting a homeless pet might not be spooky, but it would make a pet's Halloween (and every day after) the best ever.
Read more:
Six tips for making this Halloween scary good for your pets
Three healthy holiday treats that your dog and all his friends will love
Top-secret purrspective from an office cat
Photos by Molly Wald