The ABCs of helping dogs
Dog obedience instructor students lend a helping hand in Los Angeles.
By Best Friends staff
With up to 250 dogs on site at any given time at the Best Friends Pet Adoption and Spay/Neuter Center in Los Angeles, there are always things to do, and the dog caregivers always appreciate more help. There's feeding, watering, dishes, kennel cleaning, walking and laundry - and as soon as everything is done, it's time to start over again! And those are just basic needs. Everyone also wants to keep the dogs as happy and mentally healthy as possible while they wait for new homes. That means plenty of playtime outside of the kennel, and training for those who need it. That's where volunteer students from a nearby dog training school have become an invaluable asset.
Mike Harmon, one of the managers at the adoption center, says, "Since we opened this facility last year, we've wanted to work with dog training schools as a way to have a consistent and regular source of trainers. We also thought it would be a great opportunity for student trainers to get real experience with dogs in a shelter environment." Animal Behavior College (ABC), headquartered near the adoption center but with students in all 50 states and Canada, turned out to be looking for just the same arrangement.
Animal Behavior College students help out
Beth Harrison, dog obedience course trainer at ABC, says, "All our dog obedience instructor students are required to volunteer at least 10 hours at an animal shelter or rescue." As a whole, their students across the country have logged over 91,000 hours volunteering. Since March, Beth has been coming to the Best Friends Pet Adoption and Spay/Neuter Center with five students enrolled in ABC's onsite class for local Los Angeles students. She adds, "Best Friends is the place for us to go - it has everything our students need for the program." Since March, they've spent eight hours a day, two days a week working with dogs and, it turns out, helping out wherever they're needed most.
They work with dogs in many different ways, Beth says. "We're handling the dogs, training them, rehabilitating them and improving social skills, all with the goal of helping them get adopted."
Setting up dog playgroups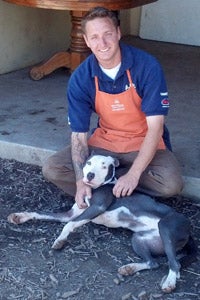 The five students have also been integral in getting dog playgroups up and running, which Mike says is a key component to dogs' health and happiness at the adoption center. In playgroups, dogs are allowed to frolic and run together in a large yard on the property under the watchful eyes of a trained staff person and the ABC volunteers. Beth says it's great for her students as well, explaining, "In the playgroups, we get to observe all types of dog language." While playgroups and dog training are the ABC volunteers' main task when at the adoption center, they've pitched in on some slightly more mundane but essential activities too.
Doing whatever is necessary
"We've done a good share of poop scooping and washing dishes too," Beth says. And that's one of the aspects of the relationship that both parties seem to enjoy - they are flexible and willing to jump in and help with whatever needs doing, even if it doesn't happen to be dog training. That's the beauty of working with homeless animals; it's a little easier to cheerfully do the grunt work when it's for a good cause. Beth sums up her and her students' time volunteering at the adoption center like this: "I think all the students come away every day with something so rewarding and positive about what we just did."
Come by the Best Friends Pet Adoption and Spay/Neuter Center to see the dogs in action:
Saturdays, 8 a.m. - noon: ABC students are at the center
Tuesdays, 5:30 - 7:00 p.m.: K9 Nose Work class held in the L.A. classroom
Fridays, 6:00 - 7:30 p.m.: Dog Skills class held in the L.A. classroom and volunteer play yard
Learn more about Animal Behavior College.
Learn about volunteering with Best Friends in Los Angeles.
Photos by Beth Harrison