Active dogs go on the adventure of a lifetime
Ruffwear pays shelter dogs' adoption fee, cost of transport to their new home, and supplies them with a Ruffwear leash, collar and other goodies.
By Kelli Harmon
Ruthie embodies the "play hard, sleep harder" philosophy. She would spend all day at the park if she could, but she loves climbing into bed with her people just as much. It took Ruthie quite a long time to get adopted, but when Mariluz Yip and her boyfriend, Francisco, met her, they were eager to help her through some behavioral challenges and get her out and about to the park as often as possible. There are many dogs like Ruthie who need to find just the right sort of home with people who embrace her one-of-a-kind, adventurous spirit.
Ruthie is living her dream life now, thanks in part to a program that has helped more than 20 active dogs like Ruthie go home. The Ruff Adventure Dog (RAD) program, a partnership between Best Friends and Ruffwear, started with dogs at the Sanctuary.
Jessica Harrington, an adoption specialist at Dogtown, says, "The Ruff Adventure Dog program has been awesome for the pups here at the Sanctuary. It gives them more exposure to active families across the country and has helped us to more readily find wonderful homes for some of our more adventurous dogs." Since it began, the program has expanded to include adventure-loving dogs at the Best Friends lifesaving centers in L.A. and New York.
A tank with a wagging tail and floppy ears
Like most dogs at the Best Friends center in New York, Ruthie came from Animal Care Centers of NYC. After she arrived and staff got to know her, they noticed that she had a tendency to guard her toys and sometimes eat things she shouldn't. And when she wanted to go, she was one busy dog. She's built like a tank, if tanks had wagging tails and huge floppy ears.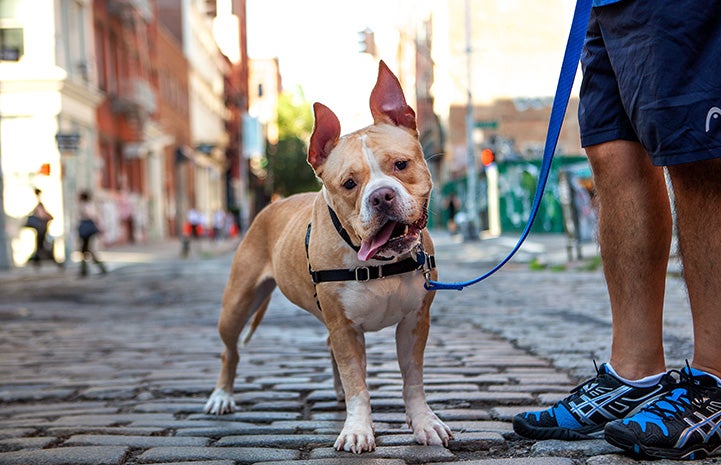 Staff and volunteers were all smitten with Ruthie, but even though they steered potential adopters toward her, she just didn't get picked. Until Mariluz and Francisco came in. They had been planning to adopt a small dog, but things don't always go according to plan. A staff person told them about Ruthie, and about what a great dog she is. Even though she looked adorable curled up on her bed, Mariluz and Francisco needed some time to think about it.
The couple went home without Ruthie, but Mariluz says, "I couldn't stop thinking about her." She went online and looked at the Best Friends in New York Facebook and Instagram pages seeking more information about her. When she saw all the photos and videos of Ruthie, Mariluz says, "After seeing how loved she was by everybody, and how long she was there, we decided that she had waited long enough."
Mariluz and Francisco went back to the center the next day and brought Ruthie home, and the trio hasn't looked back.
Ruffwear gear for adopted dogs
Because Ruthie was chosen as a RAD dog, her adoption came with a few perks. Not only does Ruffwear pay the adoption fee for RAD dogs, they cover the cost of transport if needed. The dogs also go home with a Ruffwear collar and leash, and some other goodies. Ruthie got a rope toy and a blanket that she loves, even in the hot summer weather.
Because Mariluz and Francisco have carried on with the training started at Best Friends — to help Ruthie with her guarding behavior — she gets to play with that toy and not worry about it being taken away. She's learning that there will always be plenty of toys for her. And plenty of love, too, because even though she was part of the Best Friends family from the day she arrived, she's part of her very own family now.
Mariluz says, "We are just super grateful to have Ruthie in our lives now. And grateful to everybody at Best Friends. Ruthie is beyond loved and we have received so much help through this process (our first pet adoption). Ruthie made us a family when our families are so far away."
Photos by Robert Stoetzel and Sarah Ause Kichas