Adopting a cat with larger-than-life personality
It took two years and one global pandemic for a sassy kitty named May to get adopted, but now she's living her dream life.
By Lindsay Hutton
As the COVID-19 pandemic continues to cast a shadow over our days, it's important to look for silver linings. For new cat adopters Ellie and Dave, that silver is more of a full cinnamon-butterscotch in color, and the lining more of an active, light green-eyed force of personality: It's May, the beautiful and lively cat they adopted.
When the pandemic forced them to work from home, Ellie and Dave realized they had time to help a new family member settle in, something they'd been wanting to do but hadn't because of long hours at the office. They felt that adopting a pet would be a way to do something good and they were right. Adopting was "one nice thing that has helped us stay grounded and helped us process what's going on in the world around us," says Ellie.
After several video meet-and-greets with cats in foster care, Ellie and Dave chose May, who impressed them as being friendly, dynamic, playful and fun. They loved her unique personality — just what Ellie was looking for. Growing up, Ellie loved a cat she described as a "sweet and independent lady." She has a soft spot for a "girl who marches to her own beat," a social cat with an independent personality. It was the perfect description for sassy May, who needed people who could see and appreciate the qualities that make her who she is.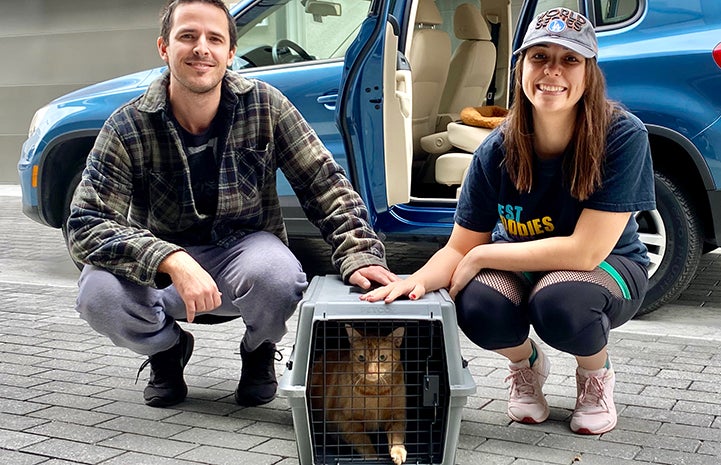 May's wheel of fortune
Beautiful May began her journey toward Ellie and Dave in February of 2018, when she ended up at L.A. Animal Services. From there she was taken in by Heaven on Earth, another Best Friends Network partner. May went to adoption events where she was featured and promoted, but she just didn't get adopted. When she eventually arrived at the Best Friends Lifesaving Center in Los Angeles, the wheel of fortune gave her a good turn. That's when her friendship with Diane Barber, a cat care specialist, began to grow.
One thing was totally clear to Diane about May's personality: "She's a badass cat. She's just a boss." Also clear was that May struggled in a shelter environment to live the life of glory that she clearly wanted and deserved. Staff and volunteers at the center tried everything to keep her happy and moved her to different areas to find out where she was happiest.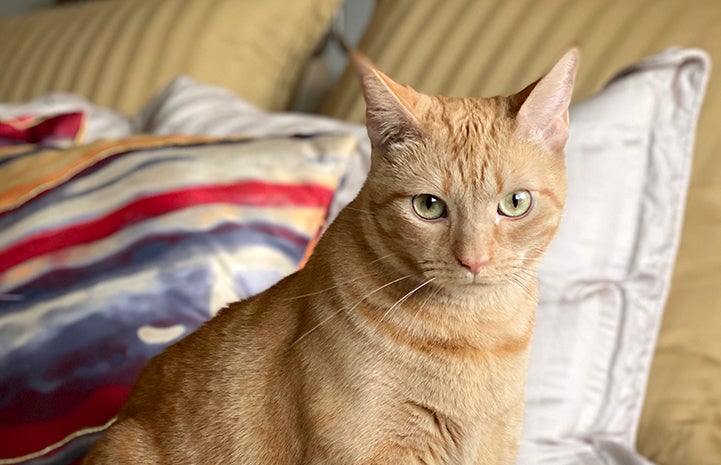 "She's a big girl," says Diane. "She's got a ton of energy. She is vocal. She likes activity. She's social."
Unlike other cats who might become overwhelmed, turn inward and withdraw a bit in the shelter environment, May's huge personality made her feisty. It was hard for her to be confined. The staff moved her from a single kennel to a larger one, then to one with a view, then to the free-roam room. It was here that Diane and the staff discovered May's love of the cat wheel.
May would get on the wheel and run several times throughout the day. She has a lot of energy and the wheel was her outlet. "It was so much fun to see her entertaining herself," says Diane. "In my time at Best Friends, I've never seen a cat use that piece of equipment like May did." She was a cat with energy to burn. She needed her own space.
Cat's high energy is a good thing
When the order for lockdown in L.A. due to the coronavirus came in mid-March, most of the center's dogs and cats were moved into foster homes. When Diane decided to bring May to her home to foster, she also decided to get May her very own exercise wheel. When it arrived, May got on it at full gallop and Diane captured it on video.
Diane also took video and pictures of May in various places around the house to show potential adopters the confident, cool and playful cat that she was. All those qualities and all that energy burned turned into the most positive outcome: She won over Ellie and Dave.
Two years after landing in the city shelter, May still was waiting for a home, but it was only two weeks with Diane before Ellie and Dave adopted her. "The whole world is upended right now," Diane says. "But this unbelievable thing happening on the planet provided May with (finally) the opportunity to have the loving home that she deserved. It's incredible."
That fact that May found the perfect new home gives Diane hope: "There are some really remarkable, wonderful people out there. I get the sense that May's parents are some of those people. They decided to take on an animal and made a decision because they were in love with May after they met her. And, I think, they knew she needed a break. It's such a wonderful thing to be around that kind of energy."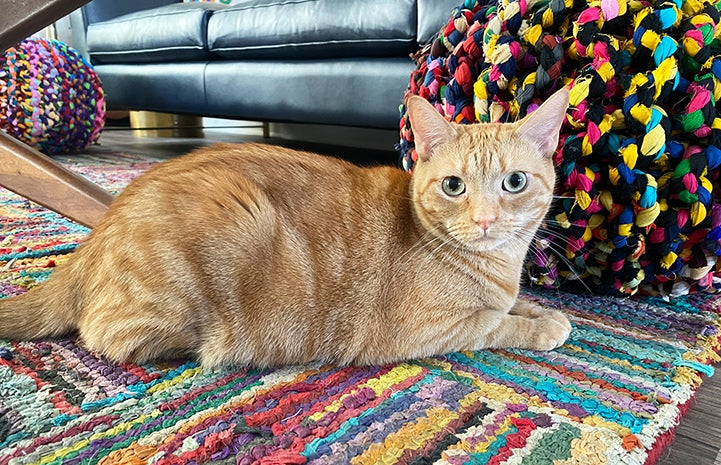 May's wheel of happiness
Diane sent May's cat wheel with her to Ellie and Dave's. "We wanted to embrace May's personality and what she brought to our home," Ellie says. "I don't think we can keep up with her in terms of fitness. She keeps us on our toes."
May is now the queen of their apartment, living that life of glory that Diane wanted for her and that May wanted for herself. She struts from favorite spot to favorite spot ― from the piano bench to the couch, laundry hamper and keyboard of Ellie's computer. She makes guest appearances on conference calls. She impresses Ellie and Dave with her agility as she bats and pounces after her wand toys.
Each morning at 6 o'clock, she works out on her cat wheel, putting Ellie and Dave's own fitness goals to shame. She playfully nips their heels when they practice downward-facing dog. She's sassy. She's sweet. She attends dinner. She purrs Ellie and Dave awake. She waits with anticipation by the door for them to return from an errand. She's a happy cat who's living her best life ― proof that in difficult and uncertain times, acts of kindness and good deeds can come full circle and beautiful things can happen.
For Ellie, the act of adopting during the pandemic was a way to give back to the community and add value to her own life and the lives of others. That was also true for Diane, and for May, too.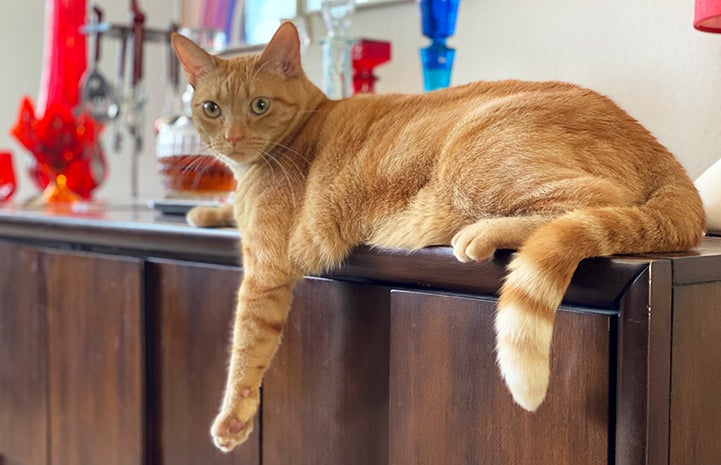 Best Friends in Los Angeles works collaboratively with animal rescue groups, city shelters and passionate individuals, all dedicated to the mission of making Los Angeles a no-kill city. As part of this mission, Best Friends hosts adoption and fundraising events, manages two pet adoption centers, and leads the No-Kill Los Angeles (NKLA) initiative. Together, we will Save Them All.
Photos courtesy of Diane Barber