Adoption update from the world's cuddliest cat
Image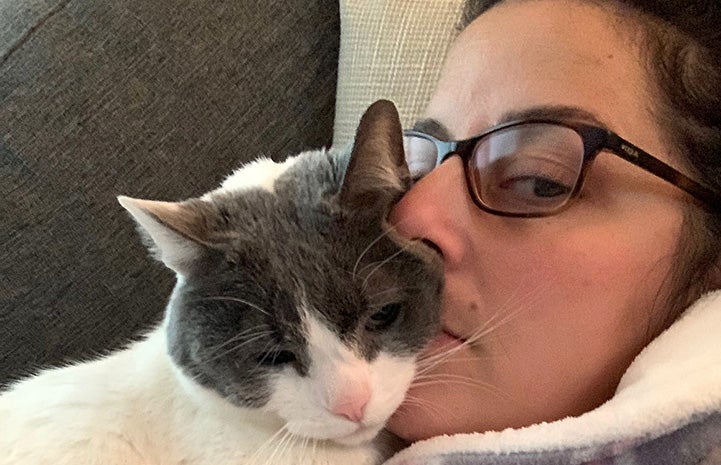 Chet always craved affection and now that he has a family of his very own, there's no end to the cuddles.
By Sarah Thornton
Chet's early days may not have been all snuggles and purrs, but that was a long time ago. When he lost his home, he was scared and overwhelmed at the changes he faced. But things started looking up for the chubby-cheeked cat when he was brought to Best Friends Animal Sanctuary. He was shy at first and hid in the closet. But when he started going on walks with a harness and getting the attention he so craved, Chet blossomed.
Then when he was adopted, this affectionate cat landed himself in the lap (and arms and shoulders and face) of kitty luxury. Now there's no end to the purrs and snuggles. It's an understatement to say that today he's living his best life, which includes another kitty and two big dogs.
An impromptu trip ends with cat adoption
Erika Menoni, who had followed Best Friends since watching the DogTown TV series and her husband, Robert Thomas, were on a trip to Las Vegas when curiosity got the best of her. After discovering that they were only a couple of hours away from the Sanctuary in Kanab, Utah, they decided to change their plans.
They cut their Vegas trip short, canceled the rest of their reservations and called the Sanctuary to ask about volunteering. They made the drive the next day, volunteered in Dogtown, and took a tour of the Sanctuary. And then, they met Chet.
[Adoption update: Shy dog finds confidence in her new home.]
"We saw him lying on a counter in the little cat bed and Rob fell in love with his little puffy cheeks," Erika recalls. They already had a cat at home and certainly had no intention of bringing another back with them, but there was no way around Chet's personality and sweet, cute face. Before the day was done, they were filling out adoption papers.
"I was the one who fell in love with him first," Rob says, "and I was, you know, basically hoping he would be my cat." But when Chet arrived at their home in Colorado, it soon became clear that this cat was extremely close to Erika.
A real momma's boy
"He apparently loves his momma," says Rob. "He constantly is in her face … He loves to be held upside-down like a baby and cradled like a baby and have his tummy rubbed."
They were amazed with how affectionate Chet (who now goes by Chip) was when he got home. Always looking for attention and overjoyed for any and all petting, he never wanted to leave Erika's arms. It got to the point that Erika finally bought a carrier that she could wear and carry him while she went about her daily activities.
"He wants to be held by me at all times, so he's usually on my left shoulder," Erika says with a laugh. "And I'm trying to do dishes with one hand and clean the house with one hand, and he's perched on my shoulder. Literally, I eat dinner at the table. He's on my shoulder. I sleep. He sleeps on my pillow."
[143-pound mastiff becomes daddy's girl.]
"When she's trying to sleep he's just right there in her face, licking her forehead," says Rob.
When Chip goes out in their well-fenced back yard for outdoor playtime, he only comes running back when Erika calls him. And when she leaves for a work trip, he wanders around meowing, looking for his missing person.
"Once, she went to China for three weeks," says Rob. "And when she got back, he gave her the biggest cold shoulder for days." Says Erika: "He wouldn't talk to me. Of course, it couldn't last forever. Soon all was forgiven and he was back to long snuggles and loud purrs."
Getting along like cats and dogs
Chip may have a special fondness for his human mom, but he has plenty of affection to go around. He'll spend hours enjoying a belly rub, purring and drooling, utterly content. He bonded quickly with their other cat, Jersey. And once he overcomes his initial shyness with new humans, even those who didn't consider themselves cat people are won over by his charms.
When dogs started joining the household, well, it took a little adjustment the first time. When Xena first arrived, Chip and Jersey mostly stayed in the room set up for them, with a doggy gate to keep the strange new family member at bay. But after about a month, Jersey decided she was tired of hiding.
"She walked right up to Xena, pressed herself against her and sat on the couch right there," Erika recalls. "And when Chip saw Jersey doing that, he started coming around." It certainly helped that Chip could be safely tucked up into Erika's arms when spending anytime around the dog.
[Cat lives his best life on two legs.]
Once they had their first meeting, Chip and Jersey accepted Xena into their cuddle group. With Chip on Xena's back and Jersey curled up against her stomach, the three happily snooze the days away.
By the time the second dog, Zoey, became part of the family, Chip and Jersey were dog experts. The pair of purring cats welcomed Zoey into the house by winding around her feet. "It was just a big snugglefest from the get-go," says Rob.
With his family all around him — feline, canine and human — Chip never again has to worry about being without the cuddles he so loves. With fuzzy blankets to knead, windows to watch the world from, and a big yard to enjoy some fresh air, life for Chip has been pretty good for the last five years. And Erika says they've made a promise to be together for a long, long time to come, enjoying all the purrs and snuggles that they can.
Let's help the next Mr. Snuggles in need
There are many other snuggly, sweet pets needing a soft place to land before moving on to their next adventure. Help them get there by joining Best Friends Animal Society.
Become a Best Friends member for just $25
Photos courtesy of Erika Menoni