An animal lover's living legacy
Image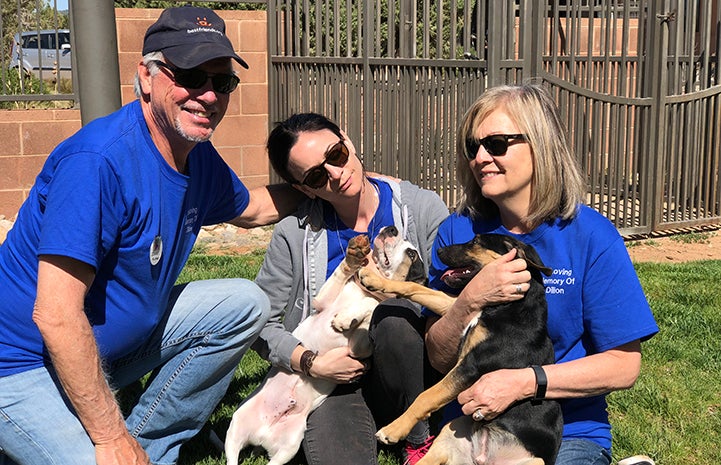 Family loses daughter who loved animals. They request family and friends make a donation in honor of her to help the animals and continue her legacy.
By Christelle L. Del Prete
Ann McGhee can't remember how many animals her youngest daughter, Dillon, tried to rescue over the years. "It was everything from frogs to baby birds to puppies, stray dogs and guinea pigs," Ann says. As she grew into adulthood, Dillon began volunteering with various animal rescue organizations near the family's home in the Richmond, Virginia, area. Helping homeless animals was Dillon's passion. It was what made her happier than anything else.
That's why Ann and her husband, Seward, knew they had found their daughter's happy place when they discovered Best Friends several years ago while hiking at the national parks in southern Utah. When they went home and described it to her, Dillon became excited to visit Best Friends with her parents to see it for herself. No doubt, her first stop would have been Dogtown, because dogs were her favorite animals. But Dillon never got the chance to see the Sanctuary.
Donating in honor of a daughter
Last August, when she was only 26, she passed away unexpectedly. Her devastated family struggled to cope with their loss. But when it came to celebrating Dillon's life, keeping her memory alive and ensuring that her legacy would live on, the answer was clear: They would turn to Best Friends.
The family agreed that it would be most fitting to request that, in lieu of flowers, friends and family could donate in honor of Dillon. Because Best Friends' work was a cause near and dear to her heart, choosing a charity to donate to in her memory was easy. But Dillon's immediate family went a step further. They also promised that they would visit the Sanctuary as a family every year to volunteer at Dogtown in memory of their daughter.
How to donate in someone's name
Puppies help family smile through tears
Ann, Seward and middle daughter Kendall arrived at the Sanctuary in mid-May to make good on their promise. They spent two days walking dogs, cleaning rooms and escorting eager dogs to the dog park, where they could play ball and splash around in the pool. The family also helped to socialize puppies in the puppy preschool. As a pair of adorable puppies named JG Wentworth and Elora romped around the Sanctuary's puppy park, they helped the family smile through their tears.
Although the family is grieving, there is no doubt in their minds that they are doing the right thing for themselves and for Dillon. "I know this is exactly what Dillon would want us to do," Kendall says. As hard as it was for the family to visit the Sanctuary without Dillon, the majestic beauty of Angel Canyon and the animals who've made it their home between homes had a healing effect. "She wanted to be here," says Seward. And, in a way, she was.
A living legacy
Shortly after the family arrived at Best Friends, they visited Angels Rest, the final resting place for thousands of beloved animals and a place to celebrate the everlasting bond that we share with animals. In this meditative spot amid the striking backdrop of the red cliffs, people often feel an incredible sense of peace, serenity and reverence.
"It was perfectly quiet and there was no wind," recalls Seward. "But then all of a sudden, the wind chimes began to sound. We knew it was Dillon saying hello. She was here with us."
For the McGhees, Best Friends is more than a place of remembrance. "Dillon would want people to help animals," says Seward. "Doing something like this — making a donation in memory of someone or volunteering your time — is never going to bring your loved one back," says Ann. "But it can become a living legacy ― this place and what it stands for. This is Dillon's legacy."
Photos courtesy of the McGhee family