Animal rescue grant gives shelter cats a second chance
Image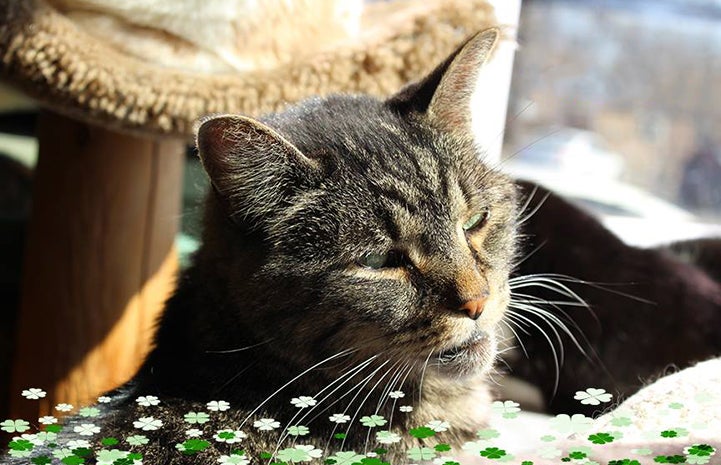 Foundation Against Companion-Animal Euthanasia takes in owner-surrendered cats from Indianapolis Animal Care and Control with treatable problems.
By Nicole Hamilton
Last St. Patrick's Day was particularly lucky for Seamus. That's the day he got to show Nadine Murphy and her husband Brad that he's not just a cute cat with a Popeye-like big chin, but also that he has a spirited, fun-loving personality that's hard to resist.
Before meeting Nadine and Brad, Seamus and his soon-to-be feline brother ended up at Indianapolis Animal Care and Control, where they had been surrendered by their families. And that put them in a tricky situation. In fact, it put them at risk of being killed.
Shelters around the country are inundated with cats and kittens, and the outlook isn't very good for them unless the community has active programs to reduce the number of unwanted litters, as well as partnerships with groups to find homes for more cats. A grant from Best Friends is providing help with those very programs in Indianapolis, and that's how Seamus and Buddy, two cats who might have previously been labeled unadoptable, found a great home — together.
Help for shelter cats
Seamus and Buddy were surrendered by their families to Indianapolis Animal Care and Control (IACC), and from there they were taken in by the Foundation Against Companion-Animal Euthanasia (FACE). The group was able to take the two cats with help from a Best Friends grant.
Because FACE is part of the Best Friends No More Homeless Pets Network, the group is eligible for Best Friends' lifesaving grants. In 2013, Best Friends provided a matching grant for FACE's project to rescue all cats labeled as stray from IACC. The result was a 55 percent increase in the save rate for cats. But there was still work to be done.
Once the majority of stray cats were being saved at the city shelter, FACE set its sights on helping non-stray shelter cats with medical or behavioral challenges that could be helped with a bit of time and care.
Learn more about the Best Friends No More Homeless Pets Network
A pet grant tailored for adult cats with treatable health conditions
In fact, the big chin that Seamus was sporting when he arrived at the shelter was actually a cancerous growth. And Buddy was so shy and anxious, he hunkered down in the back of his cage at the shelter and didn't want anyone to come near him. In the past, the two cats could have easily ended up on a list to be killed, because with the shelter full of healthy, friendly cats and kittens, the duo's chances of being adopted from IACC were slim.
But last year, FACE applied for and received a Best Friends grant to help take in owner-surrendered cats with treatable conditions who arrive at IACC. These could include diabetes, obesity and other issues, such as inappropriate urination, anxiety and issues stemming from poor declawing procedures that left cats in pain.
"FACE is doing cutting-edge work by helping shelters that are inundated with adoptable adult cats, but lack the space for them," says Marla Browne, No More Homeless Pets Network specialist. "This is the future in our work to save homeless pets."
"These are wonderful cats who are deserving of homes but are passed by simply because they have a health issue (that is usually treatable)," says Lisa Tudor, director of FACE's community cat program. "Once they come to our adoption center, they usually find homes pretty quickly."
IACC has embraced the program, too, and Lisa says that now when an adult cat with a heath condition arrives at the shelter, the shelter's vet will contact FACE to take them in.
The success of the project has been substantial. By expanding this program to owner-surrendered adult cats with health conditions, the save rate at IACC this year will likely hit 90 percent for the first time in the organization's history.
Two shelter cats go home
Nadine and Brad had come to the FACE adoption center after seeing Seamus's photo on the group's Facebook page. When they met Seamus in person, they quickly saw that his personality was too big for a cage. What he needed was a whole house and a family where he could let his friendly disposition shine. That was the lucky day that Seamus found his forever home.
A few months later, Nadine reached out to FACE again — this time to find a companion for Seamus. A suggestion was made that she consider adopting Buddy, a shy and fearful adult cat who also really needed the luck of the Irish — preferably in the form of a home where he could feel safe and secure.
"We just thought of the life he still deserves to live," says Nadine of Seamus, who is as happy and active as ever. The tumor on his chin doesn't require treatment at this time, just careful monitoring by a veterinarian.
And although Buddy hid in the basement for two weeks after arriving at Nadine and Brad's house, they were confident Buddy would eventually let go of his fears and be able to join Seamus on the window sill to watch birds.
"Seamus and Buddy bring us joy every day," says Nadine. "Sure, there were some obstacles in the beginning, but they deserve the same chance as any other pet at the shelter. They teach us that each day is special."
Help save more cats like Seamus and Buddy. Donate today.
Photos by Lisa Tudor and Nadine Murphy