Antarctica friends disover shared love
Dr. Julie Palais, who works in Antarctica and did a presentation on Best Friends, inspires Holly Gingles to volunteer at the Sanctuary as well.
By David Dickson
Dr. Julie Palais is a busy woman. Her responsibilities as a program manager with the National Science Foundation are many and varied, including an annual stint on a U.S. research station in Antarctica. She works most of the year in Washington, D.C., but each year heads down "on the ice," to use the local term, for about five weeks.
In Antarctica, Dr. Julie has plenty on her plate. On top of all her responsibilities, however, she still carved out some personal time one evening to put on a demonstration about something near to her heart: Best Friends Animal Society. As it happens, at least one person listened very carefully.
Presentation about Best Friends Animal Sanctuary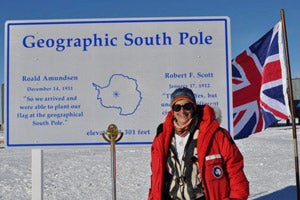 Julie brought Best Friends to the South Pole.
Down in Antarctica, there aren't many bowling alleys or mini golf courses to pass the time. (OK, there's nothing at all except research stations.) So, folks tend to create their own options for entertainment or education for the evenings, putting on all manner of programs with open invitations. "Very often you have to decide what you want to do on a particular evening," Dr. Julie says.
A long-time volunteer at Best Friends, Dr. Julie decided she'd put together a basic photo presentation of one of her visits to Best Friends Animal Sanctuary. In attendance was Holly Gingles of Colorado.
"As soon as I saw her presentation, I was hooked, and I couldn't wait to go for the first time," Holly says. It took a couple years, however, before she could schedule the trip. For somebody who spends nearly half the year in Antarctica, it isn't easy to make travel plans no matter how much you may want to go somewhere.
Yet, a couple years later, a chance opened up. Her house in Colorado would be rented an additional two weeks beyond when she'd be returning from the ice. Faced with having to fill an empty two weeks, she knew exactly where to go. "There was nothing else I wanted to do," Holly says.
New friends with a common interest
Holly started making plans for her trip to the Sanctuary while still in Antarctica. Accordingly, she tracked down Dr. Julie at a social function one night and told her how she'd made arrangements to visit Best Friends because of the presentation a couple years earlier. Dr. Julie was pleasantly surprised. "I had no idea I'd made such an impact," she says.
Before this time, Holly and Dr. Julie hadn't seen much of each other. They worked different schedules. After this connection, however, they became instant pals. "When people are that passionate about animals, you become very tight friends," Holly says.
Volunteering with different species of animals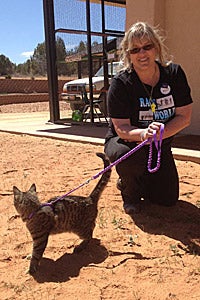 Walking Bandit was one highlight of Holly's trip.
Holly enjoyed every minute of her two weeks at Best Friends, keeping Dr. Julie up to date all along the way. One of the big highlights for Holly was the chance to work with so many different animals. She already knew she loved dogs, for example, but at Best Friends she got to work with — and learned to love — cats, horses, pigs and more.
Every step of the way, she was grateful to the caregivers who taught her all about the animals in their care. "They were so sweet to give me that extra time," Holly says.
Big plans
Holly is almost positive this will become an annual tradition for her. Not only that, but there might be another recurring tradition in the works. Holly and Dr. Julie plan to make a joint presentation about Best Friends in the fall when they're back on the ice together. "I keep talking to anybody who will listen about Best Friends," Holly says.
After all, you never know who might be paying attention.
Visiting Best Friends Animal Sanctuary
Luckily, most people don't need to come from clear across the globe to visit Best Friends. The Sanctuary is always open for visitors. Plan your visit today.
Photos courtesy of Holly Gingles