Aussiedoodle rescued from puppy mill adopted
Image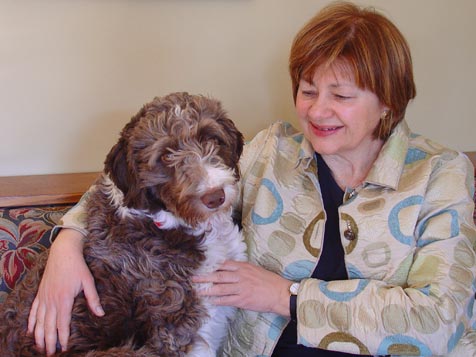 Aussiedoodle rescued from puppy mill and brought to Ramapo-Bergen Animal Refuge in Oakland, New Jersey, is fostered and then adopted into loving home.
By David Dickson
There is never a lonely moment for Abby Gary of Glen Rock, New Jersey, anymore. She's got Rockerdoodle (now named Reno) the aussiedoodle by her side 24/7. He is her devoted companion whether she's traveling 10 miles or 10 feet. Now that he's found his "happy ever after," Reno intends to hang on tight and never let go.
Aussiedoodle rescued from puppy mill
Perhaps you remember Rockerdoodle/Reno. He was one of the dogs highlighted in the recent Pup My Ride rescue. He had been pulled from his life in a puppy mill and brought to the Ramapo-Bergen Animal Refuge in Oakland, New Jersey, where he hoped to start a new life.
At the animal refuge, Reno displayed an understandable lack of social skills, which was not surprising given the life he'd lived. TLC wasn't exactly the order of the day in his early life. The folks at Ramapo-Bergen decided to send Reno to a foster family temporarily for some hands-on socialization training.
Reno thrived in the foster home setting. "His foster family helped socialize him," explains Ramapo-Bergen staffer Lisa Esak. "They also got him around 90 percent housebroken." In the home, Reno lived with other dogs and was able to see up close how socialized dogs live in a loving home environment. Talk about an eye-opener for Reno!
Without question, foster homes provide a valuable service in preparing dogs for their forever family. After a few weeks, Reno's foster family believed he was ready for his own forever home. He came back to Ramapo-Bergen to find his own happy ending. Reno didn't have to wait long.
Adopting a great dog
When Abby and her husband, Paul, decided it was time to bring another pet into the family, they knew they wanted to find a rescued dog. "It breaks my heart that all of these dogs [in shelters] are waiting for homes," Abby says. She and her husband are committed to helping dogs who need a second chance. They have rescued retired greyhounds in the past.
When Abby saw Reno's profile online, she says he didn't actually stand out as "the one." That all changed, however, when she laid eyes on him face to face.
When Abby walked into the Ramapo-Bergen rescue, Reno jumped up against the fence, trying hard to solicit some affection. "He was so cute," Abby says. She took him in a room to visit, and she and Reno experienced an instant mutual connection that only deepened. She decided to adopt.
Dog's new life with a retired greyhound, cats and people
Back in his new home, Reno is now living the good life. He lives with a retired greyhound, several cats, and a full house of people who adore him. He's hardly ever home alone, for that matter. Abby and Paul have three young adult children, two of whom are living at home and attending college.
Reno gets along well with the whole family, yet nobody doubts Abby is his clear favorite. She thinks he just might remember who found him and brought him home in the first place. Whatever his reasons, "He's with me every moment," she says.
Indeed, once you find your pot of gold at the end of the rainbow, what's the point in letting it out of your sight again?
Photos courtesy of Abby Gary
If you're looking for your perfect companion, visit our adoptables page.