Bacteriotherapy puts kitten on the road to health
When a kitten just couldn't seem to beat his belly troubles, a veterinarian found the remedy the led him to love and happiness in a new home.
By Nicole Hamilton
Sure, this story mentions poop. But don't let that stop you from reading. This is the kind of story we need more of these days. It's about a kitten named Sunny, who just couldn't beat his belly issues, and a determined Best Friends veterinarian, who used an innovative treatment to finally cure him.
Sunny came to Best Friends in Salt Lake City from an area shelter, along with his mom and fellow littermates. While the rest of the kittens had no trouble managing tummies full of milk, Sunny had difficulties keeping anything down. Another day, another episode of diarrhea and vomiting, it seemed.
"Nothing we tried seemed to work," says Dr. Megan McCarthy, the Best Friends veterinarian in Salt Lake City who performed a barrage of tests looking for everything from parasites to panleukopenia. The medication she gave Sunny for his upset stomach did seem to be working, however, and when he seemed to finally be on the mend, the team decided he was ready for adoption.
It didn't take long for the people-loving orange tabby to find a home, but soon after he was adopted, the bouts of diarrhea reappeared and the adopter made the difficult decision to return him to Best Friends.
When Dr. Megan discovered that Sunny was returned, her heart sank, but not for long. The scientist in her knew there was a solution, so she set out to find it.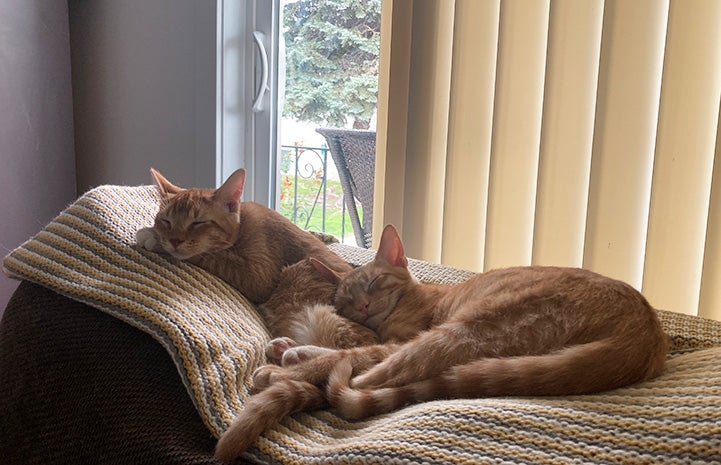 [Foster mom's determination helps puppies beat parvo and thrive]
"We tried a hypoallergenic diet, but there was no improvement so we ruled that out," says Dr. Megan. "Then we did more testing for viruses, bacteria and parasites. Those all came back negative."
Dr. Megan was feeling like she had hit a dead end — that is,  until she remembered a colleague had told her about bacteriotherapy. It's an innovative treatment that places a stool from a healthy donor cat into the colon of the cat with chronic gastrointestinal issues.
"The procedure seemed simple enough," Dr. Megan says. "It's fairly easy and it would save us the trouble of tests that would end up delaying adoption." So, she set out to try it, hoping that it would help the kitten finally feel better.
It took two tries, but after the second procedure, things started to turn around for Sunny. For the first time in his young life, he wasn't plagued with litter box issues. He was ready again to settle into a new home.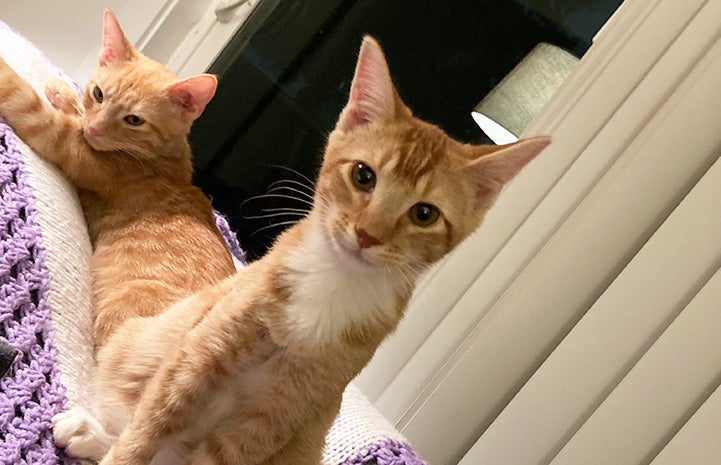 Kittens who fit together
Jaime Watson and her wife, Angela, had recently said goodbye to their beloved orange tabby, Tigger. They decided to stop in at the Best Friends Lifesaving Center in Salt Lake City to meet an orange tabby kitten they saw online named Graham.
While getting to know young Graham, they met Sunny and were instantly kitten smitten. As the team talked to them about Sunny's belly issues and the innovative procedure that helped him, Jaime and Angela could tell that he was much loved by everyone. Undaunted by Sunny's past medical issues, they decided to adopt both Sunny and Graham.
[Scared mama cat goes from stressed to spotlight]
Today, the two kittens are yin and yang — opposites who fit together perfectly. Graham is the snuggler. Sunny can play for hours. "They take really good care of each other and play all day and night together," says Jaime. "Sunny loves to give Graham a full body licking and Graham takes it all in and just loves it."
At first, Sunny had some stomach troubles while settling into his new home, but once Jaime and Angela switched him to a prescription diet, his issues cleared up quickly.
Diet aside, Jaime says there's another reason Sunny's future looks bright: "We believe that the love and happiness that Sunny and Graham came to have with each other and with us eliminated Sunny's digestive issues," says Jaime. "Graham actually had belly issues, too, but they both now have no issues and are extremely good eaters and appear to be healthy as ever."
So, maybe the Beatles have been right all along. Maybe all you need is love — and an amazing doctor, of course.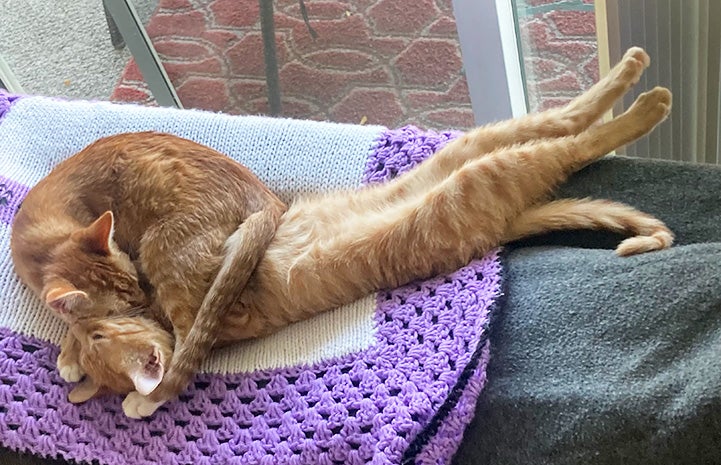 Spread a little sunshine
Make life sunnier for pets by fostering or adopting from your local shelter.
Adopt or foster a pet near you
Read more
Cat goes from touch-me-not to grumbly biscuit maker
Reactive dog just needed understanding