Beautiful Lab, terrible manners
Cosmic Charlie came to the Sanctuary with a habit of jumping all over people and grabbing their clothes, but he was adopted anyway and is now the best boy.
By Sarah Thornton
Resting near his mountain of toys and wearing a tag engraved tag with lyrics from a song by The Grateful Dead, his people's favorite band, Cosmic Charlie looks every bit the well-loved dog that he is. But not long ago he struggled to relax ― even the least little bit. When he first arrived at Best Friends Animal Sanctuary, he quickly became known for his rambunctious personality. He was two years old and had all the energy you'd expect from a young Lab who'd never been taught basic manners for living with people.
He loved everyone, but he showed his excitement by jumping up on them and grabbing at clothes with his mouth ― not the best of manners. Most potential adopters are turned off by things like that. But when Whitney Wilger met him during a trip to the Sanctuary, she fell in love with the yellow dog and his wild energy, and it wasn't long before he was headed home with her to Las Vegas.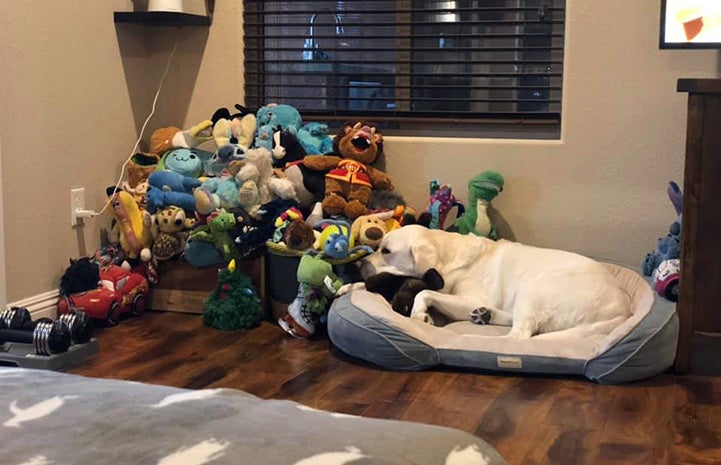 Cosmic Charlie, go on home
Charlie was brought to the Sanctuary from a small rural shelter, where he was surrendered by his previous family. At nearly 100 pounds he was overweight and still full of young dog energy. Everything was a potential chew toy. Caregivers even had to use a chain leash when walking him so he couldn't chew through it.
Best Friends veterinarians prescribed a special diet and exercise routine to help Charlie lose weight in a healthy way. Meanwhile, his caregivers started working with him to keep all four paws on the ground and be a little gentler with his human friends.
[This dog with behavior challenges may not be easy, but he's totally worth it]
While Charlie was learning to not jump, go to his place and drop toys on cue, his new person-to-be was getting ready to visit the Sanctuary. To celebrate a friend's birthday, Whitney was planning to come with a group to volunteer with the animals.
A year prior, she lost the last of her own dogs to old age, and so before she made the trip to the Sanctuary she decided to look online to see what dogs were available. "Then I saw (Charlie)," she says, "and he looked just like one of the Labs I had previously, and I wanted to meet him."
When she met him, Charlie jumped on her, grabbed her clothes and pulled this way and that against the leash on their walk. He'd only just begun his training and it showed. She recalls him behaving a little more politely only when a can of squeeze cheese was involved. But she was in love.
"I went home," Whitney says, "and I told my husband: 'I need you to love this dog.'" And, with his own visit, he did. Soon, the three of them were driving back home to Las Vegas, with a quick stop to pick up a special chicken nugget treat and set the tone for his comfy new life.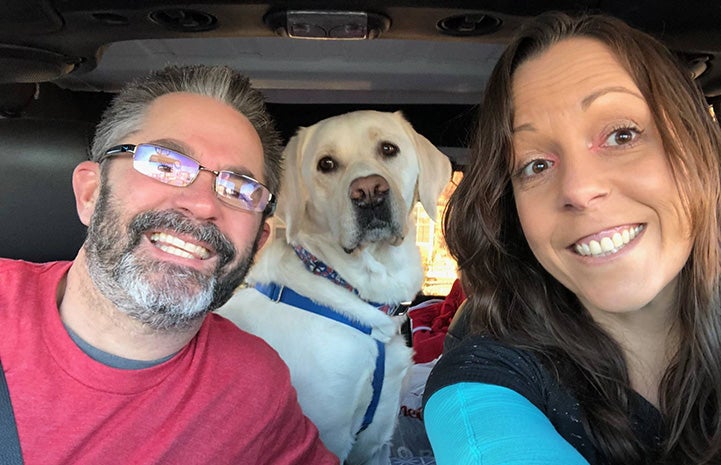 Training for a rambunctious Lab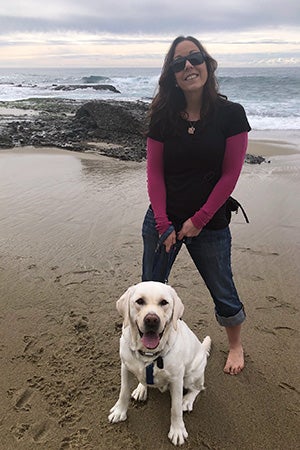 Because Whitney worked from home, she had plenty of time to spend with Charlie and teach him manners. They started going out on four-mile walks every day to burn off his excess energy and help him focus on training. She worked with him on sit and stay cues and leash reactivity, and she spent even more time on keeping him from jumping and grabbing people with is mouth.
It was overwhelming at first, but since Charlie will do just about anything for a treat, he quickly learned that being polite meant he got delicious goodies. With constant practice, Whitney says that within two weeks he became the "best boy ever." And he was certainly treated like the best boy ever.
Whitney's mother also fell for his charming personality and signed him up for regular toy delivery boxes. What started as just a couple of stuffed toys soon grew into a small pile, and it kept going. "Every time we go to (Disneyland)," Whitney says, "he gets a stuffed toy from there. He has a giant Stitch, Wreck-it Ralph, Sully, Mickey Mouse … He has pretty much everybody."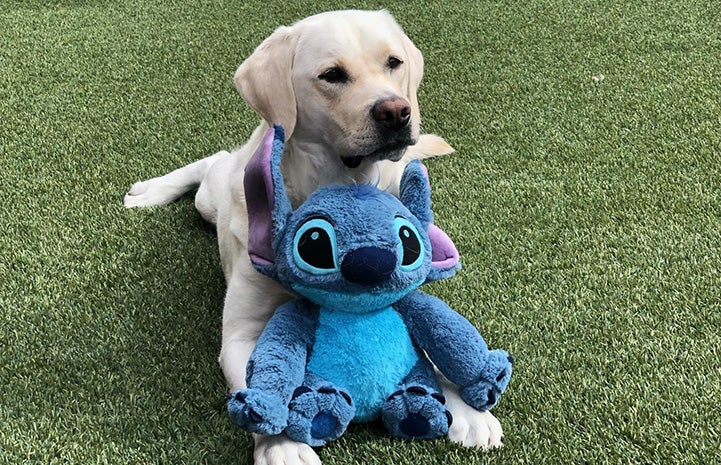 Disney toys for dogs
Charlie's collection of toys has become a small hill, two boxes deep in the corner next to one of his beds. And he loves all of them. He has a few favorites. Whitney says he's partial to blue toys in particular. And he's always as gentle as possible with them. "He shakes them and sometimes they tear," she says, "but he's not a toy-shredder. Not at all." One of his toys, a giant, soft Pixar ball, has had multiple repairs and remains one of his favorites to shake.
[High-energy dog meets his match]
Whitney has even been helping Charlie build up a little fan base. She set up an Instagram account and uploads pictures and videos of him just enjoying life. His smiling face was even featured on their community's Instagram page, for even more people to enjoy.
With Charlie's now well-learned manners, he gets to go on all sorts of adventures with his family. He's been good in hotels and polite at the beach (though he'd prefer if the water stopped chasing him back up onto shore). He even got to go with his people on a burrito tour in San Diego and enjoy some of the pup-friendly ingredients.
When traveling wasn't an option due to the pandemic, Charlie was more than happy to just spend time at home with his family and his pile of toys. No more uninvited jumping or tugging on clothes ― just a nice, relaxing time being the best boy ever.
If there's one thing Whitney wants other people to take from her and Charlie's story, it's to give a chance to dogs who may seem a little wild. "When he first came home, in that first two-week period I thought, oh my god, what have we done," she says. "And then it was great after that. If you just really give them a chance, they may blossom in your home. You never know."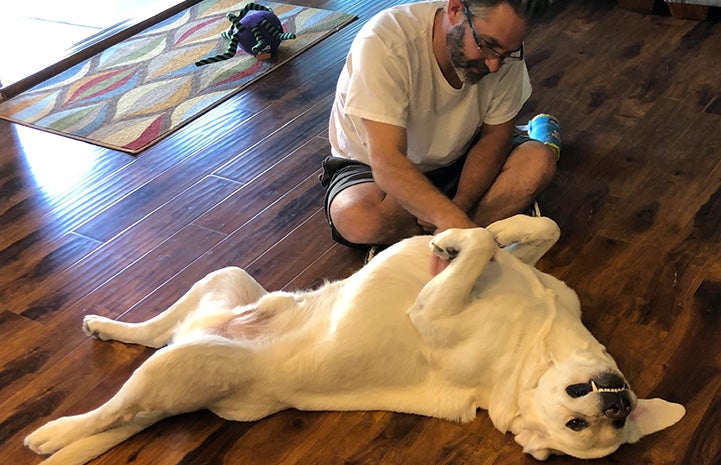 Give them a chance
There are many dogs just like Charlie waiting for the chance to blossom in your home.
Read more:
Scared, shy dog just needed a chance or two
Never giving up on a senior pit bull with a challenging past
L.A. Dodgers help a dog with cancer have an epic day at the ballpark
Photos courtesy of Whitney Wilger