Best Friends Art Project
Encouraging people to be part of the solution to pet overpopulation.
By Best Friends Animal Society
You stop at the black and white photo. It's a cat. Yawning. How beautiful. You've seen cats yawn before and never thought much of it. But this, this cat, caught with its mouth wide open, is amazing.
You walk on and see a painting of a woman and her dog. You can see their bond, the love shared between them. It warms your heart.
Why did you walk in here? You weren't planning it. But there is that huge piece of art by the door. It lured you in.
The piece of art in front of the large glass doors and windows of Two California Plaza in Los Angeles is called "15 minutes." The placard reads:
If 575 unwanted pets are put to death each hour, 144 will die in 15 minutes. This piece incorporates 144 paintings of dogs, oil stick and acrylic wash on Bristol board.
The exhibition you're standing in is the Best Friends Art Project, a collection of paintings, installations and photographs created to enlighten people about the problem of pet overpopulation, to inform people of ways they can be part of the solution, and to evoke and memorialize the spirit of the animals.
The project itself is sponsored by Best Friends Animal Society and is just one brush stroke, one frame, of a larger piece: the No More Homeless Pets campaign, which is designed to bring about a time when there are no healthy pets being killed in shelters anywhere.
Two artists from Best Friends collaborated on the project. Clay Myers uses his photography skills to capture a unique image with every click of the camera. His images invoke feeling, be it happiness, love, surprise or a dawning of realization. Cyrus Mejia uses a variety of media -- paint, pencil, dog collars, cat food cans -- to convey his message: millions of animals are unnecessarily euthanized in shelters across the country every year.
The exhibition in L.A. opened on February 25th and will continue through March 18. The setting, Two California Plaza, is a beautiful modern office building with a spacious glass and marble lobby, that frames the art majestically.
Around 200 people attended the exhibition's reception to see the art, meet the artists and mingle with L.A.'s very active animal rescue community. One of the local organizations, Paw'd Squad, was presented a painting by Cyrus of Lucky, a cat from the Squad shelter, to be auctioned at a future date, as a fundraiser for their work.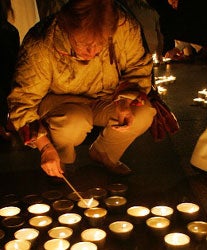 The reception concluded with attendees taking part in a performance piece, "575 Candles Blown Out." The candles, made from 575 cat food cans, were first lit, then blown out, provoking an emotional response in all who witnessed it, bringing the message home to everyone there: numbers of homeless animals are needlessly put to death every year in the United States.
But, as Clay Myers noted, the whole room seemed energized with an overriding sense that we can solve America's homeless pet problem.
To see pictures taken at the exhibit, many of which show the art pieces themselves, visit Best Friends Art Project.
Since May of 2004 the Best Friends Art Project has been shown in Washington, DC, Chicago, Ill., Redwood City, Calif. and now Los Angeles, Calif. People from all over the country have had the opportunity to see the work and experience the message of Best Friends in this new and different way. The plan is for the show to continue traveling, with exhibitions in Sacramento, Calif., New York, N.Y. and other cities across the U.S.