Best Friends' new hotel is paradise for pets — and it's taking reservations
Best Friends Animal Society's hotel - the Roadhouse and Mercantile - is entirely pet-centric: designed for dogs and cats as well as animal lovers.
By Christelle L. Del Prete
The contented look on Robert Johnson's face as he burrowed deeply into the arms of Cat World caregiver Julie Contival said it all: The little dog couldn't have been any happier to be on his very first sleepover. Just a few hours earlier, he and Julie had checked into the Best Friends Roadhouse and Mercantile. They were among the very first guests of Best Friends' new hotel during its soft opening on the evenings of October 28 and 29.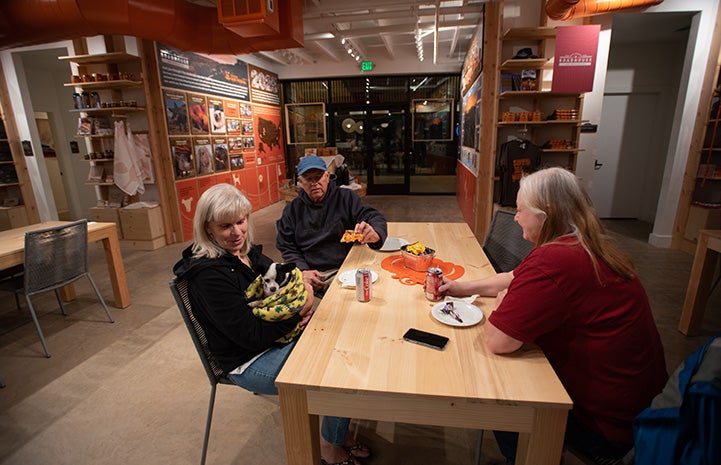 A hotel designed for people traveling with pets
The Best Friends Roadhouse and Mercantile is now open to the public as the newest lodging option in Kanab, Utah. It's also the area's (if not the entire country's) most pet-centric hotel. Accommodations in the 40 rooms — which include trundle beds and wall cubbies designed especially for dogs and cats —were designed for people traveling with their pets, and for those who wish to host sleepover guests like the adorable Robert Johnson. Plus, there's an on-site dog park and pet washing station.
Why did Best Friends open a hotel? Brooks Bradbury, Best Friends' general manager of hospitality, explains: "As an extension of Best Friends Animal Sanctuary and its tradition of warm hospitality, the Best Friends Roadhouse and Mercantile is a place where we can welcome the public, engage newcomers in our mission and nurture relationships among our volunteers, members, donors and adopters." And in case you're wondering, the hotel wasn't built with donor dollars. It's being financed through a bank loan that will be repaid from income generated by the Roadhouse itself. Funding won't come from donor dollars or Best Friends' operating budget.
What's extra special about the Roadhouse is that it's an amazing guesthouse for Sanctuary animals, too. Michelle Weaver, Best Friends' director of animal care and interim Dogtown manager, says, "The Roadhouse will allow the Sanctuary's animals more opportunities to experience a home-like environment and to connect with potential adopters. It will also allow us to learn more about the animals in our care."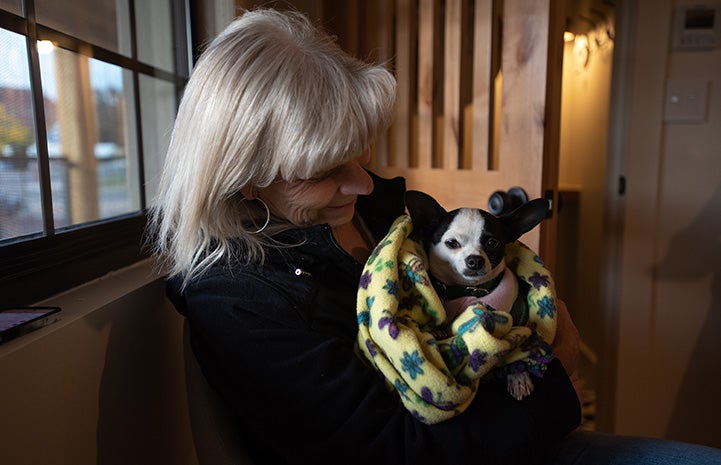 A fun room for an excitable pit bull terrier mix
During his stay at the hotel, Hercules an exuberant pit bull terrier mix, wasted no time in leaping up on the bed and diving into a pile of fluffy pillows. He seemed determined to test the durability of the pet-friendly fabric of the pillowcases, until adoption specialist Jessica Harrington (Hercules' sleepover host) distracted him with a treat.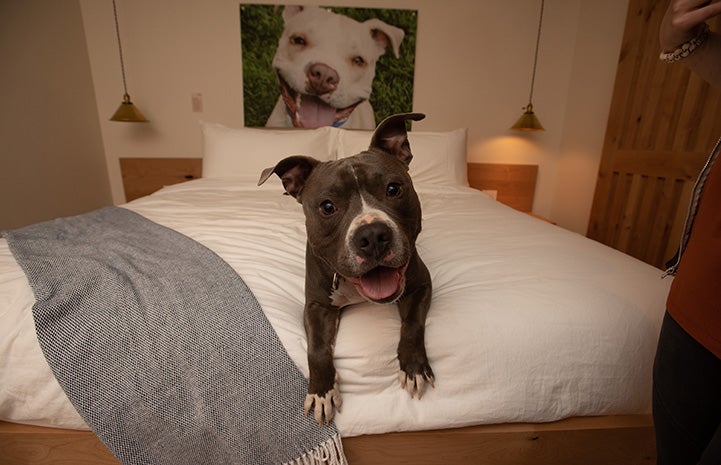 With his energy level and general excitement for life, Hercules isn't the kind of dog who can just walk into a new place, make himself at home and relax. He wanted to explore every part of the room, including the furniture, and see what fun awaits before he could settle down. And that's good information for potential adopters to have.
"The Roadhouse is going to provide an awesome environment for people to get to know their potential new family members, since adopters will be able to see the animals in a real-life, home-like setting before actually heading home," Jessica says. "They can get an idea of how a pet responds to normal household noises, see how a dog does off leash in the dog park, see how they behave in public settings, and even see how they handle a quick trip to the spa."
Once Hercules jumped up on the couch beside Jessica and discovered the panoramic front window, he stopped bouncing around long enough to take in the fantastic view. Then, he went back to playing with the pillows and covering Jessica's face with kisses.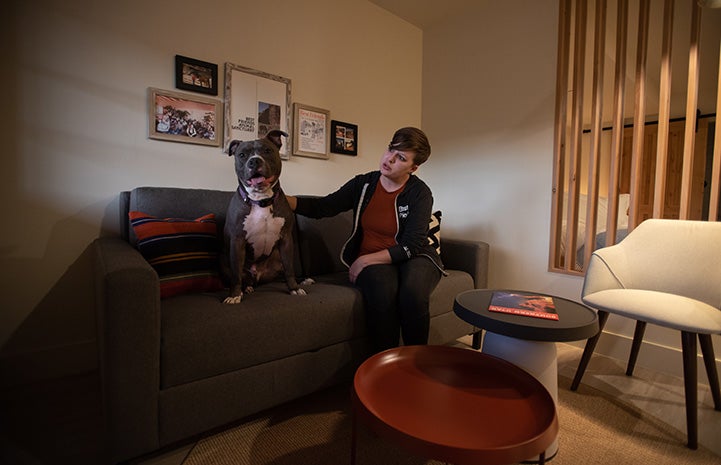 Lounging time for a distinguished senior cat
Hercules wasn't the only one celebrating his sleepover. Wilbur, a handsome tabby cat with striking green eyes, was also having the time of his life — just in a far calmer and more distinguished manner. Wilbur looks amazing, despite being 14 and having some kidney issues and special dietary needs. Unlike Hercules, he is the kind of pet who can just walk into a room at the Roadhouse and be completely at ease.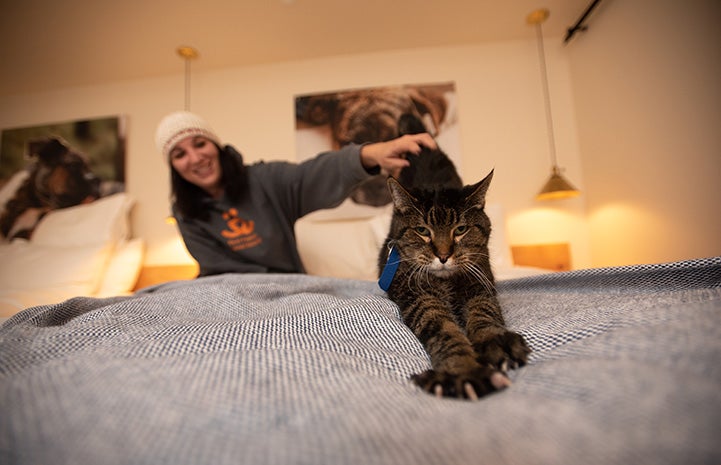 At the Sanctuary, Wilbur stays in a comfortable office, so he doesn't go out on many sleepovers. "I was expecting him to be a little more hesitant for that reason, but as soon as I opened the carrier in the room, he was like 'OK,'" says Amy Thatcher, the Best Friends social media community manager who co-hosted Wilbur's sleepover.
Wilbur soon found his way up onto the comfy bed, but rather than tossing around pillows he preferred to roll around and get snuggles. "He is super happy. I'm glad we brought him tonight," Amy said.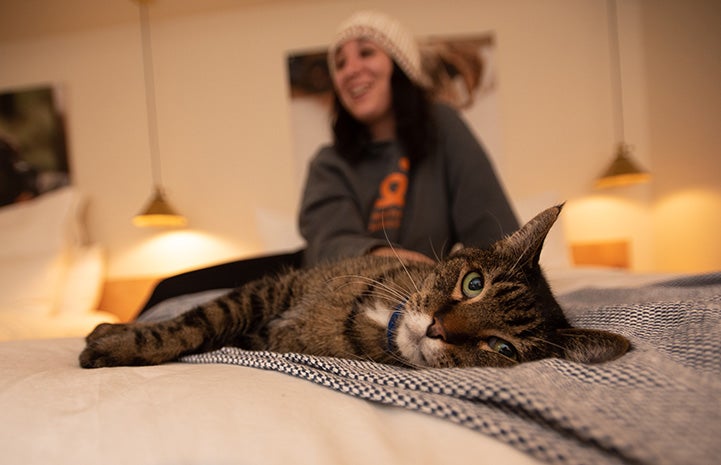 Accommodating pets with special needs
It took Ori, another kitty who got to try out the hotel, a little longer than Wilbur to feel like he could relax in the comfortable guest room. Ori's hesitancy is understandable; although he has been at the Sanctuary for nearly three years, this was his first sleepover. That's because Ori has Manx syndrome, which makes him incontinent, and his back end is a little wobbly. In the past, that has kept Ori from going on sleepovers in traditional hotels or Airbnb-type accommodations. But not here at the Roadhouse.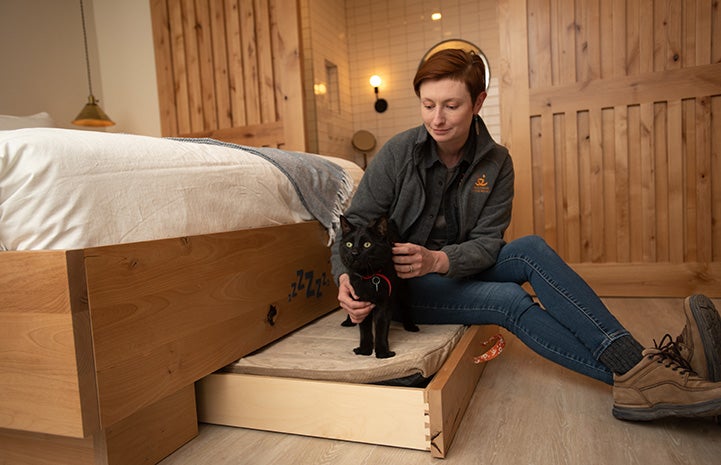 Cat care manager Amy Kohlbecker says, "The Roadhouse is nice because we can have cats with special needs come here. It's customized for animals, so there's not as much of a risk of them getting stuck under furniture and such. We can also be a lot more flexible with people about the timing of sleepover checkouts and returns, and they don't have to do a volunteer shift before they can take a Sanctuary pet on a sleepover. With a little bit of a heads-up, we can get them a sleepover buddy for a night."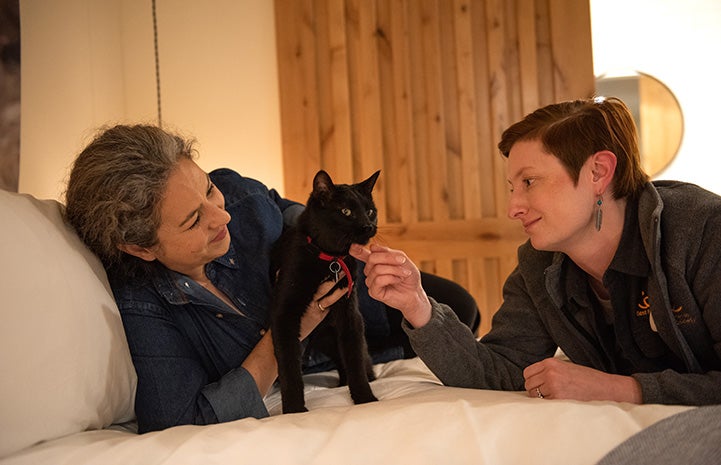 Test pilots get tucked in for a quiet evening
Best Friends staff weren't the only folks hosting sleepovers during the soft opening of the Roadhouse. Four friends and returning volunteers — Paula Cohn, Alice Storey, Holly McInerney and Judy Swartz — snagged one of the two two-floor suites on the property. The women had already planned their trip to the Sanctuary, and once they found out about the new Roadhouse, they called to see if they could stay there.
Although the Roadhouse's grand opening hadn't happened yet, and staff were still ironing out last-minute details, the women were excited to be among the very first guests. They knew that their stay would make them test pilots, and that there might be some kinks, but as Paula says, "We were very happy to do it."
The four friends took 12-year-old Spice, a dog from the Sanctuary, on a sleepover. They set her up on a warm, cushy dog bed in the living room, covered her in blankets and surrounded her with love.
Back in his room, Robert Johnson snuggled tightly next to Julie all night long, as — all around the Roadhouse — everyone settled in for a quiet and cozy evening.
Book your room at the Roadhouse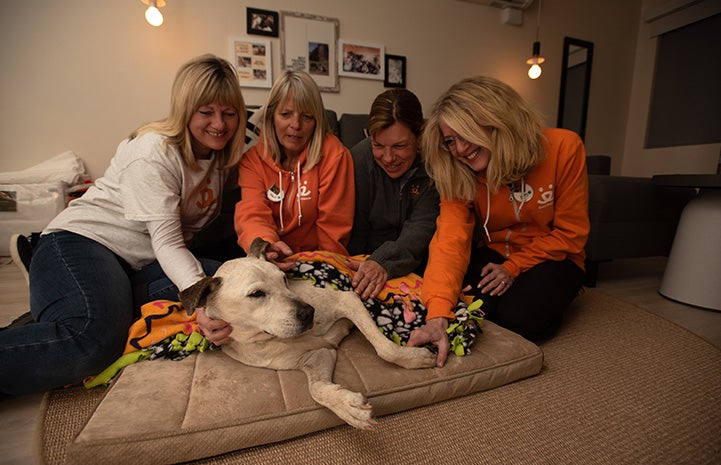 Photos by Molly Wald