A big new world for a nearly blind kitten
A nearly blind kitten went from a Louisiana shelter to Best Friends in Atlanta, before settling into the lap of a loving adopter.
By Nicole Hamilton
What a life Pablo has lived, and to think he's not even a year old yet! Today, the little black kitten loves few things more than snoozing in the lap of his adopter, Brielle Benton. But it wasn't long ago that young Pablo showed up at a Louisiana animal shelter in pretty rough shape with a laundry list of health challenges.
Most of his troubles (such as his flea-ridden fur and dehydration) were easy fixes. But he also had a bad eye infection that would take time to treat. Not to worry, though, because the day Pablo came to the shelter marked a milestone. From that day forward, people from Louisiana to Georgia came together to help get him get where he deserved to be — catnapping on the lap of someone who loves him.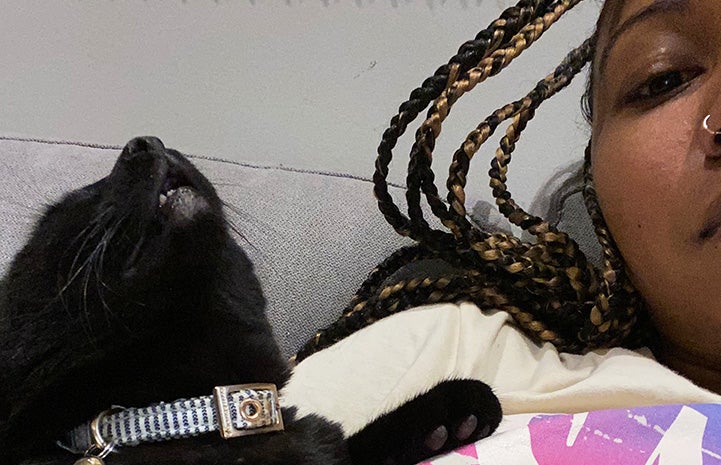 World opens for a vision-impaired cat
Soon after Pablo arrived at the shelter, a veterinarian assessed his eye condition and determined that he had severe scarring to his corneas. He got medication that eased his pain and healed the infection, but his vision couldn't be restored. While he isn't completely blind, he only sees shadows.
The shelter decided to place him in a foster home until he was big enough to be neutered and adopted, but those plans took a big detour when Hurricane Laura forced local evacuations. That's when Pablo, along with other pets from the shelter, were brought to Best Friends in Atlanta and then on to the safety of foster homes.
[Timid tuxedo cat finally opens up]
Thriving in the company of other cats
Kittens have a reputation of being tiny little optimists ready to explore everything around them, and Pablo is no exception. His inability to see completely hasn't affected his happy-go-lucky attitude, although truth be told, he was shy and tentative when he first arrived in his foster home.
Once Pablo got more familiar with his surroundings, he surprised his foster family with loud purrs. He was also cool as a cucumber around the family's adult cat ― so cool that if he heard the cat in another room he'd excitedly run over to play.
Having a fellow kitten by his side helped Pablo navigate his foster home much easier and was a source of comfort. "(Pablo) would have been very frightened in a shelter setting," says Megan Matchett, lifesaving specialist for Best Friends in Atlanta. "All of the noise and constant activity would have been extremely difficult for a visually impaired kitten to navigate. Being in a stable home environment gave him the chance to feel safe and loved so his true personality could shine through."
A Best Friends veterinarian determined that the eye-scarring condition could have been caused by the herpes virus. Since most cats have already been exposed to the virus, there was no additional risk of Pablo giving it to another cat; however, he'd most likely always have impaired vision.
[Solving a kitten's mystery illness]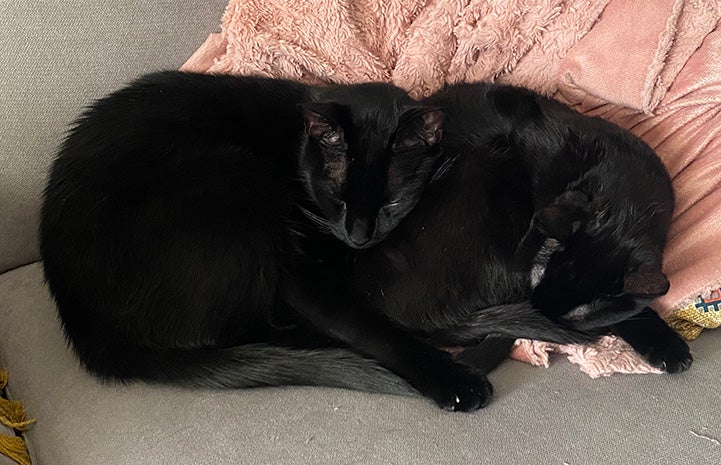 Kitten, adopter settle together in a new town
While Pablo was getting used to life in Atlanta, Brielle and her cat, Glen-Francis, were doing the same. Back when she lived in New York City with her mom and sister, she worked long hours but was comforted knowing Glen-Francis wasn't alone.
In Atlanta, Brielle would be home more, making it possible to do something she'd always wanted to do ― adopt a cat with special needs. It helped, too, that Glen-Francis had always been nurturing around her mom's cat.
After learning about Pablo, Brielle had a good feeling he'd feel comfortable in her home (with a little help from Glen-Francis, of course). But she wasn't completely sure about bringing Pablo home until she actually met him. "I fell in love with him immediately and knew he belonged with us," she says.
Storm with a silver lining
Brielle thought it would take a while for Pablo to get used to his new surroundings, but he adjusted seamlessly. For the first few days, she kept him in the bathroom. And when she let him out to explore the rest of the apartment, he didn't hesitate for a second. "He's very outgoing and wasn't shy about checking things out," she says.
At first, Pablo's extremely limited vision caused him to run into light-colored objects (doors, chairs and a white planter in the living room), but he learned quickly where things were. Now he only bumps into things when he's excited and it doesn't seem to bother him one bit.
"His spirits are always high," says Brielle. "He's friendly, he's social, he's vocal, and he's so affectionate."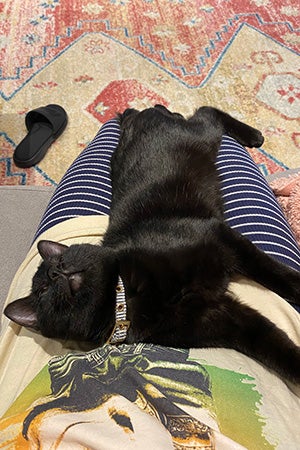 He's also the definition of a lap cat. "I haven't sat alone on my couch since I brought him home," says Brielle. "He never misses a chance to curl up and nap in someone's arms, and (he) always, always wants his brother to groom him."
Pablo's needs usually aren't much different than those of his good friend, Glen-Francis. But from time to time he does need a little extra TLC: His left eye still gets infected and needs eye drops, plus he has a very sensitive belly and so far the only food agreeing with him is something he isn't thrilled to eat.
Brielle says all the extra TLC is more than worth it, especially when she looks at him cuddled up on the couch, thinks about how far he's come and recalls that it took a team of people (in the face of a hurricane) to get him into a loving home.
"There are moments when I feel sad for him, but it's impossible to hold on to the feeling when I see he isn't at all sad for himself," says Brielle. "Every day Pablo teaches me about staying positive and loving in the face of adversity. Everyone who meets him agrees that he is the sweetest, most joyful little spirit."
Have a lap to spare?
Foster, adopt or volunteer at your local shelter to help cats like Pablo.
Read more
5 acts of kindness from everyday heroes
Photos courtesy of Brielle Benton