Book review: 3 summer reads for dog lovers
Book reviews: Dog Days, London's Number One Dog-walking Agency, and What Is A Dog?
By Sally Rosenthal
Dog Days by Ericka Waller. St. Martin's Griffin, 2021. Hardcover, 368 pages, $27.
Ordering information »
It shouldn't come as a surprise that two of my favorite things are books and dogs. Books about dogs are even better, so I was delighted to discover Ericka Waller's debut novel, Dog Days. In this tender and moving tale, the author weaves together the stories of three main characters and the canines who provide solace and healing.
A lifelong curmudgeon, George is ill-equipped to face the world after his wife suddenly dies, leaving him with a dachshund puppy and a bleak future. Meanwhile, Dan, a closeted therapist with obsessive-compulsive disorder and a much loved Labrador retriever, finds his ordered existence thrown into chaos when a love interest walks into his office. Finally, Lizzie, fleeing an abusive partner, reluctantly agrees to walk Maud the dog, who also lives at the women's shelter where she is trying to find a new path in life.
Along with a cast of offbeat supporting characters, these three lost souls learn that taking risks, nudged on by their canine friends, can make for a life worth living. Readers of Lucy Dillon and Susan Wilson will add Waller's name to their list of novelists who expertly plumb the depths of the devotion dogs provide.
London's Number One Dog-walking Agency: A Memoir by Kate MacDougall. William Morrow, 2021. Hardcover, 304 pages, $25.99.
Ordering information »
It was all because of the porcelain pigeons lying in shattered pieces on the desk of Sotheby's assistant, Kate MacDougall. These costly antique birds became the metaphorical straw that broke the camel's back and forced a bored and unfulfilled MacDougall to quit her job at the prestigious London auction house.
Armed with a university degree and a spirit of adventure, 20-something MacDougall hit upon the idea of opening a dog-walking agency for the city's upscale dog owners who had more money than free time. How the author's service was established and grew is the basis of her funny and, at times, poignant coming-of-age memoir.
While the canines who walked and romped with the author and her employees were a mostly delightful cross-section of posh dogs and mutts, it is their human guardians and MacDougall's astute observations of their quirks and foibles that really capture readers' attention. MacDougall learns that running her business is more than a walk in the park and she matures during the years her agency lent a paw to London's canines.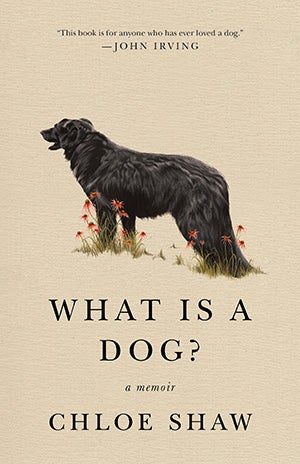 What Is A Dog? by Chloe Shaw. Flatiron Books, 2021. Hardcover, 224 pages, $24.99.
Ordering information »
If you need a reason to take a break from daily routine, seek some shade and sip a cool drink while pondering life with dogs, be certain to open Chloe Shaw's remarkable memoir What Is A Dog? and become immersed. Upon the death of Booker, her family's elderly dog, Shaw is drawn to a period of deep reflection on Booker's life as well as the other canines who were her soul mates and mentors.
What takes shape is a journey of perceptive self-discovery. An anxious and creative child, the author learned early how a close relationship with her Scottish terrier, Agatha, could provide safety and coping skills in a world she often found perplexing. Needing time to contemplate and write, the author explored her identification both with and by beloved dogs from Agatha of her Brooklyn childhood to recently deceased Booker, and to Otter and Safari, who shared her family's Connecticut home. Written with hard-won wisdom, What Is A Dog? is, at times, heart-wrenching and, ultimately, beautiful.