Book review: 'Animal Soul Contracts' by Tammy Billup
A guide to discovering the spiritual agreements between our souls and those of our animal companion
By Sally Rosenthal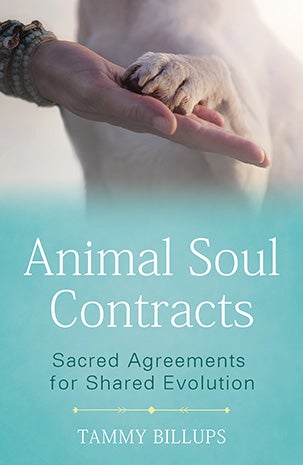 While I was engrossed in Animal Soul Contracts by healer and teacher Tammy Billups, my rescued cat, Tamsin, slept on the sofa beside me. She didn't need to have me explain this gentle and profound book to her since she already knew Billups' philosophy about why people and their companion animals come together.
Tamsin had claimed me as her own a few weeks earlier when I visited a local shelter. Coming into my life a few months following my husband's sudden death (prior to what would be an ongoing COVID-19 lockdown), Tamsin was living proof of everything the author describes.
Well-known for her spiritual approach to the connection between humans and our fellow creatures, Billups goes one step further than telepathic communication. Delving into life experiences and needs of individuals and their animals, the author proposes that each is an equal partner in an evolutionary contract.
Formed before our meeting, this contract has as its basis the reasons our animals have chosen to enter our lives. Trauma, behavior patterns that stunt development and other emotions and actions that keep us stuck are brought into the light through a practice the author calls "tandem healing."
What emerges is an enlightenment that benefits us, our animals and the planet we share.
Drawing upon personal experiences and those of clients, Billups has written a book that is groundbreaking in its wisdom and simplicity. Like-minded souls will find validation, and those who start reading with uncertainty might just find themselves believers by the last page.
Animal Soul Contracts: Sacred Agreements For Shared Evolution by Tammy Billups. Bear & Company, 2020. Softcover, 192 pages, $14.99.
Photo by Sarah Ause Kichas