Book review: 'Poppy the street dog'
How one woman put her love for animals into action and, with the help of a wise and gentle dog, created a community of caring for homeless individuals and their canines.
By Sally Rosenthal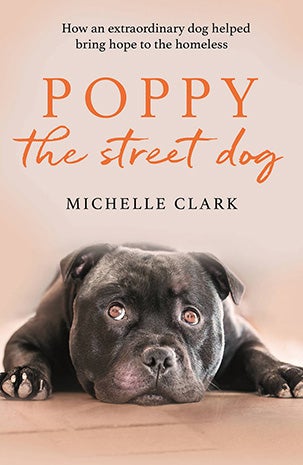 Poppy the street dog: How an extraordinary dog helped give hope to the homeless, by Michelle Clark with Linda Watson-Brown. Seven Dials Publishing, 2020. Softcover, 252 pages. Ordering information
If angels walk this earth ― and I believe they do ― Michelle Clark is certainly one. A lifelong animal lover, she adopted many stray and abandoned dogs and cats, providing them with love and safety; however, it wasn't until she started volunteering as an outreach worker with her city's homeless population that she realized the men living on the streets were not alone. Many of them had devoted dogs who willingly shared their rough existence.
A chance encounter with one man and his Staffordshire terrier, Poppy, catapulted Michelle into a mission that went far beyond helping Poppy and her human. Many of the men she met during her work needed professional care from mental health workers, addiction counselors or both. At the very least, they needed a bed in a city shelter. But with shelters and recovery programs not allowing dogs, they choose to forgo warmth, food and medical intervention rather than abandon them.
Michelle and a team of volunteer veterinarians, groomers and other helpers set up canine care stations on a regular basis to provide free services for the street dogs. During these sessions, she and her team came to know their clients as individuals and befriended them. When an emergency led to the author adopting Poppy, her volunteer work turned into a larger labor of love.
Guided by the wise and gentle dog, she created a sanctuary where street dogs could live while their humans received the professional care they so badly needed. What began as handing out sandwiches and coffee to a growing number of men living on the streets blossomed into London's first such sanctuary.
Although her book fits the bill for an inspirational read, it is the profound love between Michelle and Poppy that makes their story shine.
Photo by Sarah Ause Kichas