Calico cat gets a job
Image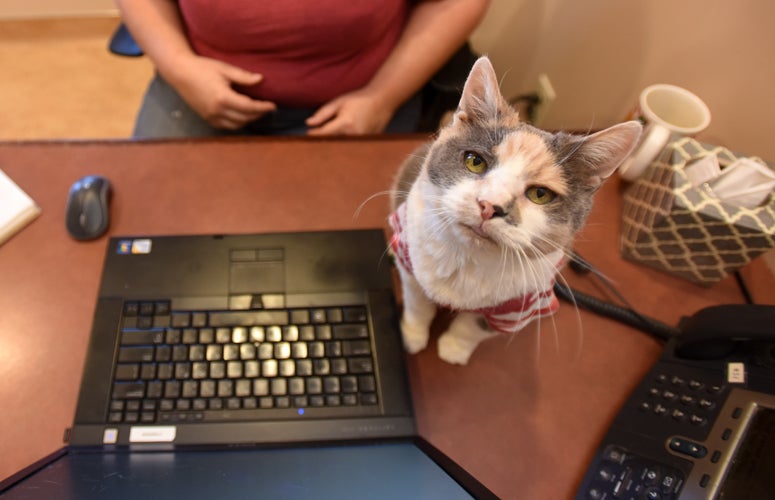 Calico cat, who is 15 years old, has some health challenges, and is missing her front claws and all her teeth, is the perfect office helper.
By Christelle L. Del Prete
The title "office cat" has appeared on Little Callie's resume quite a few times in the years she has lived at the Sanctuary. In fact, she's made a successful career out of it. Most recently, Little Callie has been helping out the Best Friends staff as the office assistant to adoption specialist Sherri Wilhoite.
Little Callie once had a loving home; in fact, she's had a few. But a variety of health issues, including severe allergies, have made it hard for her to find a permanent landing spot. Besides being allergic to almost everything, 15-year-old Little Callie is missing her front claws and all her teeth, and the Best Friends vets are carefully monitoring a spot on her liver. Nevertheless, Little Callie still shows up for "work" every day, because she loves her job.
Finding her niche as an office cat
At the Sanctuary, every animal has a niche and many can have jobs if they want. And not only is Callie as happy as she can be with her job, she's also proven that her health issues don't impair her ability to do it one bit. She spends her days in the office with Sherri, meeting, greeting and interacting with potential adopters.
Little Callie's bed is right beside the chairs that potential adopters sit in to talk with Sherri, so she has the perfect opportunity to get a first impression of them. "I often ask her for her input on people," Sherri says with a laugh. Of course, Little Callie can't talk, but she can give important clues in the way she responds to people. Don't worry, though. If you're petting her and talking softly to her, chances are good that she'll just love you and give her approval.
Feline comic relief
When she's not meeting visitors, Little Callie likes to hang out on Sherri's lap, or on her desk, where she helps with data entry. But, because she's been known to send emails out a bit too early, or to flip Sherri's screen upside down by hitting just the right combination of keys, her best contribution may be comic relief.
With Sherri's busy schedule, Little Callie has a full workweek. She's on duty in the office almost all day, every day. But that's by choice, and it certainly doesn't mean she doesn't enjoy some downtime. Although Sherri's door is always open, and Little Callie used to go out for walks and stroller rides, she now prefers to stay inside on her warm, comfy bed — especially in the winter.
Perfectly content calico cat
On quiet days, when she has the office to herself, Little Callie curls up in her bed (a large open crate piled high with cat beds and blankets) and snuggles with her favorite toy — a plush purple cow that she sometimes uses as a body pillow. Or she'll get Sherri to help her play dress-up. With an entire drawer full of shirts, sweaters and even a few pretty dresses (all worn to help cut down on her itching and scratching), she's quite the fashionista.
Like every animal at the Sanctuary, Little Callie wouldn't mind leaving her job for a home of her own, but in the meantime, she's perfectly content, because she's found her calling in helping Sherri match up other Sanctuary cats with wonderful people of their own.