Caring is contagious with community kindness cards
Kindness goes viral as animal lovers band together to help people and their pets during the coronavirus pandemic.
By Jess Roper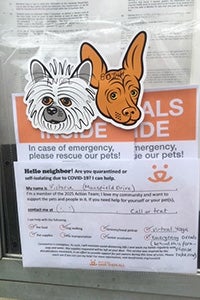 You're sitting at home, obsessively checking the news and you start to panic. Sound familiar? If you're a human and you live on earth, right now the COVID-19 pandemic is impacting you and everyone you know.
During this unprecedented challenge, many are spreading something else: viral kindness. When times are the most challenging, you notice special kinds of people who help others: the woman who offers dog food to help her neighbor who was laid off, the shelter employee who delivers kittens to a foster home, and the masked nurses and vet techs comforting patients whose families can't be with them.
When Best Friends responded during hurricanes Katrina and Harvey, we jumped in to help both animals and their people. As Best Friends CEO Julie Castle wrote in a recent blog: "There is nothing quite like the collaborative and collective spirit of individual people, groups, communities, organizations, companies and even countries coming together to support one another and save lives in times of crisis."
All across the country, people are doing just that. We love animals and have dedicated our lives to saving them, but working with animals means working with and caring about people just as much.
Emily Park, foundation partnership manager for Best Friends, says: "I'm someone who likes to roll up my sleeves and get dirty when tragedy strikes. Not having found a meaningful way to contribute (during COVID-19) left me feeling useless — until the simple act of dropping some kindness cards around my neighborhood while walking my dog, unexpectedly turned into something huge."
Working with animals means learning to adapt at a moment's notice, and that's just what the Best Friends 2025 Action Team did when it created new ways for neighbors to connect.
Best Friends community kindness cards
We know that to reach our goal of ending the killing of shelter pets by the year 2025, we must create a nationwide network that connects everyone who cares about animals. That's just what our 2025 Action Team was created to do ― work hand in hand with people in every community so that no animals lose their lives just because they don't have safe places to call home.
"In less than seven months, 12,000 everyday people have joined our grassroots initiative," says Kenny Lamberti, director of grass roots advocacy for Best Friends. "The action team is based on the idea that people are good and kind, and these 12,000 people are now helping their neighbors get supplies for their animals. They are gathering signatures to create political influence and, most importantly, they are making new friends and building a neighbor-to-neighbor network of compassion and generosity."
How could this important community work continue when people have to stay away from each other? Kenny's team saw a viral kindness movement developing in the United Kingdom and believed its message fit perfectly with the guiding principles of Best Friends. Thus, community kindness cards were born.
"(The cards) caught on quickly, because it's simple and gives people something they can do right away," says Kenny. "I think the cards make people smile and feel connected in a time when we desperately need it."
Here's how three people working in various parts of the country caught the kindness bug and began reaching out to neighbors in need.
Choosing to be a helper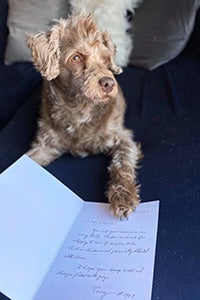 Rebekah Egbert is known in her condo building for her adorable dog, Count Chocula ― so much so that neighbors ask where he is when she's outside without him. But beyond this casual greeting, she wasn't used to regular interactions with her neighbors.
When a 5.7-magnitude earthquake hit Salt Lake City just as the pandemic worsened around the country, Rebekah was worried about one of her neighbors, an elderly monsignor at a Roman Catholic Church. It turns out that he had been thrown from his shower during the earthquake, but luckily he was unharmed.
That incident emphasized to Rebekah the importance of reaching out to others in her immediate community, so she began posting community kindness cards to the bulletin boards throughout her condo complex ― with Count Chocula's help, of course. Not to be left out of the fun, the Count offers FaceTime sessions as a special service to his neighbors.
Rebekah and Count Chocula received their own card from the monsignor, who was incredibly grateful that they cared enough to knock on his door. Now Rebekah makes a habit of reaching out and offering help to those around her.
The power of community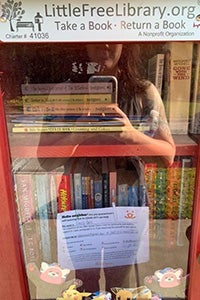 Across the country in Florida, Emily Park found that not being able to provide everything her community needed didn't hold her back from making a huge impact. She distributed community kindness cards to the Little Free Library locations throughout her neighborhood, and she waited to see if anyone would contact her for help.
Over Easter weekend, one of her furloughed neighbors, who was waiting on an unemployment check to come through, contacted her in need of food and other supplies for kids and pets. Emily knew of many resources for pets through her work, but she wasn't as familiar with how to help people in need.
Luckily, her neighborhood was already coming together, so she connected with other neighbors who were collecting donated supplies and distributing them through a contamination-free pantry set up in a woman's garage. Together with a team of volunteers, she has coordinated the receiving and distribution of donations throughout the neighborhood, so that no one has to live without necessities.
"This experience reminded me that while I was initially hyperfocused on helping pets ― people need help, too," says Emily. "By helping people, we're helping pets stay in their loving homes. I knew my limitations and that operating a pantry would be too much for me, but by simply asking strangers for help, we now have the means to help so many people affected by this pandemic."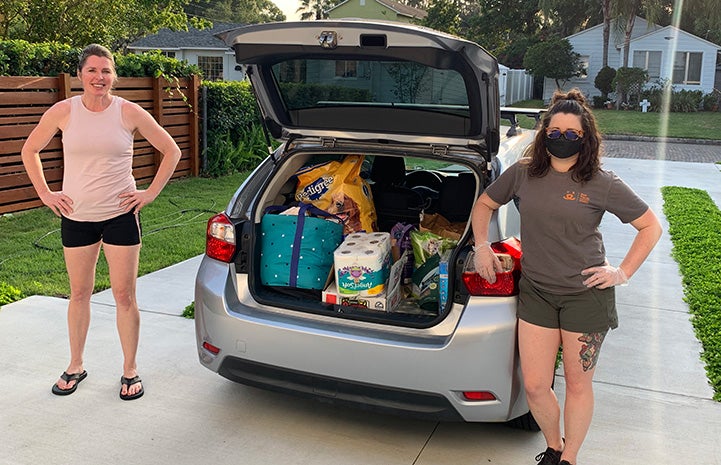 Friends, near and far
Victoria Johnson, an annual giving officer for Best Friends, started a home yoga studio before the pandemic and is using it as a space to connect with friends. When visiting others became a no-go, Victoria expanded her mindfulness community to include friends from around the country. Her Zoom yoga sessions, held twice weekly, are a virtual space for calm and connection during an uncertain time. Some adventurous dogs and cats are also known to make appearances on the mat.
Closer to home, she began to see the same neighbors again and again as she took her dogs, Bodhi and Angel, for walks each day. Inspired by the community kindness cards, Victoria began "adopting" older, single neighbors to let them know they aren't alone. She shared her phone number, provided some socially distant conversation, and assured them that she would be there for anything they may need.
"I try to surprise them by leaving things on their doorsteps every now and then, like a chocolate Easter bunny or fun masks or daffodils and whatever else I come up with in the next few weeks," says Victoria. "On a personal level, it gives me something that I can have a little control over in these uncertain times. To know that these seniors have a lifeline if they need it makes me happy."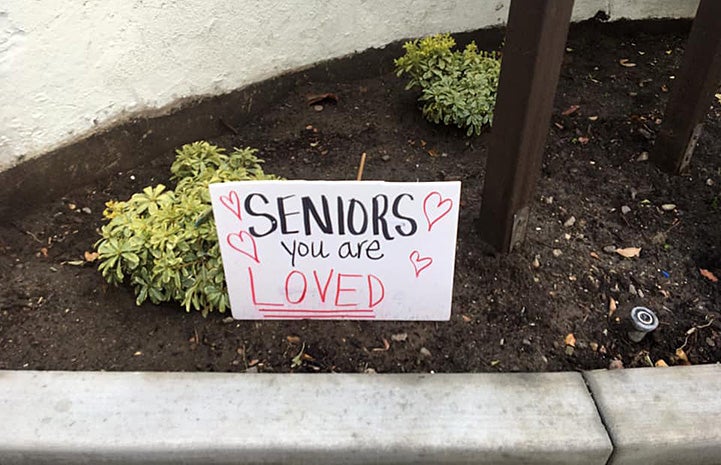 Everyone can do something to help those in need
"Kindness is contagious, and this 2025 Action Team is a fast-growing freight train of kindness in action," says Kenny.
No matter who you are or where you live, you have the power to spread kindness in your community. Small actions by individuals turn into a movement when many people do them together.
"In a world where everyone (preCOVID-19) was too busy looking down at their phones, it's time we really took notice of those who live in our communities ― beyond hello," says Victoria. "Quite frankly, I sleep better at night when I've spread some daily kindness."
Photos Rebekah Egbert, Victoria Johnson and Emily Park