Cat and dog BFFs adopted together
Cassiopeia and Pedro lost their home and ended up together at a shelter, but it was only a hot minute before they were adopted - together.
By Nicole Hamilton
Al Green's classic song, "Let's Stay Together," goes a little something like this: "Let's stay together, whether times are good or bad, happy or sad." You could say it's a song for Cassiopeia the dog and Pedro the cat.
Times were happy for the duo, and then they became a little sad when they lost their home and ended up in a Los Angeles city shelter. But the "sister-brother" twosome overcame that challenge together, and today they're still together — in a new home.
[Foster mom helps dog write his diary – in his own words, of course]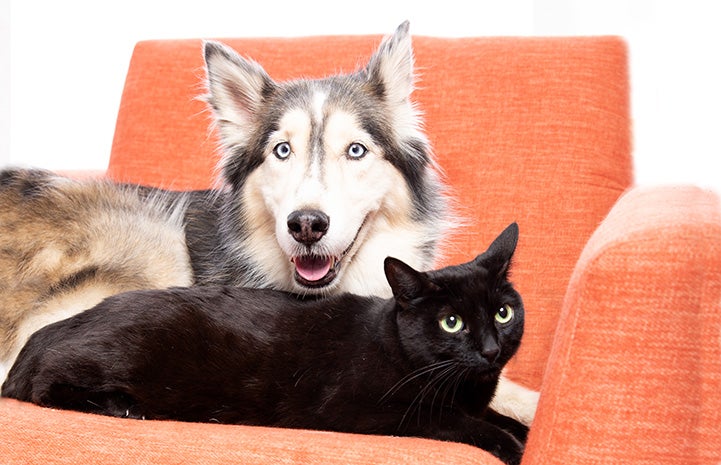 Two pets, one loving home
It wasn't long after they entered the shelter that the Best Friends team began the work of placing Cassiopeia and Pedro in a new home. It didn't take long. Their photos, shared on Instagram, caught the attention of Brian Sandoval and Rebecca Rincon, who both had always wanted a dog and a cat.
As soon as they saw the photos, they knew it was a rare opportunity. Not only could they adopt a dog and cat at the same time, but since they were already great friends, Brian and Rebecca wouldn't have to go through the process of introducing them to one another, which likely would have taken some time.
On a call with adoption specialist Ariel Dengrove, they learned that Pedro is the extrovert, while Cassiopeia needs a little time to herself. Then Brian and Rebecca donned masks to come and meet them in person.
Since social distancing is not required for pets, Pedro spent most of the meeting on the potential adopters' laps, while Cassiopeia milled about the room. The meeting was a complete success, and that day they became a family of four.
[Two kittens plus a family with three boys equal a house full of love.]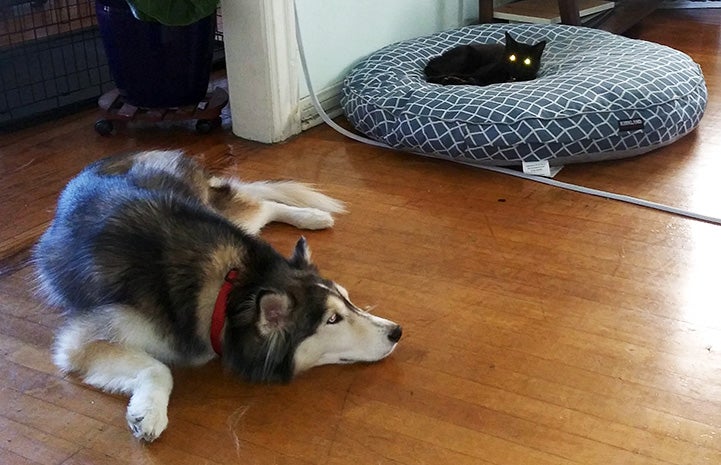 Cue the classic tune
After a few months, Brian says Pedro settled in quickly. "Within a day he was already seeking our attention and making himself comfortable everywhere. He is now king of the castle and we are his unworthy servants."
It took a Cassiopeia a little more time to warm up, but Brian thinks she finally understands how much she is loved. She's a fan of the dog park, where she enjoys meeting other dogs. And she even seems to be bringing good luck to the Los Angeles Dodgers baseball team.
"We are die-hard Dodger fans and we got Cassi a jersey to celebrate baseball coming back (since the pandemic)," says Brian. So far, whenever Cassiopeia wears the jersey, the Dodgers win. And recently she celebrated her birthday, complete with a dog birthday cake.
It's not always easy to adopt out two pets together, but in the case of Cassiopeia and Pedro, all it took was a bit of effort to photograph them and share the images. Ariel, who championed the effort, says: "I knew that I was making a difference for not only Cassiopeia and Pedro's lives but also for their adopters," she says. "It was one of the best feelings of my life to help create this little family."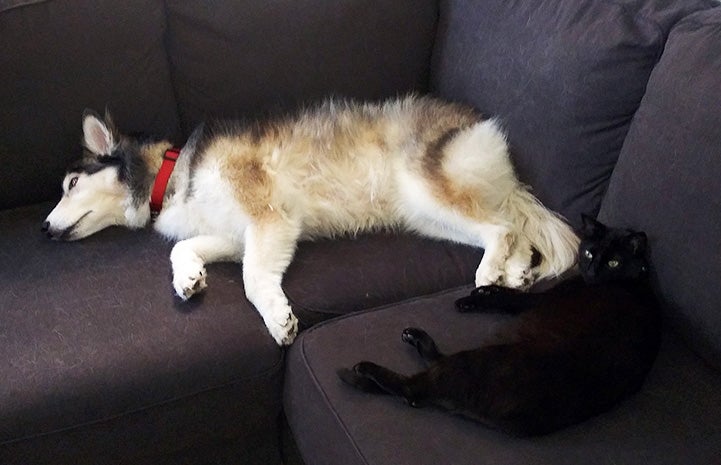 Help pets where you live
When you foster, adopt or volunteer at your local shelter, you're helping pets in countless ways  
Read more:
Dog named Bear is just right for his new home
Adoption update from the world's cuddliest cat
Photos by Lori Fusaro and Brian Sandoval