Cat brings joy during the lonely days of 2020
Lively and attentive cat provides companionship during the pandemic to first-time adopter.
By Lindsay Hutton
When COVID-19 lockdowns began at the end of March, Salma Syed was living alone and working from home. It was lonely and the time had come, she thought, to adopt a cat. She'd grown up with cats and enjoyed their company, and now, as public places began to close temporarily, she heard that more animals were in need.
After searching the shelters in her area, she received a prompt response from Best Friends in Los Angeles. Salma was impressed by the proactive approach to the pandemic taken by Best Friends (which included virtual meet-and-greets) and by the staff's eagerness to help her find the friend she was looking for.
When Salma was around eight years old, she used to scroll through pictures of cats, wanting to adopt. Now, she knew she'd need more than just a picture to know if the match would work. Lidia Nunez, a Best Friends adoption specialist who was there to help, told her about a cat who had just arrived and seemed to meet her criteria.
The healthy, young and super-social kitty had come to Best Friends from Los Angeles Animal Services. White with an orange tail and ears that already were stealing the hearts of the staff, he had only been in foster care a few days when a virtual meet-and-greet took place.
[Virtual pet meet-and-greets open doors to new families]
During the video chat, he was a bit shy, but clearly friendly. "He just looked so fun and he made me smile. I was like, yes, let's do it," Salma says. Even though they weren't meeting face to face, there was a spark. She was confident that they'd have a great connection.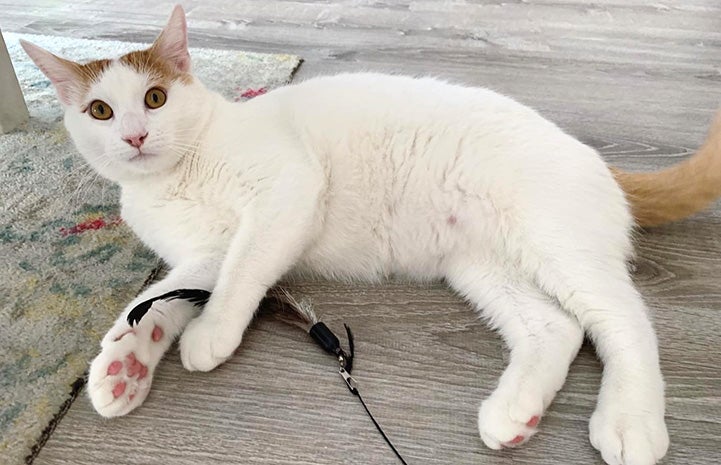 Chief of the house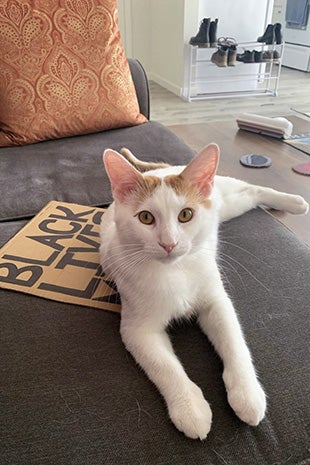 Before Salma picked up the devilishly handsome, pink-nosed cat (who friends and family would later say had stunning, "modelesque" cheeks), she stocked the house with cat toys, supplies and even a cat tree. During the following months as the new family member settled in, her home would continue to be transformed, literally and figuratively. The cat tree became a cat tower and the handsome cat was renamed Chief, in honor of legendary Chief Matilija, the Native American who led a resistance against Spanish missionaries in the area around Ojai, California.
In the story of Chief's namesake, the native people lost the battle with the Spanish and Chief Matilija was fatally wounded. His people carried him to the highest mountain so that he could die looking up at the heavens. According to legend, when his soul left his body, the mountain rose and its shape changed into a silhouette of the chief's face. His spirit is said to guard the valley. The story speaks to a beautiful bond between the people, their leader and the land. So, too, the story of Salma and her Chief speaks to a sacred trust.
From the moment he arrived, Chief kept his golden eyes on Salma and always stayed in the same room she was in, but still kept his distance. Even on the first night in his new home, he slept at the foot of her bed.
Over the weeks, Chief became more and more at home. Salma acclimated him to being held. And he introduced her to the joys of coming home to a purring, meowing cat clearly pleased to see her. His presence lessened her feeling of isolation at not being able to socialize with friends.
As the months of lockdown passed and they spent time together, more of Chief's unique personality emerged ― such as running around like an exuberant toddler and playing with one toy, only to be distracted when happening upon another toy. He hardly knows how to sit still, she says, because he's so busy having fun ― or he's sleeping.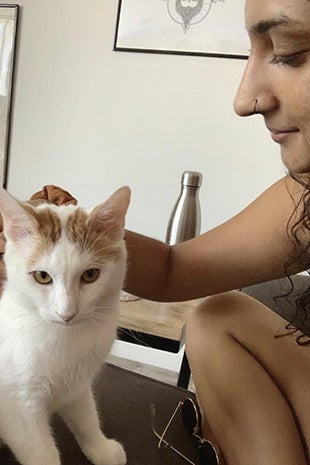 Above all, chief wants to be wherever Salma is. If it's quiet and she is just watching TV, he's also quiet and hanging out. If she's sleeping, he's sleeping. The moment action resumes in any form, he's ready.
He is the star of every FaceTime call, but if Salma spends too long on the phone, he feels ignored. One time he belly-flopped onto her dragon tree, snapping it in half to wrest her attention away from a call with her mom. Since that day, some of her plants have been moved to the hallway, while the rest are up on shelves or hanging beyond reach. This, however, does not discourage Chief from trying to get to them.
Cardboard boxes, leftovers from Amazon deliveries, stay on as hide-and-seek toys and places for Chief to sleep. A wine bottle and a French press bit the dust because he usurped their spots on the top of the refrigerator.
[Adopting a cat with larger-than-life personality]
In the virtual world on Instagram, Chief has become the star of the house. The page features pictures of him posing handsomely, sleeping peacefully, etc. The house is his.
Salma is still working from home and almost every day after breakfast, while she works, Chief wants her to play. He sits in front of her, looks her in the eye and meows loudly. She gazes back, meows back. He meows. She meows. He whisper-meows. She does the same.
"It goes on for much longer than you think a cat would commit to communicating," she says. But, she adds, it's this level of interaction along with his young and vibrant spirit that makes having Chief in her life so fulfilling, especially now.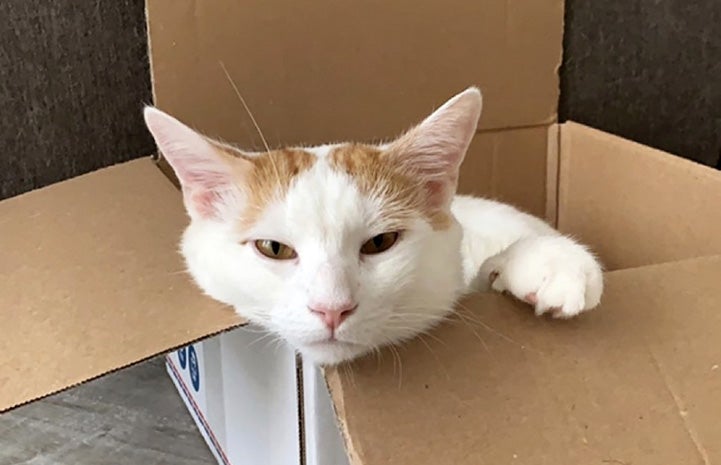 The healing spirit of pets
Salma wasn't the only person to seek the friendship of a new pet during a challenging time. It has been a busy time for adoptions from Best Friends in Los Angeles.
 "We joked that cats were flying off the shelves," says Lidia about the days early in the pandemic when people stepped up to foster and adopt pets. They were undeterred by new protocols, such as virtual meet-and-greets and a paperless adoption process. It's no wonder that many people turned to pets during a difficult time.
Cats are known to comfort their people when they are ill or stressed. Scientific studies show that living with cats may reduce people's risk of heart disease or strokes. So many people, says Lidia, have commented that having a cat during this time has been a gift. "We help them heal, and they help us heal," she says.
That's the bond shared by Salma and Chief. As soon as he arrived, Salma says he settled into his role as chief of the house. "You're always going to be OK now," Salma tells him. "You're safe, you're healthy and you're taken care of." And now both of them are OK.
In an update about how Chief was settling in, Salma wrote: "Thank you for making it possible for me to adopt a literal best friend during a very lonely time."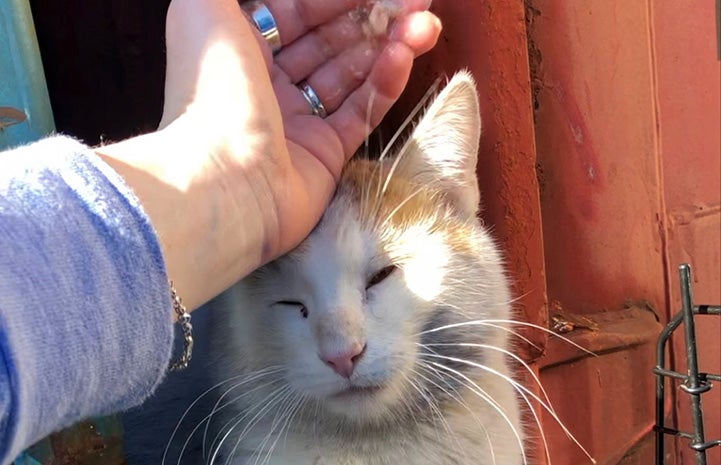 Chase away loneliness with a furry companion
When you adopt a homeless pet, you gain a lasting companion and best friend.
Read more:
Senior cat comforts adopter during cancer treatment
Purrspectives from a blind tabby cat
11 animals to make you happy right now
Photos courtesy of Salma Syed