Cat convert
Self-described dog person discovers a new love.
By  Denise LeBeau
Hobbes, a large black-and-white senior cat, was thrown for a loop when, after six years in his home, he found himself back with Best Friends Animal Society–Utah in Salt Lake City. His former family had a life change, so the affable cat had to return to the pet adoption center and try his luck once again. Hobbes was soon right at home, perched comfortably in the sunny, cage-free cat adoption area. Using his charms, the dapper 16-pound cat soon found true love and, in the process, converted a lifelong dog lover into a cat enthusiast.
Getting acquainted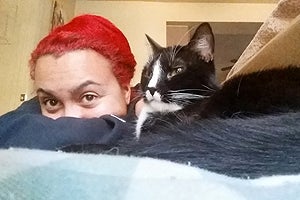 Emily Breen was thinking about dogs when she strolled into the Best Friends Pet Adoption Center one sunny afternoon. The day matched her mood. She was excited about volunteering to help dogs in need, and was interested in getting more hands-on experience. While she wasn't ready to adopt just yet, she wanted to be fully prepared when the time came.
After she walked a few small dogs, she wandered around the center meeting various animals and was drawn to the cat adoption area. "I just wanted to meet some cats, too. They looked so content and happy in their room," says Emily. She went in and sat down, amused by the younger cats careening around and playfully tackling each other. Then she saw Hobbes.
"Hobbes was just soaking up some rays, not even looking at the other cats making a commotion," says Emily. Intrigued by his cool-as-a-cucumber demeanor, she sat down next to him. He immediately responded, and as she moved closer for a good look, he gently put his paw on her cheek and looked her right in the eyes. She put the sweet cat on her lap, where he immediately started purring.
"I just fell in love"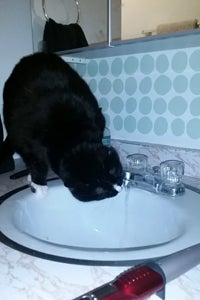 For the next three days after that fateful first encounter, Emily went back to the pet adoption center to visit Hobbes. "I just fell in love," says Emily. On the third day, she took him home. On the fourth day, she took a full day off from work to spend some quality time with him.
While Hobbes' good looks and calming presence were the initial attraction, his unique quirks are what Emily falls in love with a bit more each day. "He has a lot of personality," says Emily. Hobbes loves to follow her around and even makes washing up a bit more fun. The way that he plays with the running water makes her laugh.
"For an eight-year-old cat, he's so curious and he's very playful. He loves his toy mice," says Emily. And after a day of toy wrangling, water splashing and meowing loudly for more kibble, it's time for a belly rub. He loves getting as much affection as possible and Emily is happy to oblige.
Hobbes is now named Manman and he is the love of his mom's life. "I never thought I would want a cat, but this one just changed my mind," says Emily. "I think I was just in his cards. He's the kind of cat that melts in your arms and then melts your heart."
Get involved
Be a part of the magic by becoming a Best Friends member.
Learn more about how Best Friends is working to make the state of Utah no-kill.
Photos by Emily Breen